Jamie Oliver: Food industry hits back at chef's calls for 'sugar tax' on soft drinks
Oliver wants a 20p per litre levy on every soft drink with added sugar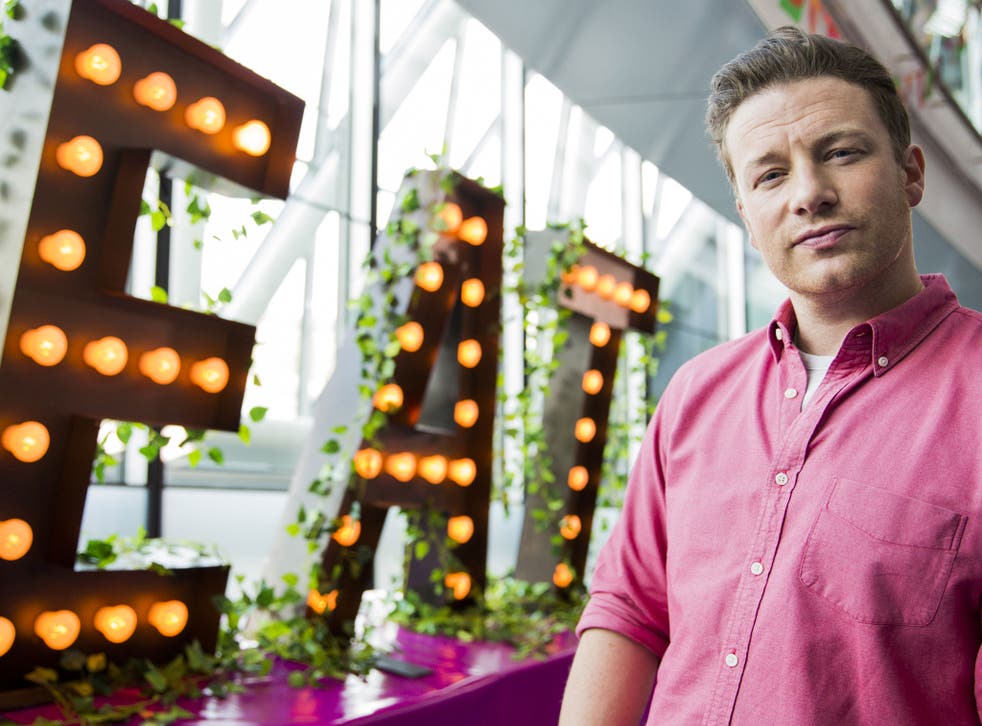 The food industry has hit back at Jamie Oliver's latest campaign to impose a "sugar tax" on soft drinks to combat the obesity crisis, telling the celebrity chef that parents are best placed to make decisions over their children's diet.
Oliver called for a 20p per litre levy on every soft drink containing added sugar – equating to about 7p on every 330ml can of Coca-Cola.
The chef, who has introduced an extra charge of 10p on all sweet drinks served in his Jamie's Italian restaurants chain, said the levy could raise revenue of up to £1bn per year to support preventative strategies in the NHS and in schools around obesity and diet-related disease.
Oliver, who presents a Channel 4 documentary next week, in which he meets sufferers from Type 2 diabetes who have had limbs amputated due to excess sugar in their diets, said he had lobbied David Cameron directly to introduce a "sugar tax", a measure the government has previously rejected.
However, the Food and Drink Federation hit back – insisting that sugary soft drinks are not the single largest source of calories consumed by children. The body said that sugar consumption in the UK was on a downward trend.
The industry body, gearing up for a battle to persuade ministers to retain the status quo, also said that sugar consumption in the UK was on a downward trend, far more low and no calorie soft drinks are sold in the UK than regular drinks and argued that after an initial fall, consumption of soft drinks had risen in France after a tax was introduced in 2012.
Quizzed by Oliver in the film, Jamie's Sugar Rush, Ian Wright, director general of the Food and Drink Federation, said: "Demonising one nutrient out of a range on the national menu is not a healthy way to proceed. Consumer choice is the best way to go on this because government intervention simply doesn't work."
50 best foods for healthy living

Show all 50
However Oliver met surgeons, required to rip out the teeth of young children destroyed by sugar-induced decay and perform amputations on diabetes sufferers, who warned that the NHS would "crumble" due to the accumulating cost of treating sugar-related outcomes.
The film shows Oliver visiting Mexico where a soda tax of 1 peso per litre, introduced in 2014, has raised over $1bn and produced a 6% reduction in sugary drink consumption in its first year.
Oliver said Government should have the courage to "grab big business by the neck" and force companies like Coca-Cola to face up to broader health responsibilities.
"I wrote a personal message to David Cameron, as a father," Oliver said. "This could be his legacy piece. I sent him a graph that showed that 5-11 year-olds from disadvantaged backgrounds are most at risk. From the advisory discussions I have been involved in on the Government's obesity strategy I believe change is possible, if there is public support." Money from the levy would be ring-fenced and used for healthy eating campaigns in primary schools.
The Leon restaurant chain yesterday announced that it will introduce a 10p levy on all its drinks that contain added sugar, including Coca-Cola. It will donate all proceeds to The Children's Health Fund, initiated by Jamie Oliver, which helps educate children about food.
Oliver also called for a ban on junk food advertising during prime-time programmes including Britain's Got Talent, which are widely watched by children, and called for clear labelling showing the number of teaspoons of sugar within each sugary food product.
Dr Maureen Baker, Chair of the Royal College of General Practitioners, backed Oliver's campaign. She said: "Our diets, and those of our children, increasingly contain too much sugar - often concealed in drinks such as fruit juice and cereals, which can seem like the healthy option.
"The College would like to see the introduction of a tax on sugary drinks to make them less affordable - an approach that has worked before with smoking where there was a notable fall in the number of smokers once prices were increased.
"We also need to promote alternatives, such as serving cool, pleasant tasting water at mealtimes, and ensuring that pure, filtered water is available in all public places."
Jamie's Sugar Rush, Channel 4, Thurs Sep 3, 9pm
Join our new commenting forum
Join thought-provoking conversations, follow other Independent readers and see their replies