Jim Atherton: Grandfather who sold possessions to fight Isis in Iraq praised by neighbours
'I don't think I'm Rambo but I believe I'm a good soldier'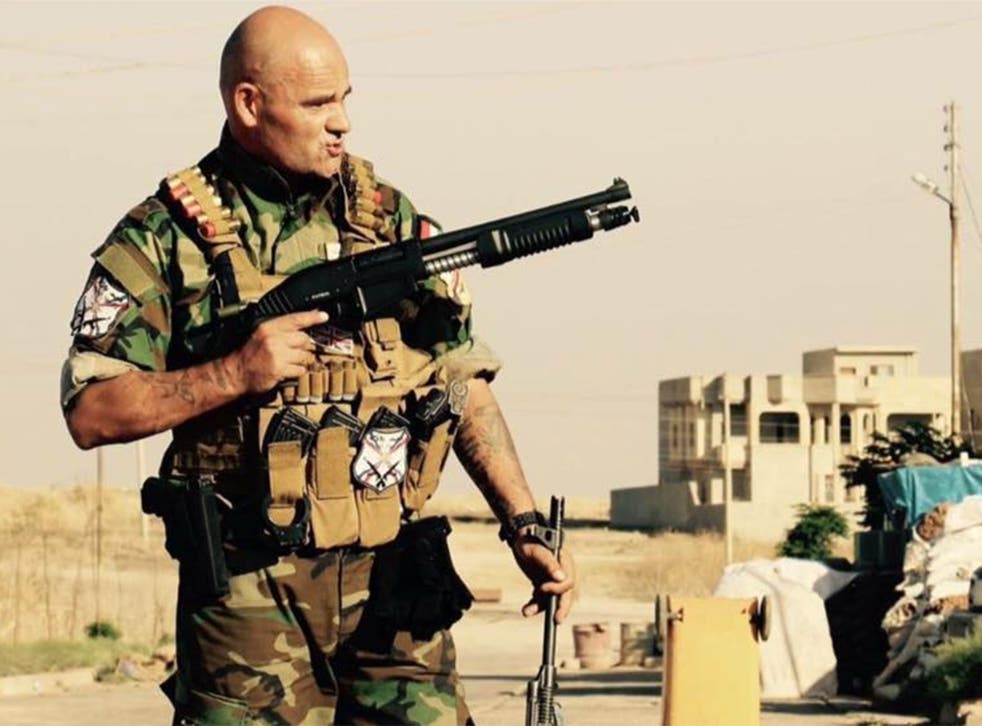 A British grandfather willing to sacrifice his life in the fight against Isis in Iraq has been praised for his bravery by his former neighbours in Washington, Tyne and Wear.
"I'm prepared to die fighting IS [Isis]," Jim Atherton, a 53-year-old grandfather of two. "I'm not a young bloke, I had a heart attack in 2007. But it's something I felt I had to do. I wanted my grandkids to know what I'm really about," he added.
The former driver, who describes himself as a "middle-aged white van man" added: "I don't think I'm Rambo but I believe I'm a good soldier."
Mr Atherton left Britain in April and flew to Holland, before taking a flight to Turkey and then heading to Iraq where he joined the ranks of Christian militia group Dwekh Nawsha (the sacrificers), according to The Sun newspaper. "I arrived with no military training," admitted Mr Atherton, a father of three.
One of his friends and neighbours, Howard Williamson, 68, a former labourer, said: "I think he's doing a hell of a job and it's really good of him. He's a much braver man than me, I have known him for a lot of years. He's a tough man to go out there." He added: "I hope he gets back in one piece." Another neighbour said: "I take my hat off to him for doing it."
Mr Atherton sold his car, a boat, and two motorbikes to raise £18,000 to fund his trip and buy weapons including a machine gun, shotgun, pistol and a grenade. "My wife is devastated I've come out. She said, 'Please don't go'. The kids were panicking too," he said. "Watching what IS are doing just beats me up. I couldn't stand seeing them killing woman and children willy-nilly...Nobody seemed to be doing anything about it, so I decided that I would," he added.
The 53-year-old claims that British police spoke to him when he flew back to Britain for two weeks last month. "I was questioned for a couple of hours. I told them I was coming back to Iraq."
He is back there now, and claims to have come under fire from Isis fighters. "Anyone with any sense is frightened when you come under fire. I didn't know whether I'd drop everything and jump on a plane straight back. But I think I've done all right," he said.
Civilians joining the fight against Isis
Mr Atherton is the latest in a growing number of Britons who have joined the fight against Isis. Some of those who have gone are civilians, such as Macer Gifford (not his real name) a 28-year-old former City worker, who reportedly left Britain last December to fight alongside Kurdish militia in Syria.
Others, such as James Hughes and Jamie Read, who went to Syria late last year, are former soldiers. And in March, former Royal Marine Konstandinos Erik Scurfield, from South Yorkshire, became the first Briton to die fighting Isis. However, the number travelling to the Middle East to fight against the terrorist group – with around 50 having travelled to Syria - is far smaller than the 500 or more Britons estimated to have joined Isis.
Jonathan Owen
Join our new commenting forum
Join thought-provoking conversations, follow other Independent readers and see their replies