Judge Dredd comic book story showing him being force-fed fast food to be re-printed for first time in decades
Changes in legislation means publisher no longer fears the possibility of legal reprisals from corporations including McDonald's and Burger King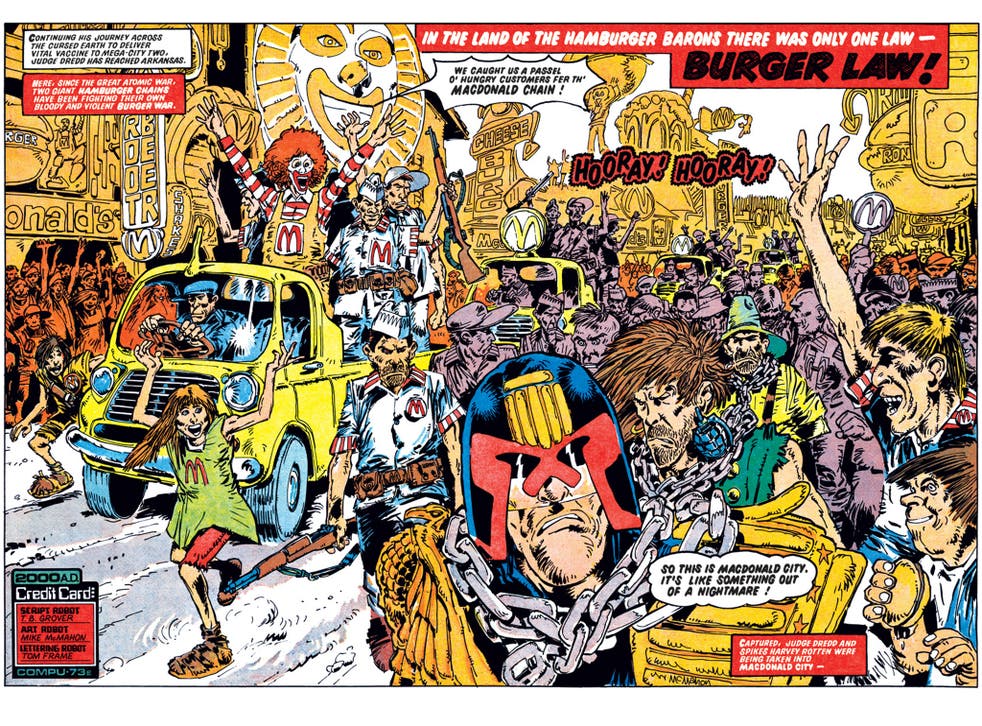 A legally contentious comic book story in which Judge Dredd was force-fed fast food is to be reprinted for the first time in decades, thanks to a change in the law that removes the chance of him getting in trouble with the British courts.
The futuristic lawman's Burger Wars story is to be reprinted for the first time in 38 years as a change in the UK parody legislation means the character's publisher no longer fears the possibility of legal reprisals from corporations including McDonald's and Burger King.
Burger Wars, first published in 1978 in the weekly science fiction anthology 2000AD, satirised corporate characters including Ronald McDonald and the Michelin Man.
Ben Smith, head of books and comic books at Rebellion Publishing, said the parody – set in a dystopian future where Burger King and McDonald's are locked in gang warfare – was "the first great Judge Dredd epic", and fans have often requested to see it reprinted.
Part of a long-running series called The Cursed Earth, it involves Judge Dredd – whose catchphrase is "I am the law" – travelling into the irradiated wastelands of middle America to deliver a vaccine to Mega-City Two. After World War III, with "burger barons" having taken over huge areas of the US, Dredd is captured and forced to eat burgers and milkshakes.
Another story to be pulled, Soul Food, saw Dredd encounter the copyright-infringing creations of a Dr Moreau-like scientist including a Jolly Green Giant and a Michelin Man. Concerns of legal action at the original publisher, IPC Magazines, meant it pulled that particular story from subsequent reprints. It came after another IPC comic called Action, a forerunner of 2000AD, was withdrawn over concerns about its violent content.
"This decision was made by IPC almost 40 years ago at the very birth of Judge Dredd when he wasn't an established character," Mr Smith said. "They were just making sure the comic wasn't crushed."
"Because 2000AD was set in the future it was easier to get away with things than Action," he said. "But when they did such an overt satire of corporate culture, IPC thought they would see a rerun of the trouble they had got in."
The collection was subsequently printed with merely an explanation for why seven storylines were missing, but they will be included once more in the printing next July thanks to changes in legislation last October.
Artists are now able to parody copyright-protected works under European Copyright Directive, so long as it is fair and does not compete with the original version. Parodies can only be sued if it conveys a discriminatory message then a judge would have to decide if they are funny.
"It was like a light bulb went on," Mr Smith said. "We thought: 'Surely this means we can look at Burger Wars?' We looked into it and here we are," Mr Smith said. "This is straight out pastiche, parody and arch satire. There didn't seem any reason not to bring them to the public again."
Join our new commenting forum
Join thought-provoking conversations, follow other Independent readers and see their replies