When sex meets religion: What the revelation about Justin Welby's paternity tells us about the Church of England
Archbishop of Canterbury Justin Welby can keep his job because the Church of England changed its rules about children born out of wedlock, but how does it cope with newfangled modern morality?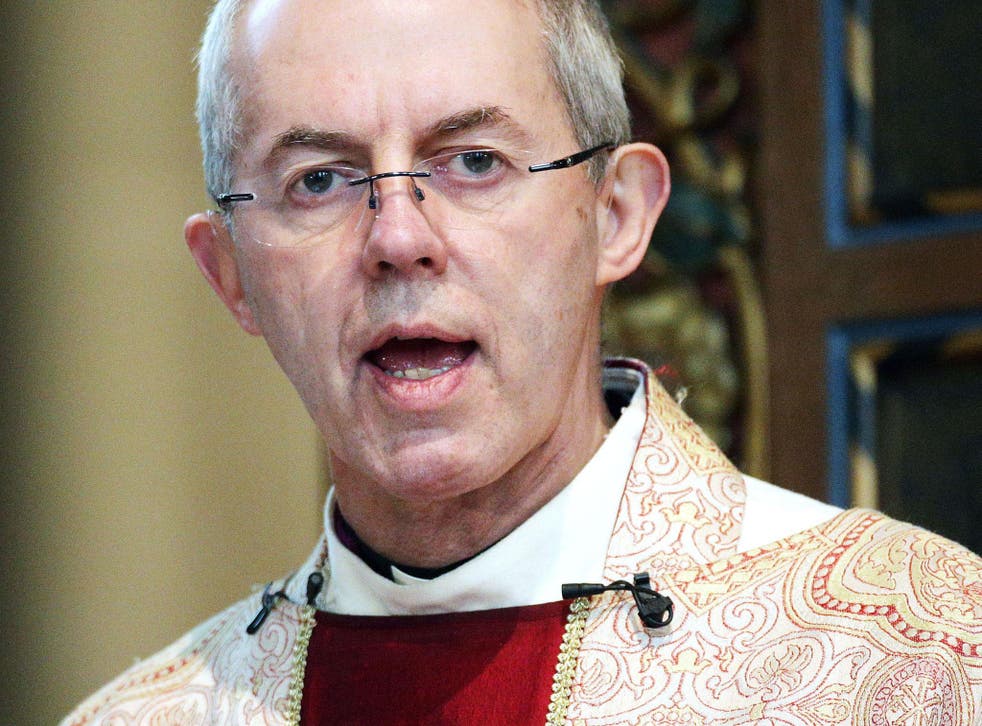 It was, perhaps, one of the more unusual statements to have been issued by a modern Archbishop of Canterbury.
"I have discovered," wrote the Most Rev Justin Welby, "That my biological father is not Gavin Welby but the late Sir Anthony Montague Browne [Sir Winston Churchill's last private secretary].
"This comes as a complete surprise."
It certainly did, and not just to Mr Welby.
But by the end of his headline grabbing statement, the Archbishop had rallied.
"At my inauguration service three years ago, a young member of the Canterbury Cathedral congregation, said: 'We greet you in the name of Christ. Who are you?' To which I responded: 'I am Justin, a servant of Jesus Christ'… What has changed? Nothing!'"
A generation ago, of course, everything would have changed. Mr Welby would have had to stand down as Archbishop of Canterbury.
It was only in 1969 that new Church of England canon law lifted the ban on anyone who was born illegitimate becoming a bishop, let alone an archbishop.
And for that, Mr Welby has to thank one of his predecessors, and, perhaps more indirectly King James I, his bishops, and their obsessions with night-caps and pale stockings.
It was Geoffrey Fisher, Archbishop of Canterbury from 1945 to 1961, who made reforming canon law, including the rules on who could be a bishop, "the most absorbing topic of my archiepiscopate."
That he felt compelled to do so, owed something to the fact that when he was appointed, the Church of England was still working to canon laws drawn up after the death of Queen Elizabeth in 1603 and agreed by King James I.
By the 20th Century these were often being ignored, not least because they still incorporated injunctions like those against "newfangleness of apparel", which stated: "No ecclesiastical person shall wear any coif or wrought night-cap, but only plain night-caps of black silk, satin or velvet … and that they wear not any light-coloured stockings."
The 1969 rationalisation, then, swept away the prohibitions on colourful nightcaps, yellow stockings and illegitimate children growing up to become Archbishop of Canterbury.
But it was hardly the beginning or the end of the Church's long struggle with "newfangleness" – especially when it came to matters sexual.
Indeed, it could be said Mr Welby's case is a reminder that the Church of England has long had problems with sex, adultery and divorce, even if its founder King Henry VIII was pretty keen on all three.
Gay marriage is one of worst threats in 500 years, says Church of England

Show all 6
A striking modern example came during the Abdication Crisis of 1936, when Mr Welby's predecessor, Archbishop of Canterbury Cosmo Gordon Lang, was unhappy with Edward VIII's intention to marry double divorcee Wallis Simpson.
Three days after the abdication, Lang broadcast to the nation about the former king: "From God he received a high and sacred trust. Yet he has ... surrendered the trust ... [because of] a craving for private happiness ... in a manner inconsistent with the Christian principles of marriage."
That not everyone agreed is suggested by the popular rhyme soon that started circulating:
"My Lord Archbishop what a scold you are!…
"Oh! Old Lang Swine, how full of cant you are!"
It took until 2002 before the C of E removed the blanket ban on divorcees remarrying in church if their former spouse was still alive – and even now the vicar retains the final say on whether or not to go ahead with the ceremony.
So there were still problems in 2005 when Prince Charles – the next Supreme Governor of the Church of England - wanted to marry Camilla Parker Bowles, with whom he had admitted committing adultery.
The 2002 rules still prevented couples marrying in church if their relationship was a direct cause of the breakdown of a previous marriage.
Archbishop of Canterbury Rowan Williams decided on a civil ceremony, followed by a service of "prayer and dedication" – and faced demands from die-hards that the royal couple "repent" their adultery.
When it comes to illegitimacy, what many might consider the Church's slow progress was illustrated by debates surrounding another rule change from which Mr Welby could have benefited, (had his mother and biological father ever married).
Introduced when Mr Welby was three, the 1959 Legitimacy Act permitted the legitimisation of children born as a result of an adulterous extramarital affair by one or both their parents - provided mother and father subsequently married each other.
In 1959 Lord Chorley told the House of Lords why the provision had taken so long and been kept out of the 1926 Legitimacy Act.
"I believe," said Lord Chorley, "It was the then Lord Archbishop of Canterbury who persuaded your Lordships that it would be a dangerous innovation."
Archbishop of Canterbury Randall Davidson won the day in 1926 – possibly against the grain of public opinion, given that Lord Chorley also noted there was "a great deal of opposition" from MPs in the Commons – including from Winston Churchill, whose last private secretary would go on to father Mr Welby.
Nor has the current Archbishop of Canterbury been spared his own struggles with "newfangleness."
It took years of controversy before the General Synod voted to allow women bishops in November 2014.
And the issue of gay marriage is still causing Mr Welby problems.
He opposed the Same Sex Marriage Bill in 2013, telling the House of Lords that if it became law: "The idea as marriage as covenant is diminished; the family in its normal sense, and as our base community of society is weakened."
A few weeks later, however, he was telling the General Synod that he, his fellow bishops and other opponents of the bill had been "utterly overwhelmed."
He was, he insisted, not proposing gay marriages in churches, "But we must accept that there is a revolution in the area of sexuality."
Some in his audience approved, or criticised him for not going further. Others were appalled, and by April 2015 evangelical leaders from the US and Africa were meeting in London to consider a "parallel" church in protest against women bishops and gay marriage.
Perhaps, like Archbishops before him, Mr Welby has discovered the problem with newfangleness: it might keep you in a job when it comes to unexpected revelations about your paternity, but when it comes to the Anglican Church, it's unlikely to make your life easy.
Join our new commenting forum
Join thought-provoking conversations, follow other Independent readers and see their replies