Kellingley colliery: The pit that survived Margaret Thatcher prepares for closure
The North Yorkshire colliery, Britain's last deep coal mine, will close on 18 December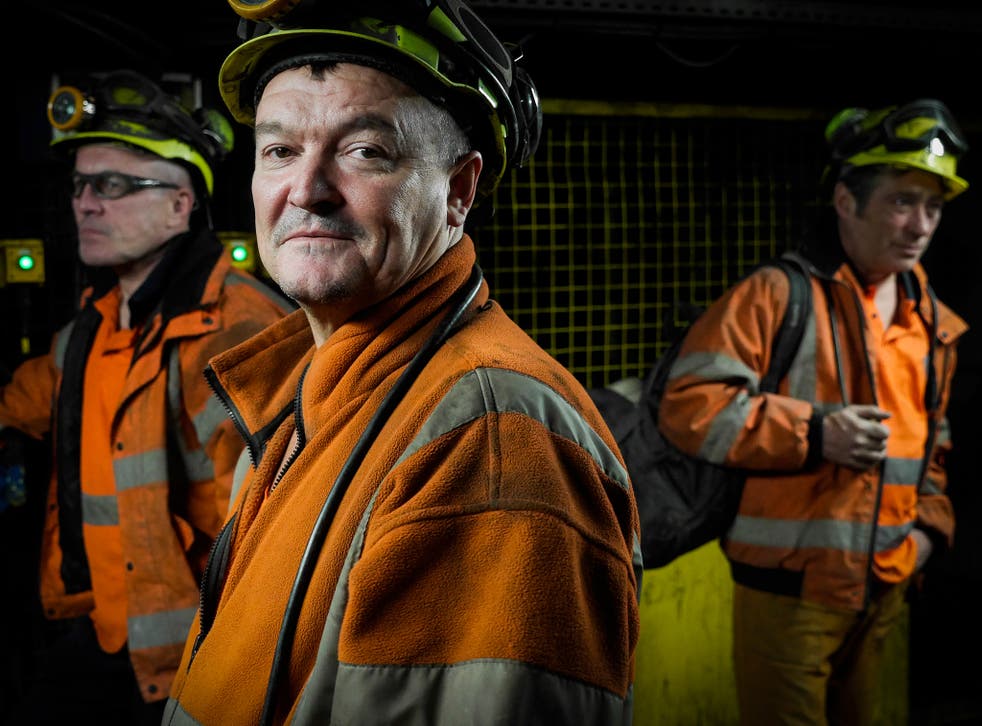 The miners look almost otherworldly as they burst from the cage that has carried them from deep under ground – their white eyes shining from faces black with coal dust.
The 40 men are shouting and swearing and appear euphoric at being back in the daylight after eight hours working nearly seven miles from the surface in the dark.
But their only welcome, as they march quickly into the lamp room and remove their lanterns and turn into a cavernous changing room to scrub themselves human again, is a grey December fog that has fallen on the world outside like a shroud.
This is Kellingley colliery in North Yorkshire – Britain's last deep coal mine – and the miners have just completed one of their final shifts before the pit that survived Margaret Thatcher shuts on 18 December. The closure of "the Big K" super-pit 30 years after the miners' strike is the final nail in the coffin of a proud industry that lit up a nation and kept families warm in their homes.
Kellingley once employed 3,000 miners and was the biggest deep mine in Europe. But now the final 450 miners, the last in a long line stretching back for generations, are having to search for new jobs before the shafts that lead down to 30 million tons of untouched coal are sealed with concrete.
There is anger in the office of the National Union of Miners downstairs on the dirty-walled concourse, where a union official Maurice Kent is sitting at a desk beneath a picture of St Barbara, the patron saint of miners.
He says the coal industry has been let down by successive governments – both Conservative and Labour – who have failed to halt the pit closures.
"Thatcher wanted to break the NUM because it was the bastion of the trade union movement. She wanted to get rid of us," he says.
"But this has been going on since the strike. Thirty years ago, there were 176,000 men employed in this industry and now they have gone.
Rudd: Coal plants phased out
"That's a loss of an average of 5,800 jobs a year. If that happened in any other industry, there would be questions in Parliament, but nobody has done anything about it.
"We've been fighting for 30 years. Arthur Scargill said the pits would be closed. Nobody believed him, but he has been proved right."
The average age of the workforce at Kellingley is 52. After a lifetime at the coal face, they will only receive statutory redundancy payments.
A makeshift careers centre near the pit's canteen has become a focal point for those who are looking for jobs.
A notice advertising work at a wind turbine factory in Hull points out that 1,000 people have applied for just 14 places. "Some of the men are looking at HGV driving and health and safety," says Vicki Slater, a careers adviser who has been drafted in to give the miners advice on retraining.
"It's hard. Mining is a unique way of working. Some of these men have been in the mine for 35 years, constantly grafting. They are lovely people. They are like a big family and they are hard-working. Some have had job offers, but they will have to retrain."
Locomotive driver Gary Kemp, 50, who has been a miner since leaving school in 1982, is waiting to go home to his family after finishing his shift. His eyelashes are still black with coal dust.
"It's hardest of all for the younger lads who have young children and mortgages," he tells me.
"They are having to look at jobs outside the area, for a minimal wage. Some are going to find it very hard. Thatcher started this and Tony Blair continued it. Other countries subsidise coal. Why not us?"
David Simpson, 65, a plant machine operator in orange overalls, has also been a miner for more than 30 years.
"There will never be a job like this again," he says. "We had camaraderie. There are good men here, but soon they will be gone. Britain will need coal again one day, but it will be too late."
Around the corner, in front of the pit shafts and a network of rising conveyor belts carrying coal, is the office of the pit's manager Shaun McLoughlin, where he is sitting at a desk surrounds by charts and plans.
On the shelves are several trophies including one that says: "Deep Mine of the Year, 2012." In a corner sits a barometer measuring methane gas levels underground.
Shaun has worked in mining 38 years after starting at Kellingley as an apprentice in 1977. His father and grandfather were miners and he says he is saddened by the thought of being the industry's last pit manager. Part of the problem is the age of the colliery, he says. The mine is so extensive that it takes the miners three hours to get to and from the coal face each day.
The pit has also fallen victim to global market forces. It costs £43 to produce a ton of coal at Kellingley, while foreign coal landing at the ports costs just £30 a ton. Carbon taxes have also played their part.
"Just three years ago, the pit was investing heavily and taking on apprentices, but the price of coal has crashed," he says. "It's at rock bottom."
Kellingley still has a contract with a power station to produce 110,000 tons of coal before it shuts next week.
Redcar goes into liquidation
"The lads want to finish the job," Shaun says. "They don't want to be seen to fail. They want to go with dignity and their heads held high."
There will be no brass bands and no ceremony on the day the mine closes, although the men plan to march through the nearest town, Knottingley, the following day.
The miners on today's shift are now clocking out and have begun heading outside into the gloom of an uncertain future past a huge memorial to miners who have died working at the pit.
Missing from the list is the Kellingley miner Joe Green, who was killed four miles away after he was hit by a coal lorry while picketing at the Ferrybridge power station during the 1984 strike.
Ferrybridge is also shutting next year ahead of the closure by 2025 of all of Britain's coal-fired power stations.
Along the A645 in Knottingley, which stands halfway between the pit and the power station's giant cooling towers, shopkeepers are worried for the future.
Out of 15 shops on the main street, a third have their shutters down and are displaying "to let" signs. Those that remain open have signs in their windows advertising the march.
Tony Swain, 50, who has owned the Dishy Fish chip shop for 21 years, says business is already down and he is hoping a new Lidl store will attract visitors. He used to take orders from the pit for fish and chips twice a week.
"When I was a kid, they used to say that you couldn't get better than a coal fire," he says. "All my friends and family were miners. I just feel sorry for the men and their families. What are they going to do? All they know is mining. There's nothing for them."
The Kellingley Miners' Welfare Club around the corner also faces an uncertain fate.
The brick and concrete building has been a focal point for miners since it was built in 1965 and served as a soup kitchen during the harsh winter of 1984.
The club's strongly built steward Paul Green has just taken his last delivery of coal from Kellingley. It powers a coal-fired boiler – the club's beating heart.
That last consignment will last only until January and then prospects are bleak. A replacement gas central heating system will cost £30,000.
"The closure of the pit will affect the whole community," Paul says as he pulls a pint in the bar, which is bedecked with Christmas decorations. It is just starting to go dark outside. "Just look at those lads," he adds, pointing at the smiling faces of an under-eights rugby team in a picture frame on the wall. "What future is there for them?
"There will be nothing left around here. We are just trying to survive and the Government, everybody, has turned their backs on us."
Join our new commenting forum
Join thought-provoking conversations, follow other Independent readers and see their replies