Kittens coloured in with permanent marker in 'dreadful act of cruelty' rescued by police in Bradford
Volunteers said the four-week-old animals were having breathing problems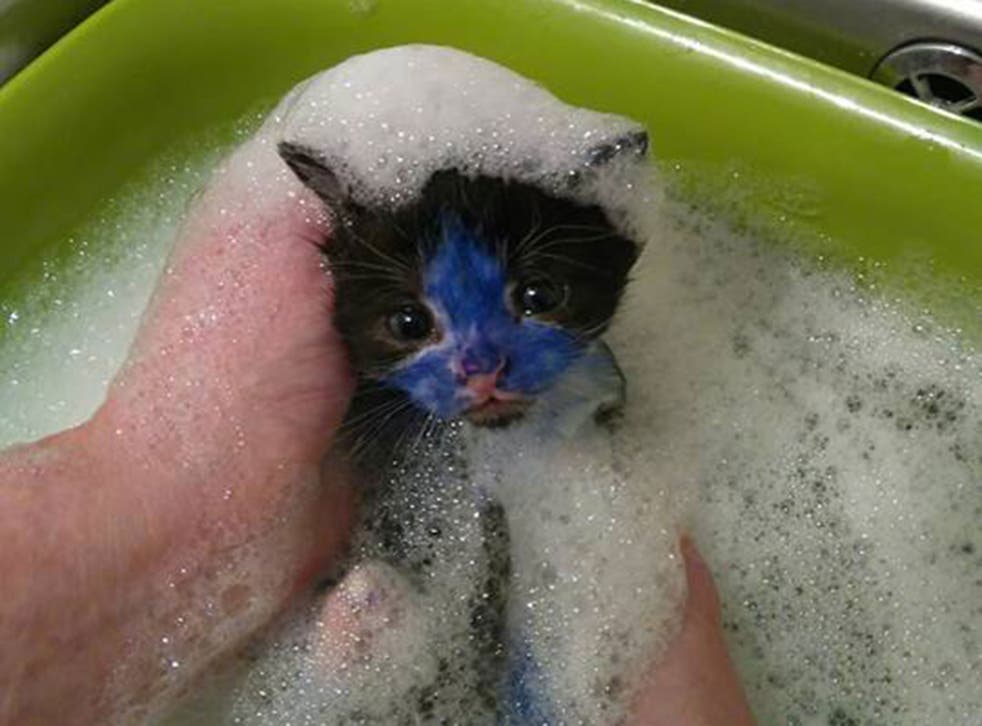 Police have rescued a pair of kittens after their owners coloured them in with marker pen in what volunteers described as a "dreadful act of cruelty".
Officers handed the four-week old pets to Bradford Cat Watch Rescue on Monday, having found them in a property where concerns had also been raised over drug offences and the welfare of a dog.
One of the kittens, named Smurf by volunteers, had the white parts of it fur coloured bright blue, while the other, named Shrek, was turquoise.
Katie Lloyd, care coordinator at the rescue centre, said she was "totally shocked" by the act, which volunteers believe was carried out by adults.
"It could have affected the lungs because they were having breathing difficulties when they arrive," she said.
"It could affect the skin, it could cause infections, irritations, it could infect anything really - the whole respiratory system."
Photos showed the water turning bright blue as the kittens were given a bath, and the dye remained in their fur a day after the ordeal.
A lot of the ink on the cat's bodies has now come off, Ms Lloyd said, but added that she was cautious washing their faces.
"The areas where we're struggling is around the face and the reason for that is we don't want it dripping into the eyes, nose or mouth because, believe me, it's permanent," she added.
Smurf and Shrek were recovering on Wednesday after a second bath and a feed, while volunteers continue working on safe ways to remove the ink.
"We have been nursing these kittens for the last 36 hours and they are now much brighter...in personality," a post on Bradford Cat Watch Rescue's website said.
The centre, which has received a flurry of donations after the rescue, will seek to re-home the kittens when they are ready.
Where not to visit if you love animals

Show all 9
The RSPCA warned that cats' grooming habits causes them to ingest any unwanted or toxic substances on their fur.
"Although it may seem like a 'harmless bit of fun' dyeing animals in this way could have dangerous and potentially fatal consequences," the charity's scientific officer Alice Potter said.
"Our pets are living creatures and dyeing them in this way sends out an extremely worrying message that they could be viewed as novelty accessories rather than as the intelligent, sentient animals they are."
Additional reporting by PA
Join our new commenting forum
Join thought-provoking conversations, follow other Independent readers and see their replies