Knife crime rise 'linked to youth service cuts', parliamentary report finds
Some councils cut funding for youth workers and clubs by 91 per cent in three years, figures show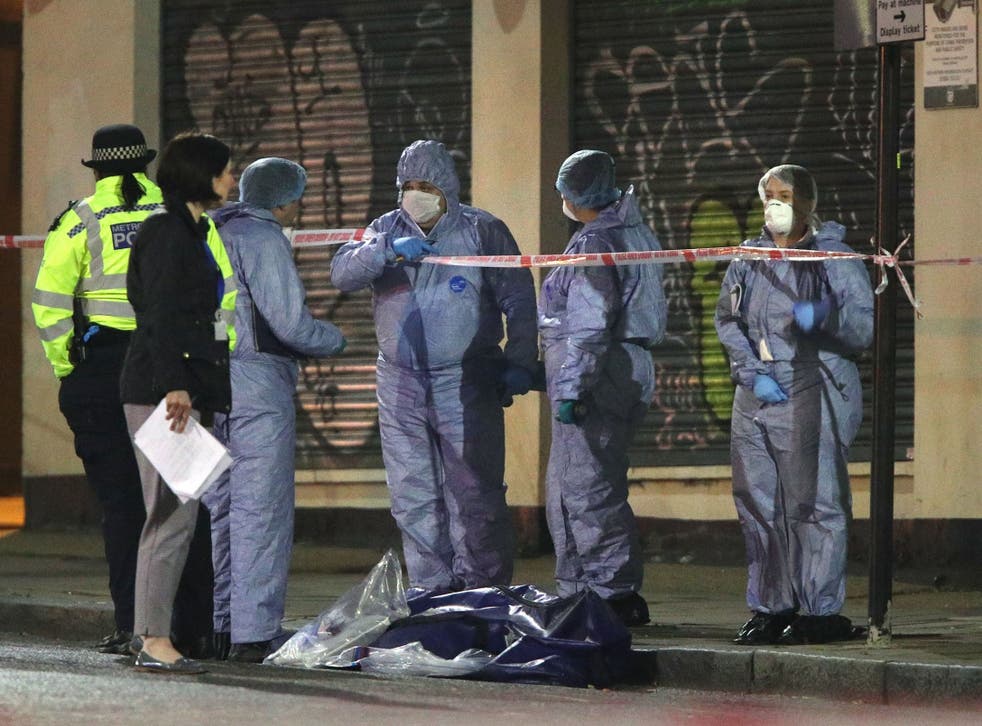 Rising knife crime could be linked to budget cuts that have decimated youth services in parts of England, according to a parliamentary report.
The average council has reduced spending on services such as social clubs and youth workers by 40 per cent, and some places have seen funding plummet by 91 per cent in three years.
Months after The Independent was warned of a "lost generation" of children being created by austerity and gangs, MPs said young people were being put at risk of violence.
Analysis by the All-Party Parliamentary Group (APPG) on Knife Crime found that the areas suffering the largest cuts to youth spending have seen bigger increases in knife crime.
Chair Sarah Jones said: "We cannot hope to turn around the knife crime epidemic if we don't invest in our young people. Every time I speak to young people they say the same thing: they need more positive activities, safe spaces to spend time with friends and programmes to help them grow and develop.
The teenagers murdered in London in 2018

Show all 21
"Our figures show how in areas where support for young people has been cut most, they are more at risk of violence. Youth services cannot be a 'nice to have'. Our children's safety must be our number one priority."
The Labour MP for Croydon Central called for the government to urgently review youth funding and consider a legal requirement for councils to provide certain services.
"Young people feel abandoned and they see the gangs as a form of protective service," a former gang member told The Independent, as police warned that children as young as nine were carrying knives for protection.
The City of Wolverhampton and the City of Westminster saw the biggest reductions between 2014-15 and 2017-18, with youth services slashed by 91 per cent.
They were followed by Cambridgeshire County Council and Wokingham Borough Council, with cuts of 88 per cent and 81 per cent respectively.
A 68 per cent increase in knife offences was recorded by police in England and Wales over the same period, which also saw swingeing cuts to police budgets.
Although the geographical areas covered do not directly compare to police boundaries, the analysis suggested that police forces serving councils with the biggest cuts have also seen significant increases in knife crime.
Since 2013-14, knife crime offences recorded by Thames Valley Police – which covers Wokingham – have almost doubled, while the figure has risen by 95 per cent for Cambridgeshire Police, 87 per cent for West Midlands Police, and 47 per cent for the Metropolitan Police.
Last week, Commissioner Cressida Dick hailed an increase in stop and search for starting to turn the tide, with figures showing the start of a decrease in stabbings and murders.
Cressida Dick contradicts Theresa May over police cuts
But knife crime across England and Wales hit a new record of 40,800 in 2018, and homicides are at the highest level for more than a decade.
Last week, 15-year-old Tashaun Aird was stabbed to death in London, and on Sunday night, an 18-year-old man was chased down and killed in the street.
The APPG's research found the number of youth centres supported by local authorities had fallen by half since 2011, and a 42 per cent drop in youth service staff over the same period.
Almost 90 per cent of councils that responded to MPs enquiries had seen at least one youth centre in their area close.
The APPG, supported by charities Barnardo's and Redthread, obtained the figures on youth service budgets using freedom of information requests but only 70 per cent of local authorities in England replied.
The group was to host a meeting in parliament on Tuesday evening, where young people will debate the effect of youth service cuts in their areas.
Javed Khan, the chief executive of children's charity Barnardo's, said taking away youth workers and safe spaces to gather was creating a "poverty of hope" where children see no chance of a positive future.
"The government needs to work with local authorities to ensure they have enough funding to run vital services and restore children's sense of hope," he added.
John Poyton, chief executive of the Redthread charity, said that the "public health approach" being hailed by the government to tackle knife crime must be backed by a long-term strategy and early intervention.
"Young people are on a vulnerable transition between childhood and adulthood and youth services are crucial in ensuring they are able to reach out to trusted professionals to ask for help at the earliest opportunity," he added.
"These statistics of cuts to youth services and rises in violence highlight the need to ensure all young people have access to the support they need, both at the point when they recognise they need help and perhaps most importantly before they realise they do."
A government spokesperson said it was determined to tackle the root causes of knife crime and "end this cycle of violence".
"There are a range of factors driving increases in this complex crime, including changes to the drugs market," a statement said.
"Our Serious Violence Strategy places a greater emphasis on early intervention to steer young people away from violent crime by offering positive choices, alongside equipping police with the powers and resources they need to keep communities safe from this threat.
"We are putting more than £200m into community projects, including Redthread and St Giles Trust, and are consulting on a vital public health duty which will see public bodies work together more effectively to prevent serious violence."
Join our new commenting forum
Join thought-provoking conversations, follow other Independent readers and see their replies