Largest urban park in Britain for a century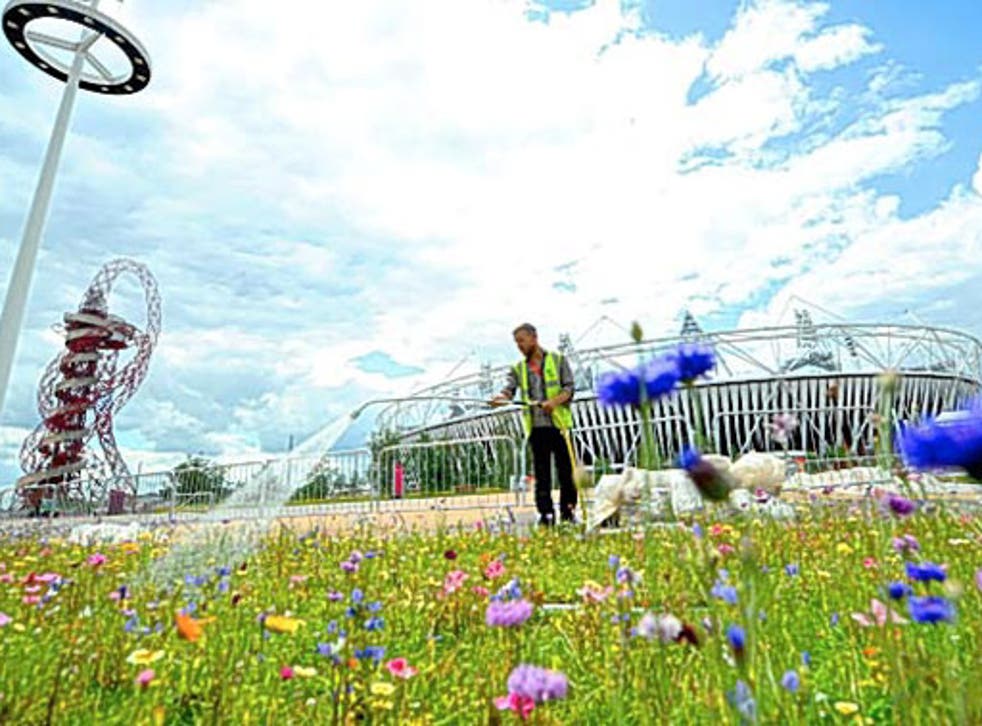 This time next year the grey concrete space next to the Westfield Stratford shopping centre will be filled with wild flowers, bees, kingfishers and fountains. Work is already under way on what will be the largest new urban park built in the country for a century.
The wildflower meadows were one of the many highlights of the Olympics, and Phil Askew, project sponsor for landscape and the public realm, says they were just the beginning. "We want to bring gardens back to parks, creating a 21st-century pleasure garden, open 24 hours," he said, "building on the work of Nigel Dunnett and Sarah Price on the Games-time meadow."
Mr Askew is heading a team including James Corner, the British-born man responsible for the New York High Line. Mr Corner is transforming the 55-acre South Plaza, where the Stadium, Aquatics Centre and ArcelorMittal Orbit are, into green space, which will open bit by bit from next March and includes the world's largest sown perennial meadow.
There were 50 hectares of green space during the Games but when Mr Askew's work is done there will be 100 hectares, with more than 4,000 trees, 127,000 shrubs and a million herbaceous plants, some of them from Mr Corner's own garden. "It's a huge place, the South Plaza is the size of the South Bank," said Mr Askew. "So part of the legacy is making it feel accessible. That includes making it accessible for cyclists. We wanted to take the best parts of London parks and bring in new ideas about meadows and biodiversity. It's picturesque but we've brought it up to date with different levels and lots of ecology."
The soil is poor, which is good for meadows, and wild flowers are cheaper than bulbs. "Meadows are delightful to be in but also attract butterflies and bees, which are dying out. It's a landscape that works hard," he said. Mr Askew hopes the park "will inspire people". There's a programme of horticultural training and apprenticeships for young Londoners who want to work on the park and a beautifully designed 2012 gardens smartphone app, with recordings of designers talking about the area.
The five new suburbs, named by Londoners
Chobham Manor, Newham
The first neighbourhood due to open, in 2015. There will be 800 homes over 9.3 hectares, 70 per cent of which will be for families. Built on the site of a 14th-century manor house of the same name.
Marshgate Wharf, Newham
Surrounding the Aquatics Centre, Olympic Stadium and ArcelorMittal Orbit tower, there will be houses and flats as well as a "cultural promenade" along the canal with shops, restaurants, bars, galleries and open air performance space.
Sweetwater Tower, Hamlets
Home to a mix of artists' studios, flats and family homes along the Lea Navigation Canal. New bridges to connect pedestrians and cyclists with the adjacent Fish Island are planned. The name comes from the sweet factory which stood here in the mid-20th century.
Pudding Mill, Newham
Adjacent to Stratford High Street, this will be a mix of industrial and business sites alongside houses next to the Bow Back River. Pudding Mill refers to the medieval flour mills that used to stand on the River Lee.
East Wick, Hackney
Family housing around the parklands, with a strong cycling network to the Lea Valley. On the site where Eton Manor was during the Games. Includes what is now Hackney Wick.
Join our new commenting forum
Join thought-provoking conversations, follow other Independent readers and see their replies