Lauren Southern: Far-right Canadian activist detained in Calais and banned from entering UK
'Officially banned from UK for 'racism',' says Ms Southern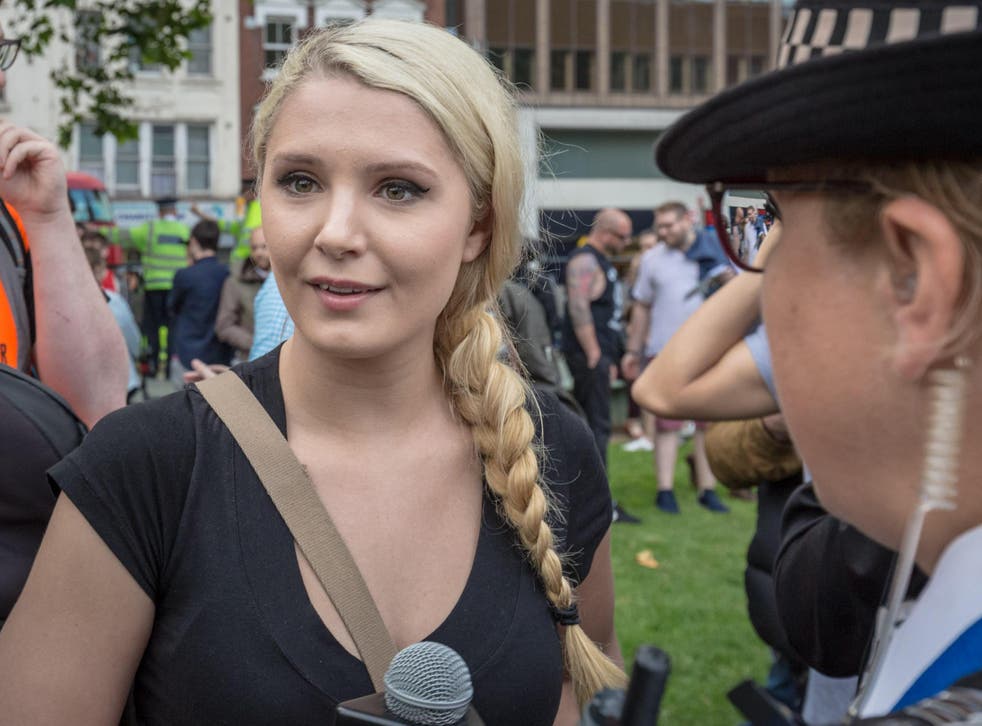 Canadian far-right activist Lauren Southern has been detained in Calais and banned from entering the UK.
Ms Southern, who worked for far right Canadian site The Rebel Media, was held by Border Force in Coquelles on Monday.
A Home Office spokesperson told The Independent: "Border Force has the power to refuse entry to an individual if it is considered that his or her presence in the UK is not conducive to the public good."
Ms Southern, who supported a seaborne mission seeking to hamper the rescue of refugees, claimed British authorities had told her she was "officially banned from UK for racism" after being detained.
"They just locked me out and said 'au revoir'... Officially banned from UK for 'racism'.. Doing fine though, all the cool people are being banned anyway," the ultra-conservative provocateur said on Twitter.
Writing in a Facebook post on Saturday, Generation Identity, a British white supremacist group, said Austrian activist Martin Sellner and his American girlfriend Britanny Pettibone, who is a YouTuber and author, were detained by the British government.
The far-right couple were refused entry at Luton Airport on Friday, also on grounds their presence was not conducive to the public good. Mr Sellner and Ms Pettibone were detained and subsequently removed from Britain on Sunday.
UK news in pictures

Show all 50
According to reports, Ms Southern was intending to meet Mr Sellner of the Generation Identity group and Ms Pettibone while in Britain.
But in a video interview with former English Defence League leader Tommy Robinson, Mr Sellner said he had planned to appear at Speaker's Corner in Hyde Park on Sunday.
Ms Pettibone had allegedly also been planning to interview Mr Robinson - the far-right campaigner who announced he was leaving the EDL in 2013.
Dr Joe Mulhall, a senior researcher for anti-racism campaign Hope not Hate, raised concerns about Ms Southern's activism.
"We've been watching Lauren Southern for some time, and she has gradually become more and more extreme in her outbursts and associations," he told The Independent in a statement.
"The decision to refuse her entry came after she distributed racist material in Luton on a recent visit to the UK.
"In our State of Hate 2018 report released earlier this month, we warned that one of the major threats we would witness this year was the linking-up between Stephen Lennon (Tommy Robinson) with North American far-right alternative media personalities such as Southern and the far-right Generation Identity (GI) movement in Europe. This has seen an unholy alliance start to come together particularly over social media but also in the offline space.
"This began with Southern's joining of the GI-sponsored 'Defend Europe' mission in the Mediterranean, which HOPE not hate helped thwart but had attempted to impede NGO rescue ships saving lives at sea."
Join our new commenting forum
Join thought-provoking conversations, follow other Independent readers and see their replies