Search for man, 26, feared drowned in London dock after 10-year-old boy rescued on hottest day of the year
Searches to resume on Sunday morning after darkness stops efforts in Greenland Dock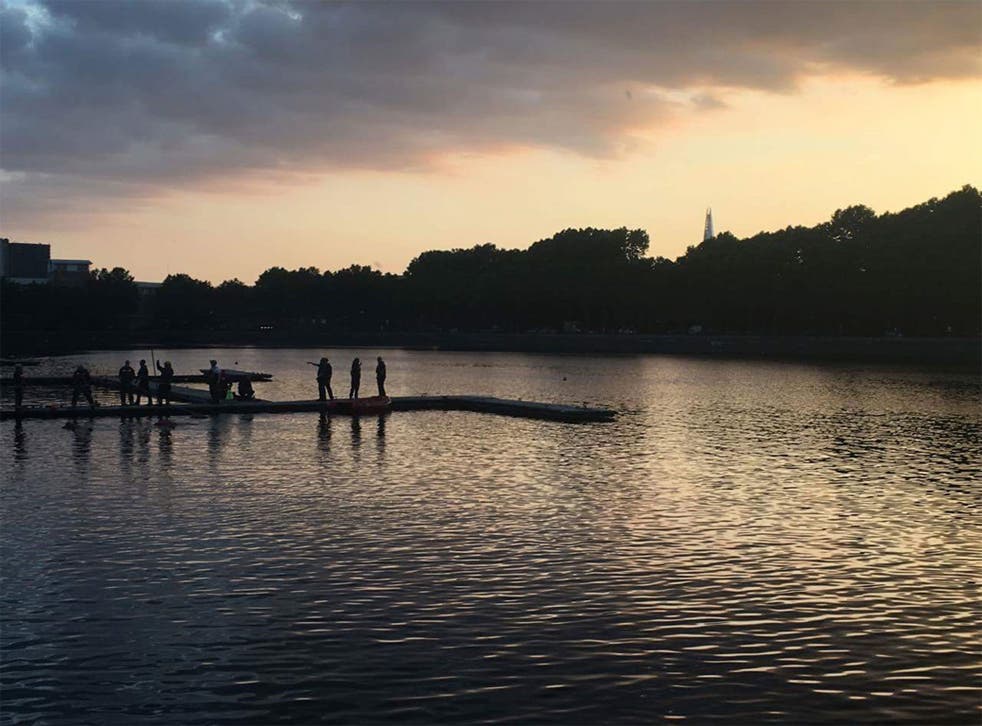 A man is feared to have drowned in a London dock after attempting to save a 10-year-old boy who fell in the water.
The child was rescued by members of the public who rushed to his aid in Greenland Dock, in Rotherhithe, but the 26-year-old man did not surface.
Police, the harbour master and London Fire Brigade mounted a search including divers, boats and a helicopter but efforts were called off as darkness fell.
Residents in nearby flats said they were alerted by the sound of a child's screams on Saturday evening, when families were strolling around the scenic dock on the hottest day of the year.
Sarika Mishra, who lives in a flat overlooking the water, said the panic initially sparked fears of terrorism, sending a group of people running down the road shouting that there was an attack.
"There was panic for a couple of minutes and then a guy shouted that someone was drowning," she told The Independent, describing how residents and passers-by started rushing back towards the scene.
Ms Mishra, who had been having dinner with her partner on a balcony, went to help and saw around five young men swimming in the dock.
"I didn't know what had happened but they were clearly looking for someone…then police and the fire brigade arrived," she added.
"There was a boy in the cordoned-off area with a towel on him, he was soaked through."
Another young boy and woman believed to be relatives of the missing man were seen crying as the search continued, before they were taken away by police.
A spokesperson for the Metropolitan Police said officers were called at 8.20pm on Saturday to reports of a child in Greenland Dock.
"Officers, including the Marine Policing Unit, attended and found that passing members of the public had recovered a 10-year-old boy from the water, but that a 26-year-old man in the water had not resurfaced," he added.
"London Ambulance Service, London Fire Brigade and the Harbour Master also attended and rescue units entered the water but the man was not found. Next of kin are aware.
"The incident is not being treated as suspicious."
The 10-year-old boy was taken to hospital as a precaution and searches were to re-start in the morning.
Police did not confirm what relationship, if any, existed between the man in the water and the rescued boy.
UK news in pictures

Show all 50
Witnesses said he and others on the dockside appeared to be wearing a red and black uniform or sports kit.
Residents and onlookers were devastated by the tragedy, which followed two other recent deaths in Greenland Dock.
A 14-year-old boy, Kafi Ibrahim, drowned there in 2011 and comedian Malcolm Hardee died while rowing from the former Wibbley Wobbley floating pub to his houseboat in 2005.
The ex-industrial dock, which links to the River Thames opposite Canary Wharf, is home to a number of houseboats and bordered by another pub and flat developments.
Ms Mishra believed more people could have drowned on Saturday in the treacherous water, which is known to hide submerged debris in low visibility.
"I was hoping and praying he came out," she said.
"It was heart-wrenching, those men [seen searching] risked their lives and they're complete strangers."
Authorities across the UK have issued a series of warnings over falling or swimming in unsafe waters during the current heatwave, following a number of previous deaths in lakes and flooded quarries.
Join our new commenting forum
Join thought-provoking conversations, follow other Independent readers and see their replies