London Pride: 30,000 take part in biggest ever gay pride parade
Tens of thousands lined the streets in London to celebrate LGBT pride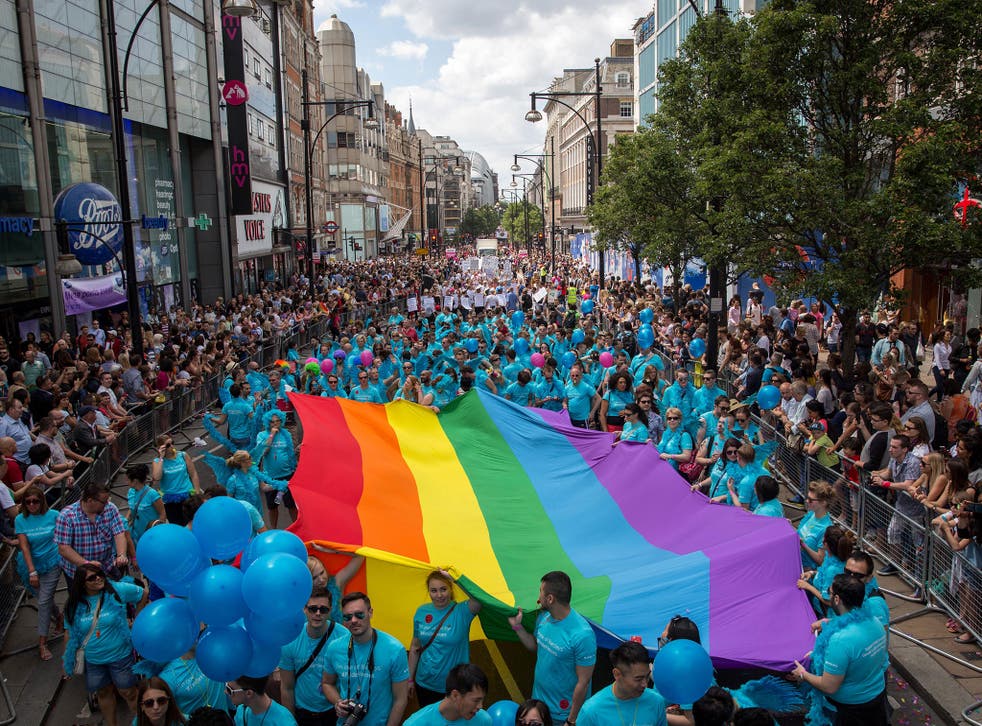 Today's gay pride parade is well underway in London, in what is expected to be the biggest event to date.
It is estimated that tens of thousands are taking part in London Pride. The capital city has been decked with rainbow flags and packed with revellers as they celebrate LGBT progress.
The parade left Baxter Street at 1pm and snaked along Regent Street, Pall Mall and Trafalgar Square before ending at Whitehall at 4:30pm.
Celebrations will also be running in Soho and the West End throughout the day.
It has been reported that UKIP's LGBT group has joined the parade, despite having their application to take part rejected by organisers who cited concern for the 'safety' of other participants.
Over 260 different groups and organisers are taking part in the festivities.
In a sign of solidarity with members of the LGBT community in other countries, flag bearers carried more than 200 international flags as they walked the route.
Pride of place was the American flag, following the US Supreme Court's ruling yesterday that same-sex marriage is a constitutional right which should be afforded to every citizen.
The theme of this year's event is Pride Heroes and Alan Turing has been selected as one of the LGBT figures who is being celebrated.
Family members including his great-niece Clare Dowling are representing the legacy of the revolutionary computer scientist. She marched alongside Japanese technology company Fujitsu who have chosen Turing as their Pride Hero for his contribution to technology.
The mathematician paved the way for the modern computer with his ground breaking work during the Second World War but was prosecuted for homosexual acts in 1952. As part of his punishment, he was chemically castrated and he died in 1954 from suspected suicide. His story was recently told in the film The Imitation Game, staring Benedict Cumberbatch.
London Pride Festival 2015 - in pictures

Show all 14
A spokesperson for Fujitsu said: "Given the huge impact Turing had on our industry and on the lives of the public who rely so heavily on technology, he was an obvious choice for our Pride Hero. We're honoured to be walking with his family and proud to be taking part in London Pride."
Amid the revelry, one group of LGBT activists held a 'funeral' in parallel to the parade, marking the 'death' of Pride, which they claim has taken place due to the event being increasingly commercialised.
Today's pride parade is expected to have been the biggest to date- 30,000 people are estimated as having taken part. Over the course of the last week, approximately 950,000 people have taken part in London Pride events, breaking a previous record of 750,000 people.
Join our new commenting forum
Join thought-provoking conversations, follow other Independent readers and see their replies