'Terrified? That's a bit strong. We're going to go shopping' - How defiant Londoners refused to bow to terrorists
Full pubs, pints of beer in the sunshine, and couples kissing in the street: if the terrorists were trying to spread fear through the capital, they failed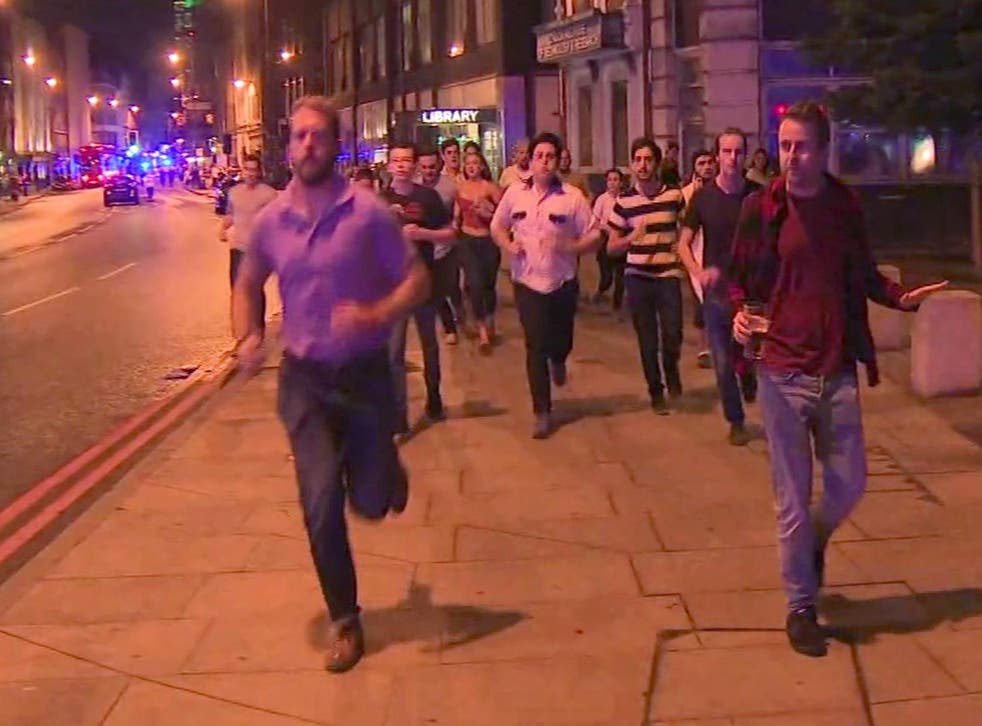 The defiance began at the police cordon. It was mingled with the first floral tributes and the signs with the slogan "For London".
And it found its purest expression in Chris and Isabel Charlton, strolling hand in hand in the sunshine, eight months married; pausing, as it happened, right where the police lines began, to kiss in the middle of the street.
You couldn't let the terrorists win, said Mr Charlton, 39. You couldn't succumb to hate. "You've got to carry on," he added.
They live locally and had been to Borough Market twice that day. Only the coincidence of friends coming round for supper had stopped them having a meal in one of the market's restaurants that night.
It could have been them, caught up in a terrorist rampage that left seven dead after a van ploughed into pedestrians on London Bridge, before moving on to Borough Market where attackers started stabbing people.
Video shows police enter bar after London Bridge attack
So weren't they now terrified, as the killers wanted them to be, as some news networks seemingly expected them to be? "Terrified?" said the faultlessly polite Mr Charlton. "That's a bit strong. We're probably going to go shopping … Very mundane. Sorry."
Next to pass was Andrea Woelke, German-born and 25 years a Londoner, in the process of getting a British passport, with his seven-month-old son in a baby carrier.
From where we were in Union Street, you could peer inside the cordon and just about see what looked like containers for first aid equipment, seemingly discarded by paramedics in the rush to help the wounded.
"It was horrific," said Mr Woelke. "Utterly so for the people caught up in it and their families."
London Bridge Terror Attack

Show all 16
But now, a stroll in the sunshine had become, in part, an act of defiance. "The terrorists want us to freak out," he said. "They want life not to return to normal. The best way to stick two fingers up to them is to get on with our lives, and our democracy."
With a restless seven-month-old baby to placate, the best way to keep calm was to carry on walking. "We might meet friends for coffee," he said, strolling on, more frightened of the baby starting to wail again than any terrorists.
At the Rose and Crown, across the road from the cordon, you could find people at the bar, still cracking jokes about Brexit and each other (even if today they had to tell the foreign news crews where to find a fancy meal, this being a proper, crisps-only sort of establishment).
Suggestions that fear should have kept them from a Sunday lunchtime pint were met only with bemusement and shrugged shoulders. "Well I'm not terrified," said Robert Discipline, 53. "Life has to go on."
Last night Omar Morris, 37, a decorator and theatrical prop maker, had looked from his window and seen "people going to and fro, looking very scared". Today, no terrorist was going to stop him from his game of pool.
"They won't stop me from doing nothing," he said. "There's no way they can change me or make me a different person."
Nor was he going to fall into the terrorists' trap of starting to hate Muslims. He wasn't going to let the recruiters' propaganda that everyone in the West hated Islam ring true. "I'm not a hater," he said, with a rather cheeky grin.
Police shot member of public when 50 rounds fired at three suspects during London attack
Outside, John King, 66, had done well to grab a seat outside before the lunchtime rush. From Gravesend, Kent, he runs the family demolition business, "down Sidcup way".
He laughed at the idea he must be frightened. "I'm not frightened in the least," he said. "I'm the gentlest, politest chap you'll meet, but I've never been terrified of nobody in all my life and I'm not going to start now.
"Mum had been in the Blitz. Dad had been in a Japanese POW camp." Now that, said Mr King, had been "hard, hard, hard".
Yes, there was no denying the frightening nature of the new-style warning, issued for the first time by the Metropolitan Police last night: "You must RUN to a place of safety. This is a better option than to surrender or negotiate. If there's nowhere to go then…. HIDE… Barricade yourself in if you can…"
But as Mr King suggested, there had been a time when the bombs had been far, far more numerous, when public safety warnings had been infinitely more chilling: "Make sure your family have their gas masks with them night and day… Learn to put a baby's gas helmet on quickly…"
Back then, he said, the shop windows carried signs saying: "Business as usual Mr Hitler". Now, Mr King sipped his pint and chuckled: "That bunch of fucking animals aren't going to make me afraid."
South Bank near London Bridge last night had, in one cabbie's words, been "pitch black, with the only thing you could see being the lights on the coppers' guns".
But today, to drive through London was to see families returning from lunch, the kids' buggy festooned with the balloons offered by restaurants, old boys strolling near Southwark Tube – one with a rather nifty Panama hat – and outside tables filling up at pubs and cafes everywhere.
Down by Embankment, the river still flowed and the Houses of Parliament still stood – despite the squalid efforts of Westminster attacker Khalid Masood in March, despite the Union Flag fluttering at half-mast in honour of those murdered last night. And when you forced your way through the crowds of tourists – still smiling, still snapping away at Big Ben with their cameras – you had to concede it wasn't just the Brits who got this.
For Patrik Ekelund, 44, from Gothenburg, Sweden, Saturday's attack had brought back memories of his near miss in the Brussels Airport attack of March 2016. If his plane had landed on time, he would have been in the airport when the suicide bombers struck. Instead it was delayed, and aborted its landing at the last moment to avoid the horror unfolding at the airport.
Returning from a pop concert on Saturday night, Mr Ekelund found himself once again caught up in the delays and confusion that every big-city terror attack produces. Yet here he was, pint in hand, sitting with his mates in the sunshine outside the Red Lion. "If you're terrified, the terrorist wins," he said. "If you go for hate, the terrorist wins. So we carry on as normal."
At the neighbouring table Danny and Jeanette Rowley from Stoke-on-Trent, Staffordshire, offered a glass wine and vowed to carry on with their trip to London, despite having seen a group of Americans returning terrified to their hotel after being caught up in the attack on London Bridge.
Mrs Rowley, 50, a midwife, revealed that her granddad had been in the World War One trenches. Those previous generations, she said, had been "gutsy".
"We're a tough breed us Brits," said Mr Rowley, 48, a carpenter.
It was hard now to resist such pride as other images of defiance emerge such as "pint man", who while forced to flee the terror attack did not see the need to abandon his beer, or to spill it.
The New York Times, a newspaper that – despite what the current US President thinks – enjoys a towering reputation built on a near-obsession with fact checking, must have felt entirely safe in describing the London attacks as hitting "a nation still reeling" from the Manchester Arena bombing.
It was soon put right on Twitter by Alan, an NHS scientist. "You really don't understand us Brits do you?" he wrote. "The only thing that leaves us reeling is a penalty shoot-out against Germany!"
"Or no milk nor tea bags," added the next twitter user to respond.
Inevitably, the New York Times was informed what "reeling" means in British English: a wartime wife, sitting atop the rubble of her bombed out home, enjoying a nice cup of tea.
A bunch of murderers may have inflicted death and mayhem on Saturday night. But there is a reason, a folk memory, behind the T-shirt, mug and diary-selling popularity of the slogan "Keep calm and carry on".
Perhaps the terrorists have just given us a chance to live up to it.
Join our new commenting forum
Join thought-provoking conversations, follow other Independent readers and see their replies