UK weather: Forecasters warn of 'thundersnow' storms as flights suspended, trains cancelled and mayhem hits the motorways
Rail services between Manchester and York have been cancelled due to the severe weather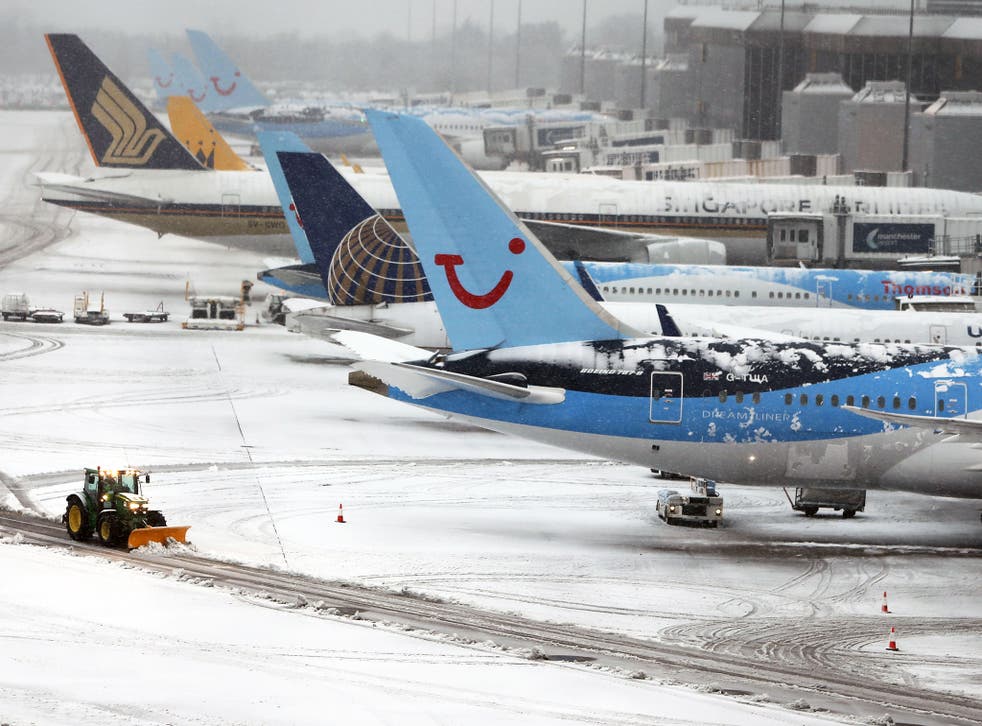 One of the UK's busiest airports was forced to close on Thursday, as 'thundersnow' storms wrought havoc for commuters across roads, runways and rail-lines, and saw 300 schools close.
And the country is braced for more disruption as further sleet and snow is on the way. Forecasters warn that ice is the biggest danger overnight as snow which has fallen freezes over, with the Highways Agency gritter fleet out in force.
Northern England, Scotland and Northern Ireland were worst hit, with up to 9inches (23cm) of snow falling in some parts.
Sleet and snow storms are likely to strike again on Friday, while a fierce Arctic blast is expected to sweep the country on Saturday and Sunday - bringing snow across the North, and down the south west and east coasts of England and East Anglia.
UK winter weather

Show all 30
Helen Roberts, a forecaster at the Met Office, said:"We could see some more sleet and snow coming in from the North West, the remnants of it could clip the South East and as far south as London."
"The strength of the wind is making things feel extremely raw, she added.
Earlier today, all flights in and out of Manchester Airport were suspended following heavy snow. The airport reopened shortly before 2pm but passengers were warned to expect further delays.
The Met Office has said that "thundersnow" storms, which are thunderstorms with snow rather than rain, were occurring to the north of Manchester.
Flights were also suspended at East Midlands Airport near Nottingham, after a bout of heavy snowfall.
Fortunately, an amber "be prepared" snow warning for northern England has been downgraded to yellow by the forecaster, but knock-on effects are expected to continue.
The travel chaos took hold across roads and rail networks too, with more than a dozen rail services between Manchester and York cancelled due to the severe weather, while the Highways Agency warned drivers of the heavy snow as the main roads in Durham and Yorkshire were closed.
In Scotland and Northern Ireland, heavy snowfall saw more than 130 school closures in each nation, while a total of 34 schools were closed in Cumbria, where 13cm of snow fell overnight. In Oldham, Greater Manchester, 20 schools were among the dozens more closed across the north of England.
Northern parts of the UK were worst hit. Tulloch Bridge in Inverness-shire had 9in (23cm) of snow, while there was 8in (21cm ) at Glenanne in Armagh and Spadeadam in Cumbria had 5in (13cm).
In Sheffield, where bus services have been severely affected, the City Council said as much as 33cm - almost 1ft - of snow fell has accumulated since last night. In an effort to keep networks in the city running, teams have been gritting roads since 6pm on Wednesday.
Councilor Janye Dunne, the council's cabinet member for environment, recycling and streetscene said 1500 tonnes of salt has been put on the network so far, the weight equivalent of 188 double decker buses.
Between five and 10 cm of snow is expected to fall above 200m in the north of England early on Thursday night with temperatures dropping to between 2 and 3 degrees Celsius in the north and between 4 and 5 Celsius in the south.
Public Health England has urged people to take extra care during the severe weather.
Head of Extreme Events Dr Angie Bone advised people who need to travel outside to wear lots of thin layers and shoes with a slip resistant grip, while those at home should "maintain indoor temperatures to at least 18 degrees Celsius, particularly if you are not mobile, have a long term illness or are over 65".
The disruption was so severe on Thursday that Prime Minister David Cameron announced on Twitter that he has asked for updates on the weather and measures taken to keep transport systems and energy supplies running.
He tweeted: "I have asked for an update on our heavy snow contingency plans. The gritters are out and people should listen to warnings."
Network provider EE has warned its business customers of a risk of "degraded coverage" as the severe weather passes through the north of England and Scotland.
In a statement on Twitter, East Midlands Airport airport said: "We have suspended runway operations until 1500. The snowfall has started to ease so we are hoping to be back up and running ASAP."
Passengers due to fly from Manchester Airport are now being asked to travel to the airport as normal but are being advised to check with the airlines they are flying with for further information.
Manchester Airport said: "Following the poor weather experienced this morning, flights have now resumed but are subject to delays.
"The safety and security of our passengers is paramount and we continue to make significant efforts to clear snow from other parts of the airfield.
"Further periods of poor weather are forecast for the rest of the day, and we would ask all passengers to contact their airline before travelling to Manchester Airport."

Earlier this morning the airport had been open and a "handful" of planes had been forced to circle while one of the two landing runways was cleared of snow.
The operation to de-ice and clear the snow began at 7am and the airport's snow team was due to switch to clear the other runway so that the "flow rate" of landings would be reduced.
Additional reporting by PA
Join our new commenting forum
Join thought-provoking conversations, follow other Independent readers and see their replies