RAF crew writes 'Love from Manchester' on bomb seemingly headed for Isis
Image is genuine despite speculation online, Ministry of Defence confirms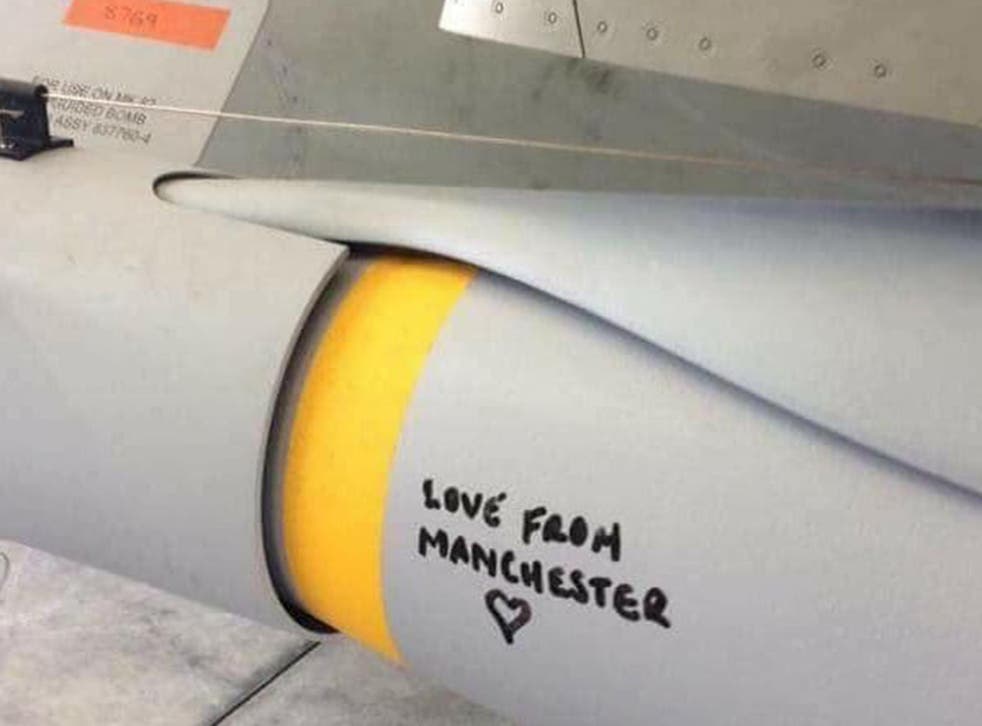 A photo has emerged of the words "love from Manchester" written on an RAF bomb, following Monday night's suicide bomb attack.
The Ministry of Defence has confirmed to The Independent that the image is genuine, after speculation online that it was a fake.
It is not clear exactly who wrote the message on the munition, thought to be a laser-guided Paveway bomb.
Manchester crowd sing Oasis song after minute's silence
The bomb was loaded onto a plane at an RAF air base in Cyprus, the Telegraph reported. The base has been used for air strikes against Isis.
It comes days after suicide bomber Salman Abedi murdered 22 people outside an Ariana Grande concert at Manchester Arena with an improvised explosive device.
On Thursday thousands gathered in the city centre to hold a silent vigil.
After one woman broke into a rendition of Oasis' hit Don't Look Back in Anger, the rest of the crowd joined in.
Join our new commenting forum
Join thought-provoking conversations, follow other Independent readers and see their replies