30,000 join March Against Racism in 'defiance and unity' against Brexit and Donald Trump
EU referendum result and US President's policies make it 'more important than ever' for anti-racists to unite, say organisers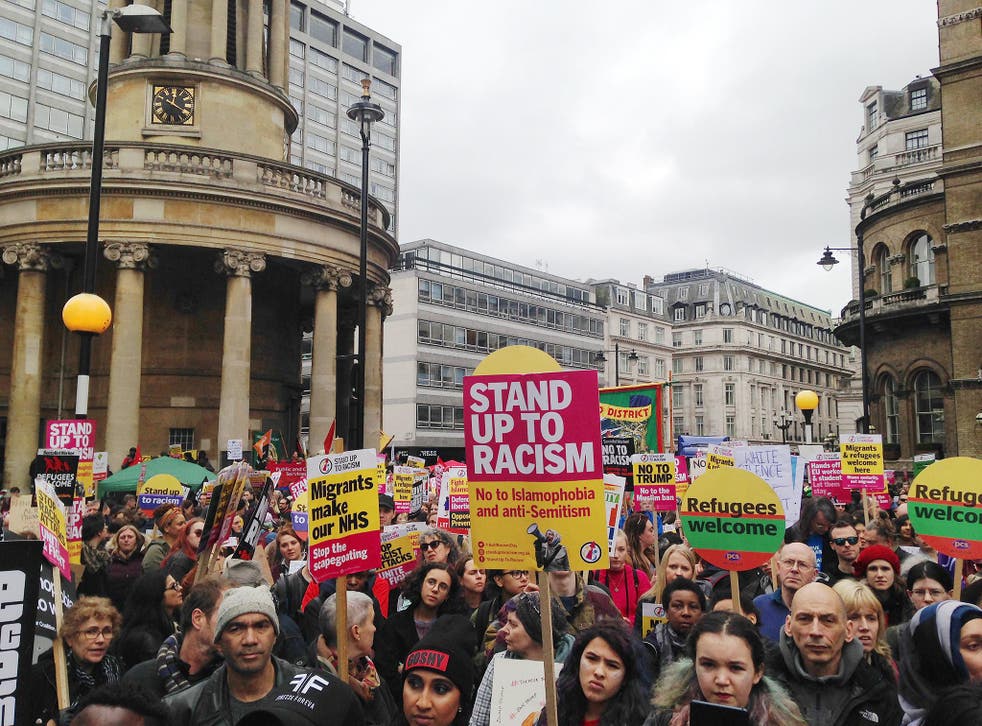 As many as 30,000 people have turned out for the March Against Racism in London in an expression of unity against a rise in racism, Islamophobia and anti-Semitism.
Organisers said the demonstration would also show support for refugee and migrant rights following the Brexit vote and the election of US President Donald Trump.
Amid an atmosphere of "defiance and unity", protesters arrived at Portland Place in Central London at midday holding banners with messages including "Hands off EU workers", "Refugees and migrants welcome here" and "Stand up to Trump".
It was part of a string of demonstrations taking place across Europe to mark the United Nations International Anti-Racism Day, with cities such as Berlin, Vienna and Athens, as well as UK cities Cardiff and Glasgow, taking part.
Speaking to The Independent Zakariya Cochrane, assistant convener for Stand Up to Racism, which organised the event, said: "It's the fourth year that we've held this demonstration now for UN anti-racism day, but we think this year is more important than ever.
"We've had the election of Donald Trump, with his Muslim ban and the wall with Mexico. We've had the EU referendum, where we've seen the highest increase in reported hate crime in the country, showing that the scapegoating of migrants gave confidence to racists.
"Just this week, the ruling of the Government winning the victory over the Lords on EU nationals means that our Government are prepared to use EU nationals as bargaining chips in the Brexit negotiations. There was also the defeat on Dubs.
"So this year is really about anti-racists uniting and going on the defensive on all the issues: child refugees, defending migrants and refugees, the divisive policies of Donald Trump and Theresa May."
Tottenham MP David Lammy, told the crowds that this week's meeting between former Ukip leader and key Brexit campaigner Nigel Farage and far-right French politician Marie Le Pen was evidence of current ill-feeling towards minorities.
He said: "This week Nigel Farage met Marie Le Pen and we are sending a message that we don't want that kind of fascism and xenophobia across our planet and in our country.
"My parents arrived in this county in the 1950s to signs that said 'no blacks, no Irish, no dogs' and we thought because of so much strife that by the time we got to the 21st century we had turned our backs on racism.
"And then, we get June the 21st. We get a rise in hate crime across the country almost by 50 per cent."
Mr Lammy also criticised a small group of counter-protesters – suspected to be from the English Defence League – who were seen at the march.
He said: "We have smashed the EDL. They are no longer of any consequence. But let's not pat ourselves on the back too early, because some of their views have become mainstream."
Newly launched campaign Love Music Hate Racism brought a carnival float to the event, which hosted artists and DJs throughout the day.
The march comes a day after a report by the Trade Union Congress (TUC) found that one in three black and minority ethnic (BAME) Britons have been racially abused since the EU referendum, with protestors concerned that hate crimes could be set to increase again following the triggering of Article 50.
In pictures: St. Patrick's Day around the world

Show all 24
Making reference to the recent rejection by Dutch voters of a far-right leadership candidate, Claude Moraes MEP said prior to the march: "The people of The Netherlands rejected the racism and Islamophobia of Geert Wilders.
"I congratulate them and Civil Society for all their work to push back against the far right and keep communities together — but there is still a huge amount of work to go to fight populism and the far right in the EU."​
Join our new commenting forum
Join thought-provoking conversations, follow other Independent readers and see their replies