Mark Hanna: Former News International employee threatens to lift lid on conversations with Rebekah Brookes during hacking trial
'I intend to tell you everything that I know, which I'm sure will shock everybody'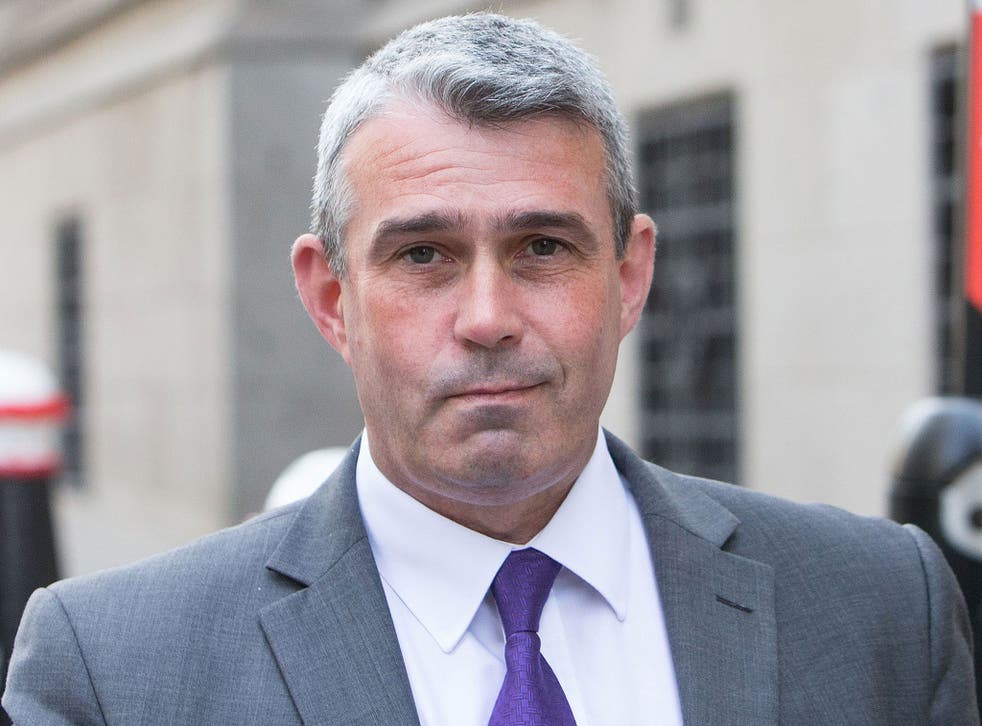 Days before Rebekah Brooks returns to her old job as chief executive of Rupert Murdoch's UK print business, the company's former director of security has promised to reveal a shock-laden account of "conversations" and "confessions" he made in the dock at the Old Bailey during the phone hacking trial.
Mark Hanna, who was cleared along with Mrs Brooks and her husband Charlie, of involvement in a conspiracy to pervert the course of justice, posted an extraordinary YouTube video where he claimed the re-appointment of the former editor of the News of the World and the Sun meant "Mr Murdoch's middle finger being shoved right in my face."
A soldier before he joined News International's security team, Mr Hanna had expected to be re-instated to his senior role when the jury cleared him last year. However in January he was made redundant by News UK, the rebranded NI.
He is currently involved in legal proceedings against the Murdoch-owned company over the £30,000 he is reported to have been offered as part of his severance.
Mr Hanna said the return of Mrs Brooks – who received £16m when she resigned from NI in 2011 – had left people "up in arms" and was "two fingers up to the nation and those that were victims of the company's illegal activities."
In a brief two minute video, he announced his intention to stand up to the "Murdochs and Brooks of this of world" who "treat us all with contempt". He said that despite "whistle blowing" his "numerous warnings of potential illegal activity" inside NI had been ignored.
With News UK effectively reversing its post-hacking commercial narrative that it was a new company with new management, Mrs Brooks' return, despite her closeness to Mr Murdoch, is being seen as a gamble by the global boss of News Corporation.
Mr Hanna promised to reveal what it was like working "in one of the most hated organisations in the UK, if not the world". This may unnerve the senior ranks of News Corp who learned last week that the UK Crown Prosecution Service is currently examining a full file of evidence from Scotland Yard and has not ruled out charges of corporate criminal liability from being brought against the company.
During the lengthy proceedings at the Old Bailey, Mr Hanna was regularly seated behind the dock's glass wall alongside Andy Coulson, Mr and Mrs Brooks and her former personal assistant, Cheryl Carter, and others. Only Coulson, from this group, was found guilty and jailed.
In his posted video, Mr Hanna said "Having been extremely close to some of those who pulled the strings within the company and gaining their trust, as well as sitting there every day in the dock … conversations took place, notes were taken, and even confessions were made."
From the day he joined NI, he claimed "things were not right, from the dealing with intrusive surveillance to uncleared payments. Having always been law abiding and doing things by the book, I handed my concerns to the relevant management, but was always told to ignore things. As time went on, more issues came to light, and again after reporting my concerns of potential illegal activity, which are classed as protected disclosures, I was told just to carry them out without regard to who it involved. This blasé attitude was never so relevant than today with the reinstatement of Rebekah Brooks."
Mr Hanna said: "I intend to tell you everything that I know, which I'm sure will shock everybody."
Three months ago at an employment tribunal in Croydon, Mr Hanna challenged the settlement he had been offered from News UK. After the hearing, he described how he was being treated as "wrong, immoral and unjust."
Currently he is unemployed and living on state benefits. He is understood to have told friends that the fall-out from the hacking trial had effectively left him unemployable in the security industry.
News UK would make no formal comment on the contents of Mr Hanna's YouTube video. However a company official confirmed that his legal case against his former employer was still on-going.
During the hacking trial, Mr Hanna was accused of helping Mr and Mrs Brooks to remove and conceal documents, computers and electronic equipment from their homes in Oxfordshire and at their London flat in Chelsea Harbour.
The jury rejected the crown's case and found him not guilty.