Massive protest takes place at Bank junction to remember recent graduate and newlywed cyclist
Ying Tao became the eighth cyclist to be killed in the City of London this year as campaigners call on more to be done for cycling safety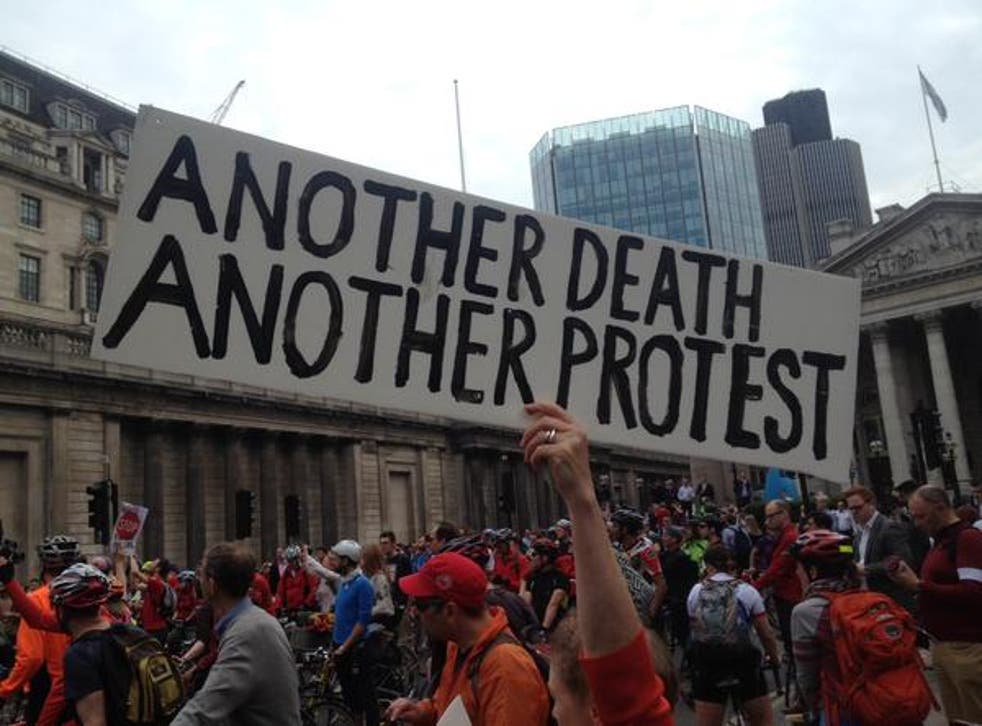 Over 400 bikers brought traffic to a complete standstill in London yesterday in protest of a young cyclist who became the eighth to be struck and killed in the city this year.
Demonstrators began to gather at the busy Bank junction early in the morning and, stepping off their bikes, the large crowd observed a silence to remember 26-year-old Oxbridge graduate, Ying Tao, who was hit by a lorry outside the Bank of England two days ago during the morning's rush-hour.
The PricewaterhouseCooper strategy consultant was treated by paramedics but succumbed to her head injuries and was pronounced dead at the scene 40 minutes later.
The protest, which was organised by the London Cycling Campaign, said on its website it wanted to remember the victim and added the demonstration was needed to "highlight the need for safe space for cycling; not just at this location, but across London."
The statement continued: "More must be done to create high-quality space for cycling across London to enable people of all ages and abilities to ride safely in our city. This includes making lorries safer."
Speaking with the London Evening Standard, road safety campaigner, Caroline Russell, a Green Party councillor in Islington, said it was "poignant and very moving seeing people standing in the middle of that junction which is normally filled with traffic barging its way through."
She added: "Having that moment of peace was just very, very moving. It brings it home to you that it could be so different.
"People are just fed-up with sharing roads with these massive lorries thundering through our streets. The reason so many people turned up to fill the junction was to say 'enough is enough'."
Questions are now being raised as to why the majority of cycling fatalities in London – involving lorries – involve women more than men.
The Conservative MP for Totnes, Dr Sarah Wollaston, who has also become an advocate for better cycling infrastructure and more funding, described how the problem is "gendered."
She added: "I don't think the Secretary of State can ignore this any longer. There are specific dangers to women from HGVs in London – and there's something he could do about it tomorrow.
"I'm not saying we ban [lorries] all day, but let's not have them out there at peak times for cyclists."
Tributes to Mrs Tao – who had just celebrated her first wedding anniversary last month – continued as her colleague, Neil Hampson, described her as "bright and popular with a promising career in front of her."
He added: "She excelled at everything she did, with a passion for life, for work and for the friendships she made.
"It is a tragedy that a wonderful young woman should lose her life at such an age."
The cyclists, yesterday, also observed a silence for 60-year-old cyclist, Clifton James, who was killed died in the early hours of Sunday morning in north-west London.
Join our new commenting forum
Join thought-provoking conversations, follow other Independent readers and see their replies