Meanwhile in Davos...How the PM, George and Boris digested the GDP slump
Greenpeace activist Ben Stewart manages to snap Cameron, Osborne and Boris Johnson tucking into pizza and fondue during the World Economic Forum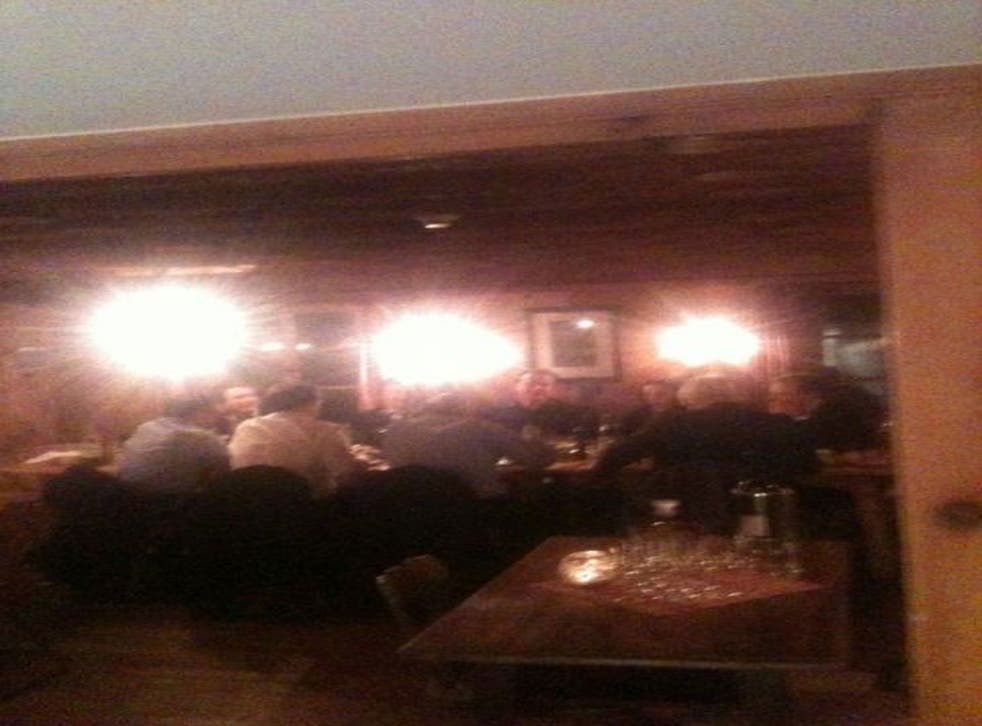 It's not quite a scene of Bullingdonian excess, but this image of Chancellor George Osborne enjoying a high-spirited alpine dinner just hours before the publication of Britain's disastrous GDP figures was hardly a PR triumph.
Sitting down with David Cameron and Boris Johnson, the three top Tories were caught on camera flanked by half a dozen aides and security officers eating out at a cosy restaurant in Davos on Thursday night. Greenpeace activist Ben Stewart managed to snap the trio tucking into pizza and fondue at the Alte Post Hotel in the alpine resort during the World Economic Forum.
Mr Stewart, who was in Switzerland to protest against Shell's plans for Arctic drilling, posted images of the happy diners "laughing uproariously" and enjoying banter during the meal on Twitter.
"It was really jovial. Cameron was holding forth in the middle and seemed to be taking the piss out of Boris who was defending himself in that rumbumptious way he has," he said.
Mr Osborne "had a face like he had swallowed a wasp" when he challenged him over an impending triple dip recession during a visit to the toilet, he added. Whilst cheaper than the five star redoubts favoured by plutocrats and the global business chiefs who descend on the resort for the annual capitalist jamboree, the stone-built hotel, bar and restaurant occupying the site of the village's 17th century former post house, is described as intimate and discreet.
The out-of-the-way spot has previously hosted Angelina Jolie and Bono among others. The most basic item on the menu is a marguerita pizza at £22 with the most expensive is a 300g veal chop in herb butter served with grilled vegetables at £35.
Challenged yesterday, Mr Johnson insisted the meal was alcohol-free and described the venue as an "average alpine restaurant" – adding that he had ordered fondue rather than pizza. "No taxpayers' money was involved. I can't speak for the rest of them – the sponge of amnesia has wiped the memory clean," said the London Mayor, who was discussing his speech urging for an end to austerity rhetoric in favour of growth.
It is not clear whether Mr Johnson opted for the £26 house fondue (fontal, gruyere and bergkase) or the fiscally more expansive Madagaskar cheese dip which included green peppercorns for an additional £3.
Join our new commenting forum
Join thought-provoking conversations, follow other Independent readers and see their replies