Media's obsession with appearance putting young women off going into politics, study finds
Nearly half of young girls believe there has been a rise in media sexism in last six months, which leader of Women's Equality Party warns is 'undermining' young women engaging in politics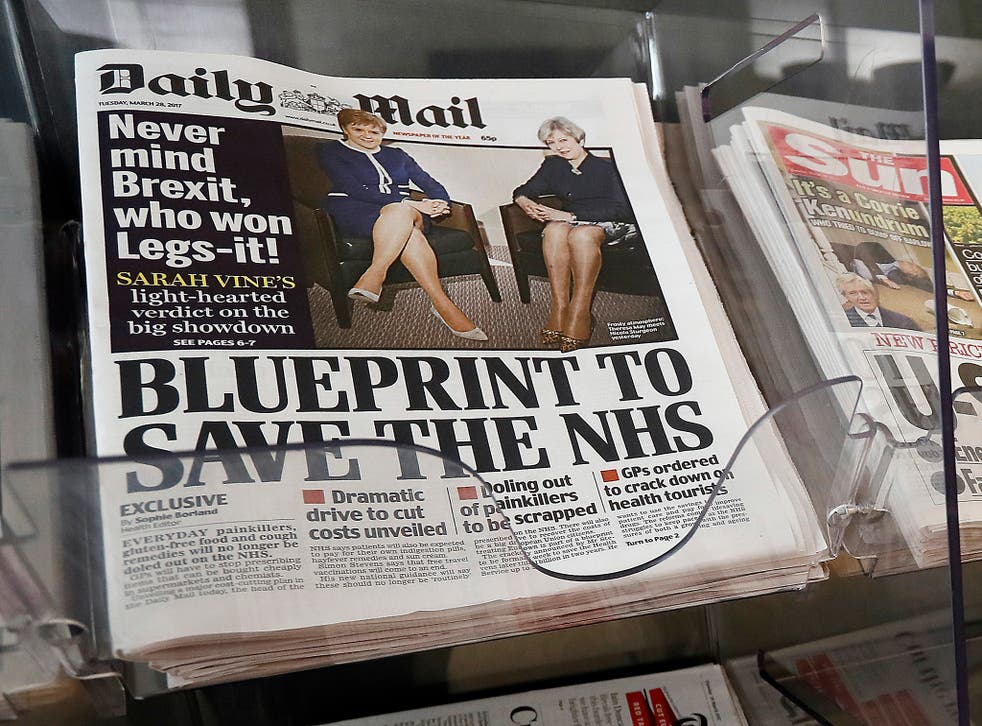 Obsession with female politicians' appearance in the media is putting young women off going into politics, a study has revealed, prompting campaigners to call for an end to sexism in political media coverage.
Nearly half (41 per cent) of girls aged between nine and 16 think there has been a rise in media sexism in the last six months, while more than a third (39 per cent) said this has knocked their confidence, according to the new research by Girlguiding.
The charity has launched a campaign encouraging all young women to vote, but has voiced concern that the continual objectification of female politicians and media focus on what politicians look like is side-lining girls from the political conversation.
It cited the infamous "Legs-it" headline – referring to a meeting between Theresa May and Nicola Sturgeon - and "constant editorial features detailing politicians' outfits" as clear examples of sexist attitudes.
Girlguiding, which is the UK's leading charity for girls and women, believes the fact that the country is going into an election just two years later with both a female prime minister and first minister in Scotland was a "fantastic move in the right direction", but warned girls were nonetheless feeling excluded by "outdated and sexist treatment" of female politicians in the press.
A youth panel member of the charity from Swansea, Hannah Stubbs, 20, said: "Media sexism worries me. I would like to see all politicians treated in the same way in the media and for the focus to be on their policies and views instead of what they're wearing that day.
"The media definitely have a responsibility to engage young women in voting. They can have a big impact on the way people vote and with great power comes great responsibility."
Emma Taggart, 16, a Girlguiding youth panel member from Northern Ireland, meanwhile said: "Sexist depictions of female politicians in the media put me off engaging with politics. Focusing on a politician's appearance instead of want she has to say sends the message that even women in the most powerful roles in the country aren't taken seriously.
"The media have a responsibility to engage us in the conversation and ensure our voices are heard."
Responding to the findings, Sophie Walker, leader of the Women's Equality Party, told The Independent: "As a mother of two daughters, it really upsets me that media sexism is having a direct impact on the self-confidence of girls and young women.
"The Women's Equality Party has made fair treatment of women in the media a core objective because we understand that the press has enormous power to shape the culture we live in.
"We need it to change, to allow girls and young women to thrive. I am standing for election on 8 June so that women are no longer undermined when we stand up to be part of our political system."
UK news in pictures

Show all 50
In light of the survey results, Girlguiding has called for the media to stop talking about politicians' appearances and focus on their "opinions not pins", and to include young women in debates and ensure their views are represented in political coverage.
It also urged the press to recognise the diversity of young women's voices including those who are too young to vote now, but will still be affected by the decisions of the next government.
The findings come after the charity's Girls' Attitudes Survey 2016 revealed girls as young as seven felt pressure to look perfect, with almost a quarter of seven to 10 year old girls (23 per cent) feeling they needed to be perfect and over half (52 per cent) feeling they were not good enough.
Join our new commenting forum
Join thought-provoking conversations, follow other Independent readers and see their replies