Refugees 'just as likely to die' in English Channel as they are in the Mediterranean
Bernard Barron says reaching the UK via the Channel Tunnel is now 'virtually impossible'
Ben Mitchell
,
Nina Massey Comments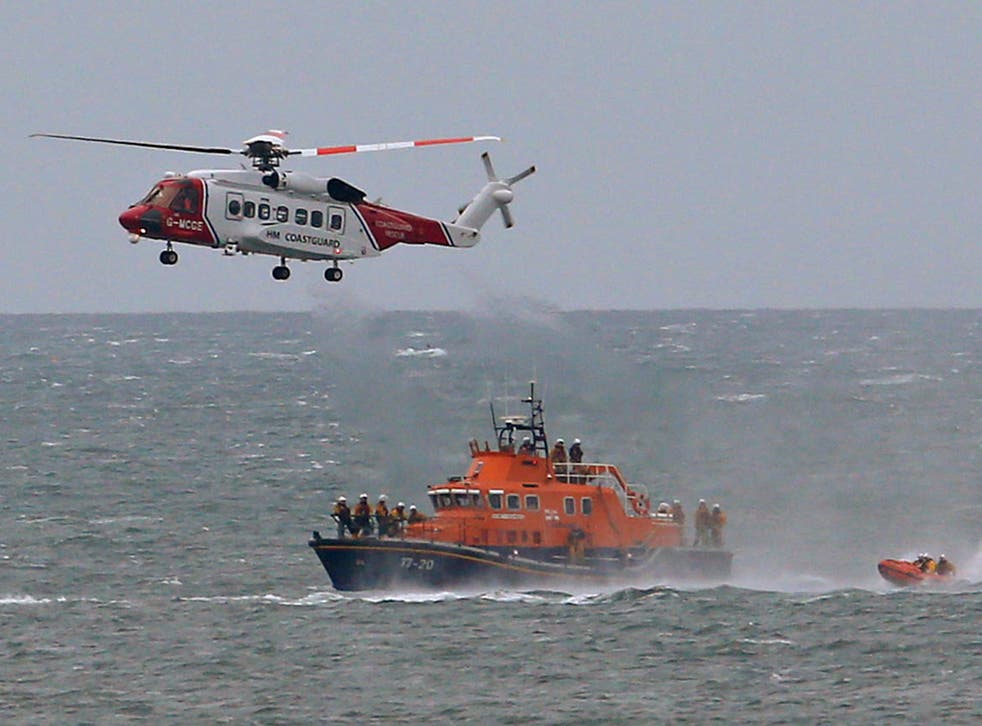 Refugees trying to cross the English Channel are just as likely to die as those who have perished in the Mediterranean, a former chief inspector of the UK's border force has warned.
His warning follows the rescue of 18 Albanians, including two children, from a sinking boat off the Kent coast on Saturday night.
Two British men, aged 33 and 35, have been charged with immigration offences.
John Vine, who was independent chief inspector of borders and immigration until 2014, said a series of warnings about the threat had failed to result in "sufficient resources" being devoted to the issue if lives were not to be lost.
"In the context of small ports, we just don't know the extent of this," he told BBC Radio 4. "But I think it is reasonable to assume that this is something that might have been happening and if this is now the start of a new trend we certainly need to gather the intelligence and the resources to nip it in the bud."
He said he found the issue "wasn't a major priority" when he raised concerns in the past.
"That is entirely reasonable: if an organisation has limited resources, it has to prioritise where its enforcement activity is," Mr Vine said.
"But clearly if this is now the start of something new, then really that... needs to be reassessed and resources need to be put in."
He added: "We have seen the tragedies that have occurred in the Mediterranean.
"I am not a nautical person but I would have thought crossing the Channel – with all the hazards in terms of cross-Channel traffic as well as the weather and the sea conditions – are going to mean there is an equal chance of people losing their lives unless this is stopped."
It has been reported the people on board had alerted their families in Calais, who raised the alarm with the French authorities. A second boat was later discovered off the coast of Dymchurch.
His warning was echoed by Bernard Barron, the president of the French coastguard, who said: "It's starting to become a very similar situation to that seen in the Mediterranean," he said. "My biggest fear is that the same kind of tragedies we see in Greece or Italy will start to repeat in the Channel."
He added that smugglers had found a new way of bringing migrants into the country after it had become "virtually impossible" for them to enter via the Channel Tunnel or on ferries.
"They operate across the length of both the French and Belgian coastlines, between Ostend and into Normandy, finding new positions from where they can send their clients – the migrants – towards England."
Mr Barron said that even though the smugglers were being given large sums of money, there were not providing suitable transport for a "sea filled with danger, with strong currents, storms and heavy traffic of larger vessels".
The discovery has also led to calls for increased security off the English coast.
Lord West, the former head of the royal navy, told the Daily Mail: "We are taking a calculated risk with our own territorial waters. Already we have seen these illegal immigrants and I don't believe there aren't clever traffickers using the smaller ports to send them and I'm sure terrorists are aware of the route too.
"We need to get a grip on this. We are taking a gamble that nothing will ever happen in our seas and that is a risky view to take given the dangerous world we are in."
However, David Monk, Conservative leader of the local authority, said he believed high levels of surveillance in the English Channel would mean most boats crossing the channel would be identified.
He added: "I am pretty sure our security is good. I cannot recall a previous incident but this should act as a warning to the authorities to be even more vigilant."
The rescued Albanian have been detained pending Home Office consideration of their cases.
The National Crime Agency recently revealed migrants trying to reach the UK are paying smuggling gangs up to £13,500 for their journey.
Register for free to continue reading
Registration is a free and easy way to support our truly independent journalism
By registering, you will also enjoy limited access to Premium articles, exclusive newsletters, commenting, and virtual events with our leading journalists
Already have an account? sign in
Join our new commenting forum
Join thought-provoking conversations, follow other Independent readers and see their replies