Milk Bucket Challenge: Farmers drench themselves in the dairy product in latest protest against low prices
Protesters have also led cows through supermarkets in recent weeks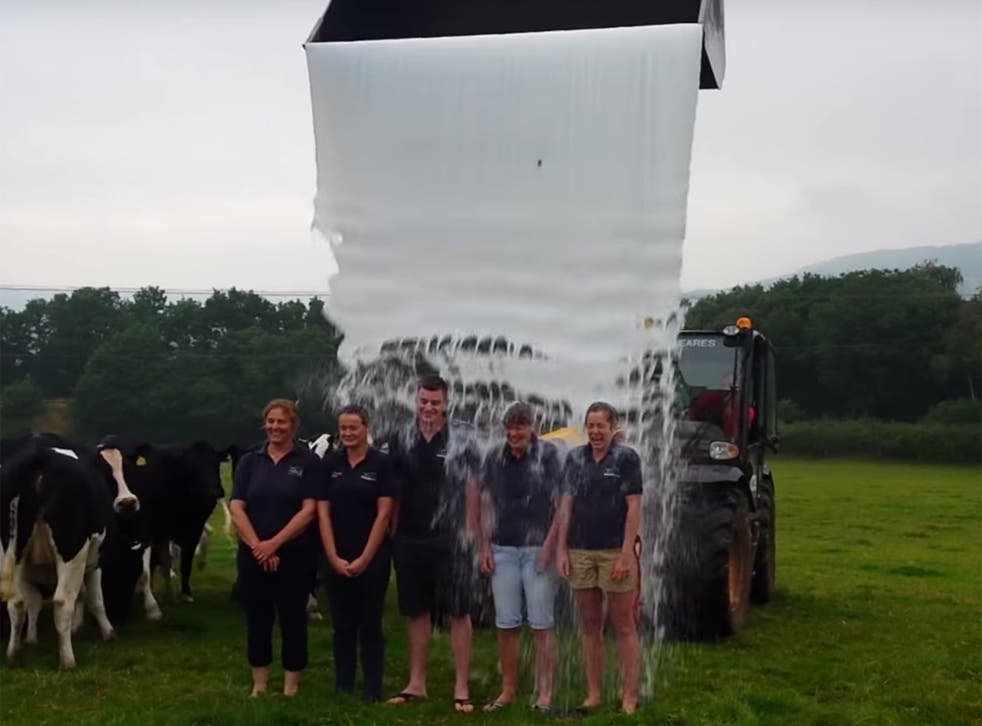 A year after the Ice Bucket Challenge brought motor neurone disease to global attention, protesters are raising awareness of falling milk prices by dousing themselves in the dairy product.
Farmers have said that the dairy industry is at crisis point, as the cost of producing milk has risen while the amount producers are being paid has dropped by 25 per cent in a year.
The milk bucket challenges are the latest in a series of eye-catching protests in recent weeks to highlight how little milk is currently worth, which have seen cattle being led through supermarkets, and milk being dumped.
Members of the Whimple and Broadclyst Young Farmers Clubs (YFC) and the Vale Farmers' Community Network are among those to have taken part in milk bucket challenges.
Following the same format as the hugely successful ice bucket challenge, participants are shown nominating other farmer associations to follow their actions and raise money for the Farm Community Network.
Another video shows a young child pour a bottle of milk over her father's head while he sits in the bath.
When she asks why he's washing his hair with milk, he replies: "Well, it's cheaper than water."
Farmers' representatives urged supermarkets on Monday to support British producers, with the president of the National Farmers Union (NFU) saying that he hoped that the Government would keep its promise to help the suffering industry.
It is estimated that it costs between 30p and 32p to produce a litre of milk, but farmers have said they were paid an average of 23.66p in June.
After farmers targeted supermarkets, Aldi, Lidl and Asda have agreed to pay farmers 28p per litre, while Morrisons has launched a brand of milk and cheese to directly support producers.
Protesters are now setting their sights on Tesco, which has refused to raise its prices and argued that it already more than 30pm per litre on its milk products.
On Sunday evening, protesters used tractors to blockad one of Tesco's biggest distribution centres in the UK, as well as a Farmfoods depot near Avonmouth, Bristol.
Farmfoods has declined to comment on its prices.
Additional reporting by PA
Join our new commenting forum
Join thought-provoking conversations, follow other Independent readers and see their replies