Living wage still not enough to give families a basic 'no frills' lifestyle, says charity
The Child Poverty Action Group is calling on the government to restore work allowances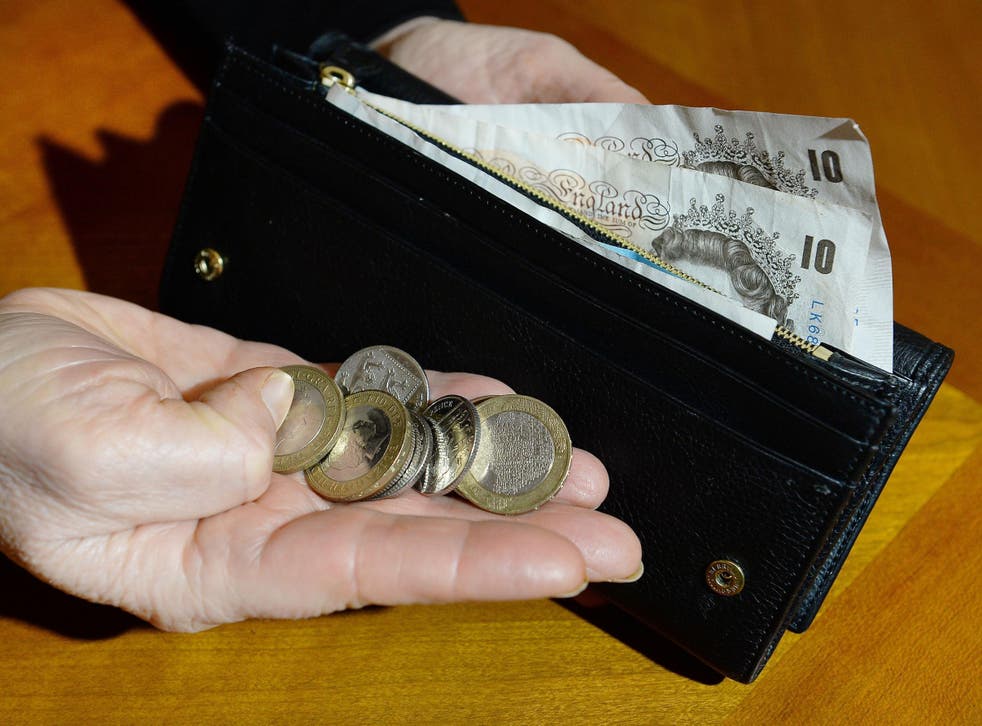 Parents working full time on the national living wage are still not earning enough for an acceptable standard of living, according to new research.
Couples raising two children are falling £49 a week short of being able to provide their family with a basic "no frills" lifestyle, it is claimed.
Lone parents are faring even worse, with a 20 per cent deficit in their weekly budget, say the Child Poverty Action Group (CPAG).
The charity's Cost of a Child Report, published on Monday, found that increased minimum wages were offset by a freeze in tax credit support.
It blamed rising prices, the bedroom tax, freezes to benefits and tax credits and the roll-out of Universal Credit for hitting "family budgets hard".
Alison Garnham, chief executive of CPAG, called for an increase in the national living wage to allow families to provide a standard of living defined as acceptable by public opinion.
"There is strong public support for government topping up the wages of low-paid parents and investing in children is the best long-term investment we can make," she said.
"By using the forthcoming budget to unfreeze benefits and restore work allowances, the government can take steps towards making work really pay."
A government spokeswoman said fewer are living in absolute poverty today and ministers are committed to giving every child the best chance.
"The employment rate is at a near-record high and the national living wage has delivered the highest pay increase for the lowest paid in 20 years, worth £2,000 extra per year for a full-time worker," she added.
UK news in pictures
1/50

 19 August 2018

Manchester United women's side walk out alongside Liverpool ahead of their first professional game since 2005. United disbanded their senior women's team thirteen years ago and returned with a win, beating Liverpool in their Continental Tyres Cup match clash at Prenton Park

PA

2/50

 18 August 2018

Great Britain's Reece Prescod, finishes second, to USA's Christian Coleman, centre, in a photo finish after they both ran 9.94. With USA's Noah Lyles, left, finishing third in the men's 100m final during the Muller Grand Prix at Alexander Stadium, Birmingham

PA

3/50

 17 August 2018

Paul Elliott, right, carries the coffin of his brother Barry, 73, at the New York Stadium, Rotherham, for his funeral following his death on Sunday August 5. The veteran entertainer was one half of comedy duo the Chuckle Brothers with Paul

PA

4/50

 16 August 2018

Students react as they receive their 'A' level results at Stoke Newington School and Sixth Form in London. Universities accepted thousands fewer students as pass rates hit lowest level since 2010

Reuters

5/50

 15 August 2018

People gather on Market Street, Omagh, for the ceremony to mark the 20th anniversary of the Omagh bombing on 15 August 1998. The worst single atrocity of the Northern Ireland conflict killed 29, including a woman pregnant with twins

PA

6/50

 14 August 2018

Police arrest a man after he crashed a car into security barriers outside the Houses of Parliament

Sky News

7/50

 13 August 2018

Communities Secretary James Brokenshire today launched a £100 million pound government fund to end rough sleeping in England within the next decade. Brokenshire is pictured here at the central London headquarters for homelessness charity the Passage, where he launched the scheme

PA

8/50

 12 August 2018

Police officers stand guard at the scene of a shooting at Claremont Road in the Moss Side neighborhood of Manchester, Ten people were taken to hospital on August 12, 2018 after shots were fired in Manchester in northern England, police said.

AFP/Getty

9/50

 11 August 2018

Great Britain's Dina Asher-Smith reacts after she won gold in the women's 200m final at the European Athletics Championships in Berlin, completing the sprint double after she won the 100m just days before

Getty/European Athletics

10/50

 10 August 2018

Pedestrians walk past the entrance of the retail store House of Fraser in central London. The Chinese-owned UK department store chain, entered administration on August 10 only to be swiftly snapped up by retailer Sports Direct for £90 million ($115 million, 100 million euros)

AFP/Getty

11/50

 9 August 2018

Local people protest outside the Hillingdon Conservative Association office on August 9, 2018 in Uxbridge, England. Today's protest is being held following comments made by former Foreign Secretary, Boris Johnson, against the wearing of Burkas by Muslim women in the United Kingdom. An independent panel will investigate complaints made regarding Mr Johnson's comments and possible breaches of the Conservative Party code of conduct.

Getty

12/50

 8 August 2018

Britain's Prince William, right, and Britain's Prime Minister Theresa May, walk past a German flag, left, and a Britain's flag as they leave the Amiens cathedral, northern France. Prince William and Theresa May are marking the somber centenary of the Battle of Amiens, in France, a short, bloody and decisive battle that heralded the end of World War I

AP

13/50

 7 August 2018

Great Britain's Jack Laugher and James Heatly pose with their Gold and Bronze medal's respectively won in the 1 metre springboard men's final at the European Diving Championships in Glasgow

EPA

14/50

 6 August 2018

England cricketer Ben Stokes arrives at Bristol Crown Court accused of affray. The 27-year-old all-rounder and two other men, Ryan Ali and Ryan Hale are jointly charged with affray in the Clifton Triangle area of Bristol on September 25 last year, several hours after England had played a one-day international against the West Indies in the city

PA

15/50

 5 August 2018

Great Britain's Laura Kenny celebrates after winning the Women's Elimination Race final at the European Championships in Glasgow

16/50

 4 August 2018

Ben Stokes celebrates taking the wicket of India's Hardik Pandya with team mates during the first test at Edgbaston

Action Images via Reuters

17/50

 3 August 2018

French President Emmanuel Macron waves to people as he arrives at the Fort de Bregancon for a meeting with British Prime Minister Theresa May

epa

18/50

 2 August 2018

Brexit Minister Dominic Raab is welcomed by French Minister attached to the Foreign Affairs Minister Nathalie Loiseau prior to a meeting in Paris

AFP/Getty

19/50

 1 August 2018

Demonstrators against Tommy Robinson outside the Royal Courts of Justice in London, where the former English Defence League leader has been freed on bail by the Court of Appeal after winning a challenge against a finding of contempt of court

PA

20/50

 31 July 2018

Friends of Lucy McHugh gather in Mansel Park, Southampton to release balloons in her memory. Lucy disappeared from her Southampton home last Wednesday and her body was later found in woodland near Southampton Sports Centre at 7.45am on Thursday

PA

21/50

 30 July 2018

Foreign Secretary Jeremy Hunt followed in the footsteps of his gaffe-prone predecessor Boris Johnson as he mistakenly referred to his Chinese wife as Japanese whilst on his first diplomatic mission to China

AP

22/50

 29 July 2018

Britain's Geraint Thomas, left, wearing the overall leader's yellow jersey and Britain's Luke Rowe hold the flag of Wales during the 21st and last stage of the 105th edition of the Tour de France cycling race between Houilles and Paris Champs-Elysees. Thomas is the first Welshman to win the Tour de France

AP

23/50

 28 July 2018

Passengers wait and queue following flight disruption at London Stansted Airport. The British National Air Traffic Services (Nats) placed temporary restrictions during the adverse weather on 27 July leading to flight cancellations and delays across Britain

EPA

24/50

 27 July 2018

The scene on the A96 between Huntly and Keith in Moray where a five people have died and five more were injured after a crash between a minibus and a car.

PA

25/50

 26 July 2018

Anti-Brexit campaigners parked a removal van outside the Foreign Secretary's official home in central London in protest of former Foreign Secretary Boris Johnson's continued residence there

PA

26/50

 25 July 2018

Labour leader Jeremy Corbyn during his visit to HS2 trains bidder Bombardier in Derby, following the launch of the party's new Build it in Britain campaign

PA

27/50

 24 July 2018

Great Britain's Geraint Thomas cleans his eyes after tear gas was thrown at the pelaton during a farmers' protest who attempted to block the stage's route, during the 16th stage of the Tour de France, between Carcassonne and Bagneres-de-Luchon. The race was halted for several minutes.

AFP/Getty Images

28/50

 23 July 2018

Crime scene investigators at the scene near the Hilton Hotel, Deansgate, Manchester where a woman with serious injuries to her neck was found in the morning. Six people have been arrested on suspicion of attempted murder after the woman was attacked inside the hotel

PA

29/50

 22 July 2018

Italy's Francesco Molinari kisses the trophy after winning the 147th Open golf Championship at Carnoustie, Scotland

AFP/Getty

30/50

 21 July 2018

Great Britain's Tom Bosworth poses after winning the men's 3000m race walk with a new World Record time at the IAAF Diamond League athletics anniversary games meeting in London

EPA

31/50

 20 July 2018

British Prime Minister Theresa May delivers a keynote speech at the Waterfront Hall in Belfast. The Prime Minister is on a two-day visit to Northern Ireland. During her visit, focusing on Brexit and the deadlock at Stormont, she will visit the Irish border and discuss the potential impact of Brexit with Northern Irish businesses

Getty

32/50

 19 July 2018

Britain's newly appointed chief Brexit negotiator Dominic Raab, left, and EU's chief Brexit negotiator Michel Barnier speak to the media ahead of a meeting at the European Commission in Brussels. Britain's chief Brexit negotiator David Davis resigned less than two weeks ago and his successor Raab met his EU counterpart Michel Barnier for the first time late Thursday.

AP

33/50

 18 July 2018

An emotional Sir Cliff Richard with his legal team outside the High Court in London after he was awarded £210,000 in damages in his privacy battle against the BBC over their coverage of a police raid of his home

EPA

34/50

 17 July 2018

Pro-EU demonstrators wave flags outside the Houses of Parliament in Westminster.

Reuters

35/50

 16 July 2018

Theresa May arives to open the Farnborough Airshow

Getty

36/50

 15 July 2018

Novak Djokovic lifts the trophy after winning the men's singles final match against Kevin Anderson at Wimbledon

AP

37/50

 14 July 2018

Far-right protesters demanding the release of jailed EDL founder Tommy Robinson brought chaos to central London after blockading a bus being driven by a woman in a headscarf during the march

The Independent

38/50

 13 July 2018

US President Donald Trump and British Prime Minister Theresa during their meeting at Chequers in Buckinghamshire

Reuters

39/50

 12 July 2018

US President Donald Trump and first lady Melania Trump arrive in the UK

Reuters

40/50

 11 July 2018

England manager Gareth Southgate and his players look dejected after they lost their World Cup semi final match against Croatia at Luzhniki Stadium in Moscow

Getty

41/50

 10 July 2018

Serena Williams celebrates after winning against Camila Giorgi during their women's singles quarter-final match on the eighth day of Wimbledon. Williams won the match 3-6, 6-3, 6-4

Getty

42/50

 9 July 2018

Britain's new Secretary of State for Exiting the European Union Dominic Raab leaves 10 Downing Street after it was announced he was appointed to the job. The former Housing Minister is to take up the post, after UK Brexit Secretary David Davis resigned from the Cabinet and said Monday that he won't seek to challenge Prime Minister Theresa May's leadership

AP

43/50

 8 July 2018

Ferrari's Sebastian Vettel celebrates winning the British Grand Prix in front of second place finisher Lewis Hamilton at Silverstone

Getty

44/50

 7 July 2018

Gareth Southgate, manager of England, celebrates at the final whistle following his side's quarter final victory over Sweden at the World Cup in Russia

Getty

45/50

 6 July 2018

Forensic investigators wearing protective suits enter the rear of John Baker House, a supported housing scheme for the homeless in Salisbury after it was evacuated the previous day. Police are investigating the scene after a man and woman were exposed to nerve agent novichok and are in critical condition

Reuters

46/50

 5 July 2018

German Chancellor Angela Merkel receives Britain's Prime Minister Theresa May in Berlin

Reuters

47/50

 4 July 2018

British police officers stand facing a residential property in Amesbury. British police have declared a "major incident" after two people were exposed to an unknown substance in the town, and are cordoning off places the people are known to have visited before falling ill

AP

48/50

 3 July 2018

England celebrate after beating Colombia on penalties in their round of 16 match at the World Cup in the Spartak Stadium, in Moscow

AP

49/50

 2 July 2018

Floral tributes left at Gorleston beach in Norfolk where a girl was fatally thrown from an inflatable on Sunday, as an MP calls for bouncy castles to be temporarily banned in public areas

PA

50/50

 1 July 2018

A firefighter carries a water hose past sheep close to scorched moorland as it burns during a fire at Winter Hill, near Rivington

Reuters
The CPAG report found that the overall cost for a couple raising a first child until they are 18 has fallen from £155,100 to £150,800.
It also showed a small improvement in family budgets since last year, with a couple raising two children at the point they are aged three and seven falling 11 per cent short each week instead of 13 per cent short.
PA
Join our new commenting forum
Join thought-provoking conversations, follow other Independent readers and see their replies