Most vulnerable people in country 'in jeopardy' over £1.1bn of cuts to adult social care
Councils have been forced to impose steep cuts on adult social care because the money they receive from central Government has fallen substantially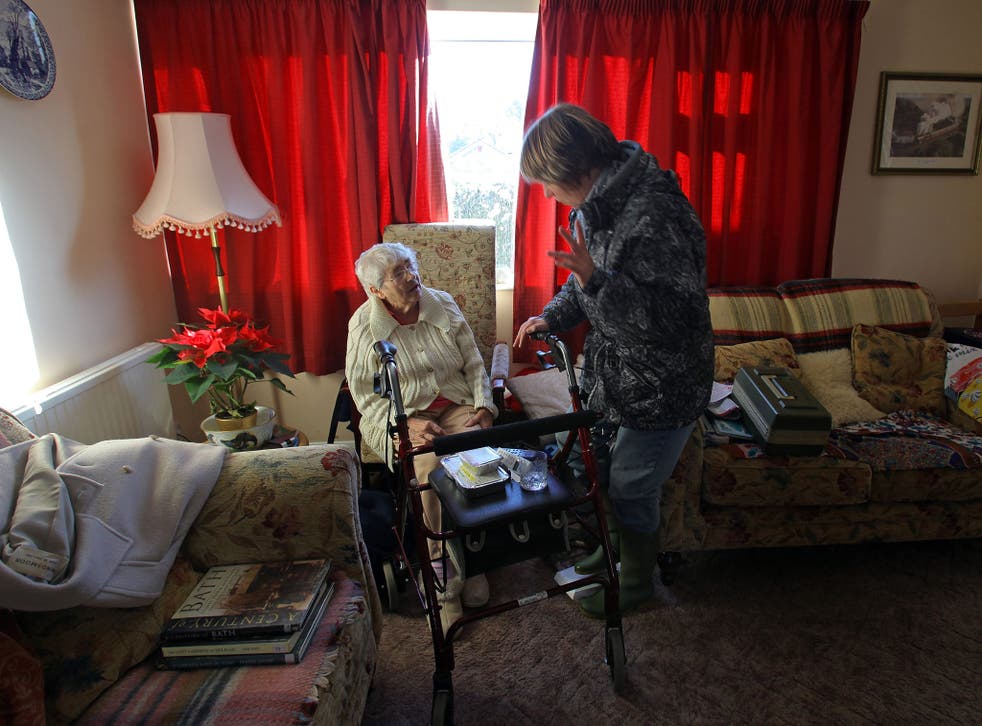 The most vulnerable people in the country are being "placed in jeopardy" by a further £1.1bn of cuts to adult social care, according to new research.
Older people, those with learning difficulties and mental health problems have all seen major reductions in the services to help them because of shrinking budgets.
The £1.1bn cut planned for 2015/16 – calculated by the Association of Directors of Adult Social Services (ADASS) – comes after councils have slashed their adult social care budgets by 31 per cent over the last five years.
Councils have been forced to impose steep cuts on adult social care because the money they receive from central Government has fallen substantially. Unlike other services, the social care budget is not ring-fenced.
Over the past year, 16,000 fewer people in England received home, nursing or residential care despite increasing demand from an ageing population and better life expectancy for those with disabilities.
Councils have been forced to tighten the criteria for those they help, resulting in thousands more people being left lonely and unhelped at home and increased pressure on NHS services.
Ray James, president of Adass, said: "What is at stake is the continuing capacity of adult social care to sustain services to those in greatest need. In virtually all our authorities, the number in need is growing, while the complexity of their needs is increasing."
He added: "Short-changing social care is short-sighted and short-term. It must also be short-lived if we are going to avoid further damage to the lives of older and vulnerable people who often will have no one else but social care to turn to."
The largest proportion of the cuts – almost 30 per cent – fell on home care for older people. This is likely to mean many more fleeting 15-minute care visits as well as large numbers being refused help at home altogether.
The research also highlights the "folly" of expanding NHS budgets at the same time as social care budgets are being reduced "despite the widely-acknowledged significance of the link between the two".
Caroline Abrahams, director of Age UK said: "The idea of a billion pounds coming out of social care budgets this year is chilling, given how patchy care quality already is."
The figures come from a survey of all councils in England by Adass.
Many of the savings are made by freezing the fees paid to private care providers – this represented £32m of "efficiencies" in 2016. But council leaders say this will no longer be an option as the finances of companies providing care look increasingly precarious.
Many counties are struggling to recruit enough care staff and the turnover of nurses in nursing homes across England was 32 per cent last year. In southern counties where employment rates are high, such as Oxfordshire and Hampshire, there is a critical shortage because the jobs are poorly paid and tough, making people turn to other work.
A Government spokesman said: "This survey ignores the Government's commitment to put an additional £10bn by 2020 into health services that are being joined up with social care for the first time, and the contribution of our Better Care Fund."
Q&A: Why is the social care budget being cut?
Q | What is the social care budget?
A | Councils in England spend £13bn on adult social care, representing 35 per cent of their annual budgets. In 2015/16 local authorities have budgeted to cut this by £1.1bn.
Q | What is it spent on?
A | The most vulnerable adults in the country all rely on social care. This includes home services for elderly people and those with learning disabilities, as well as residential care. It also covers services for those with mental health conditions.
Q | Why is the budget falling?
A | The Government has slashed the money it gives councils by 40 per cent since 2010 and there would be uproar if council tax was increased to cover such a dramatic shortfall. Since adult social care is not ring-fenced, local authorities have had to cut its budget by 31 per cent over the past five years.
Q | How does this affect the NHS?
A | Hugely. A poll of NHS leaders this week found that 99 per cent felt social care cuts were increasing pressure on the NHS. Without help to keep them living in their own homes, people with care needs are turning up in hospitals where two-thirds of beds are already occupied by elderly patients.
Join our new commenting forum
Join thought-provoking conversations, follow other Independent readers and see their replies