Green campaigners welcome 60mph motorway speed limit but motoring groups say it will confuse drivers
EU air pollution rules have forced the move to reduce speed on sections of certain roads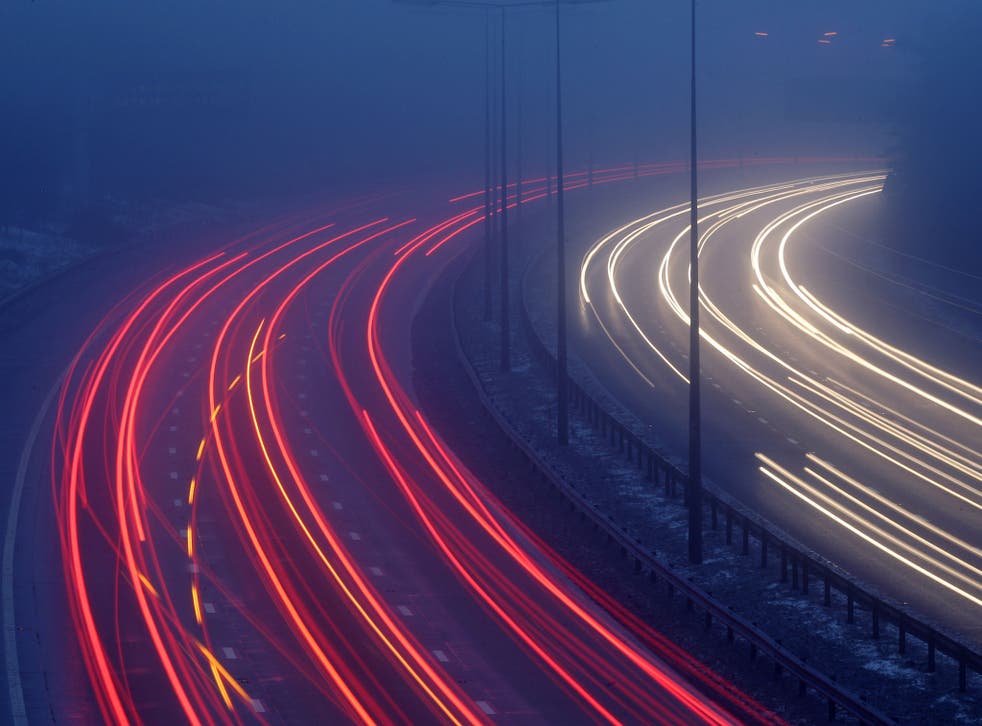 Speed limits could be lowered to 60mph on sections of several British motorways in moves to meet European Union rules on fighting dangerous levels of air pollution.
The move marks a dramatic change of policy just two years after the Government was advocating an increase from 70mph to 80mph on major routes to shorten journeys and boost the economy.
A 60mph speed limit is set to be introduced on a congested 32-mile stretch of the M1 in Derbyshire and South Yorkshire to cut pollution levels and could also be brought in on other sections of road across the country if air quality is at risk.
The initiative was welcomed on Monday night by environmental campaigners, while motoring groups warned of the danger of confusing drivers forced to switch between speeds on different stretches of motorway.
The proposed reduction to 60mph on the M1, which has gone out to consultation, was forced by a Highways Agency scheme to turn parts of the hard shoulder into an extra lane. It has been warned that the additional traffic that would be generated would push pollution above levels allowed under new EU restrictions.
Lowering limits would reduce amounts of noxious gases emitted by vehicles at high speed and reduce polluting traffic jams, the Highways Agency believes.
Both the Agency and the Department of Transport confirmed the 60mph experiment could be rolled out to other stretches of motorway in England and Wales where hard shoulders are brought into use. Similar "managed motorway" schemes, where speed limits are varied and hard shoulders brought into use, are planned on parts of the M6, the M8 and the M25.
In 2011 the former Transport Secretary, Philip Hammond, provoked controversy when he signalled his support for a rise to 80mph.
However, his successor Patrick McLoughlin has shelved the idea following warnings that an increase would lead to fatal accidents.
The Highways Agency said the planned restriction, which would apply between 7am and 7pm every day of the week, would be in force from junction 28 of the M1, near Matlock, Derbyshire, to junction 35a, north of Rotherham. It is forecast to run for several years.
The Highways Agency's argument that the proposed reduction would reduce traffic congestion is based on the so-called "Guinness theory" – the idea that pouring a pint slowly and smoothly is a quicker way to fill the glass than blasting it and creating a frothy mess.
This is also known as the "red light domino effect", the idea that as soon as the car ahead brakes and the red light comes on, each of the cars behind will, in turn, put their brakes on. The faster the speed, the greater the need to break and the chance of slowing down.
David Bizley, the RAC's technical director, said: "This is a landmark proposal as to the best of our knowledge motorway speed limits have not previously been lowered in order to comply with environmental legislation."
He added: "It could pave the way for similar restrictions on other sections of motorway. While preserving air quality is obviously a paramount concern there will inevitably be a negative impact on business efficiency and individual mobility."
The AA president Edmund King said: "It's the only way to reduce emissions until the technology kicks in and makes engines cleaner, so it's something we have to live with. You can't really be against it, but many drivers will be frustrated and bemused. Earlier this year there was talk of an 80mph speed limit and now it's gone down to 60mph."
Friends of the Earth Campaigner Jenny Bates said: "The Highways Agency is right to take air pollution seriously – it's a national scandal that tens of thousands of people die prematurely each year because of poor air quality.
"Speed restrictions have a part to play – but other action is needed too, such as scrapping road-building plans and providing drivers with genuine alternatives to their cars."
The Roads Minister Robert Goodwill said: "Any speed restrictions to improve air quality would be temporary, only ever considered as part of road improvement work and would not be appropriate for the vast majority of projects started in this Parliament."
But Mary Creagh, the shadow Transport Secretary, said: "These proposals could confuse motorists who have to adapt to variable speed limits on managed motorways."
Tailbacks on motorways form for numerous reasons – from drivers slowing down to "rubber neck" at an accident to something as simple as one car braking heavily. That forces the car behind to also brake heavily a couple of seconds later. This concertina effect can lead, a few miles down the road, to the bane of the motorway journey – stop-start traffic.
To avoid this, the Highways Agency has already introduced variable speed limits, slowing traffic to 40 or 50mph in order to allow the congestion ahead to clear, and to prevent drivers having to slow rapidly from 70mph. By the time they hit the slow-moving traffic, they should be travelling at the same speed.
A 60mph limit dampens the concertina effect at the beginning of slowdowns. Although frustrating, it means drivers have a more "regular" journey time. A 20-minute journey, for example, may take an hour in congestion. A slower pace without congestion means the driver knows at least they will definitely arrive in half an hour.
Join our new commenting forum
Join thought-provoking conversations, follow other Independent readers and see their replies