Nearly a third of parents on low incomes miss a meal to feed their children, says report
31 per cent of parents earning £25k or less say they have skipped a meal to afford to feed their children during the summer holidays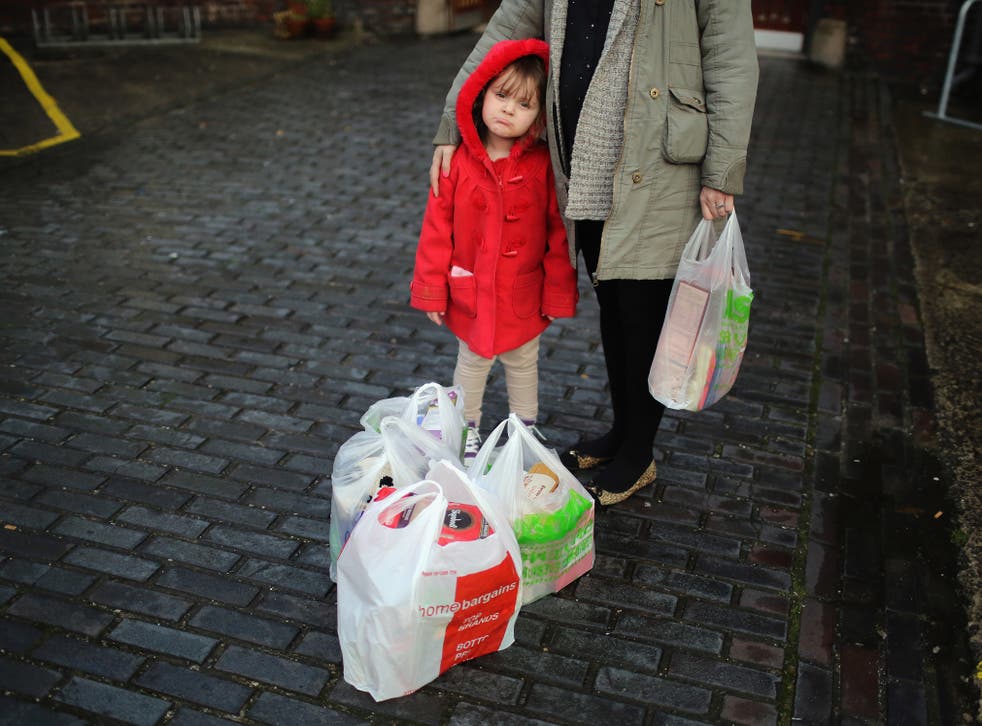 Nearly a third of parents with incomes less than £25,000 have said they have skipped a meal to ensure their children do not go hungry, according to a new study.
31 per cent of parents surveyed found parents had skipped at least one meal during the summer holidays with a further 62 per cent saying they could not always afford food when their children were no longer entitled to free school meals.
3 per cent of parents surveyed said the family had gone with a meal altogether to save money at least once.
For parents earning less than £15,000 the picture is even bleaker with 41 per cent going without food and nearly three quarters (73 per cent) saying they cannot buy food.
The report, "Isolation and Hunger: the impact of the school holidays on struggling families", was commissioned by Kelloggs as part of their holiday breakfast club programme and has been presented to all 650 MPs.
Lindsay Graham, Chair of the Holiday Hunger Task Group said: "We do not yet know the full scale of holiday hunger in the UK, but there are around 1.7million children who are eligible for free school meals who could go without that valuable daily meal this summer.
"School holiday periods are an incredibly difficult time for parents on low incomes as limited household budgets are squeezed. Holiday meal programmes that provide a safe environment and fun activities need to be recognised and supported by government policy. No child should be hungry at any time in this country."
For the foodbank charity the Trussell Trust it is a busy time of year as millions of parents struggle with the extra costs of children being out of school.
Last summer, it saw 20,000 more referrals over the course of the summer that it had for the previous three months.
In pictures: Food banks

Show all 9
Despite the economic recovery, falling real wages, the rising cost of living and the cut to benefits such as child tax credit and housing allowances mean more families are now having to make their money stretch further.
The Trust said it fed 585,229 people in the six months up to March 2015, an increase of seven per cent on last year.
Alison Ingliss-Jones, a Trustee at The Trussell Trust said: "These figures from Kellogg's are concerning and build on research in 2014 that suggested one in five parents were struggling to feed their children over the school holiday period.
"No parent should have to go without food in order to put food on the table for their children. This summer we will be stepping up our support, both in terms of emergency food provision and through additional support such as holiday lunch clubs, which help to prevent holiday hunger before it reaches crisis point."
But the Trussell Trust warns the impact of last week's budget, which saw further cuts to tax credits and benefits, will put their services under even more strain.
David McAuley, the Chief Executive of the Trussell Trust, said: "We are not opposed to the principle of reform, but feel strongly that both present and planned reforms affecting vulnerable individuals and families must be examined and measured to ensure a safety net is in place to help those most in need of support.
"We are concerned that we find ourselves helping hundreds of thousands of people each year who come to a Trussell Trust foodbank simply because government departments make avoidable, preventable mistakes."
Frank Field, the Labour MP who co-chaired the all party parliamentary inquiry on food poverty said: "Here we are in 2015, supposedly after a century of progress, with an army of children set to embark on their school holidays not knowing when they might eat their next meal. There are some wonderful voluntary efforts to lay on 'food and fun' projects for children, and the report shows the lengths to which some parents go to feed their child.
"But might the Government now begin weighing up how a national programme might continue the provision of free school meals, perhaps in combination with family cooking sessions, during the school holidays?"
Join our new commenting forum
Join thought-provoking conversations, follow other Independent readers and see their replies