The new anti-Semitism: 'I looked at his shirt and saw 'Kill the Jews' and was truly shocked'
A Salford rabbi says that Britain's Jewish community is no stranger to casual anti-Semitism, which is back on the rise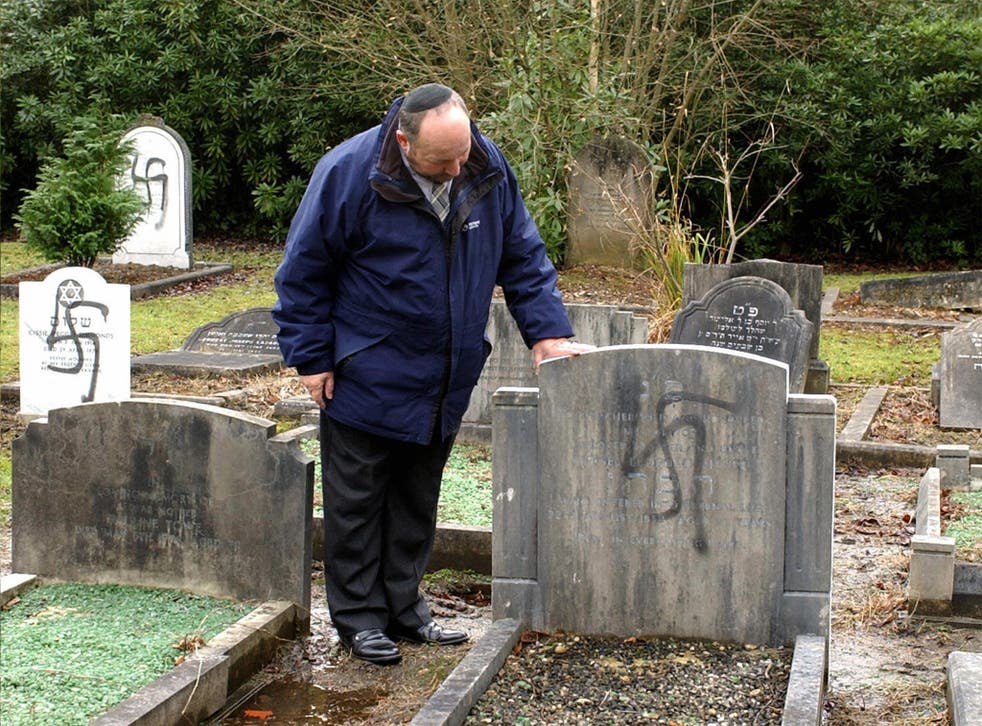 Rabbi Arnold Saunders remembers clearly his shock at the slogan he noticed printed on the back of a man wearing a Manchester United shirt as he was driving one day in Salford. It read: "Kill the Jews."
The 54-year-old cleric, a Reds fan since the age of nine, has experienced more than his fair share of violent anti-Semitism. He was once punched in the face outside his synagogue in an unprovoked attack. He has also been pelted with eggs and had abuse yelled into his face.
But it is the blatant hatred of the man in the football shirt which has stayed with him as a symbol of the casual hatred which the rabbi and members of his community, in Higher Crumpsall and Higher Broughton areas of Manchester, have to endure.
He told The Independent: "The man was driving and I noticed his shirt. I looked because I wanted to see what name he had on his shirt – Rooney, Cantona, whoever. Then I saw 'Kill the Jews' and I was shocked, truly shocked.
"We face two types of anti-Semitism in this country. We face the type that many are naturally very concerned about after the events in France of the last few days.
"But alongside terrorism there is that lower, more day-to-day hatred you see in the football shirt or the assaults I and others have suffered... Just as a master criminal might start as a petty thief, so casual anti-Semitism can become something even more ugly and dangerous."
Other ethnic communities are suffering too – the number of Muslim women reporting hate crime rose by 10 per cent in the last 18 months.
But the rabbi's experience is part of growing evidence that Britain's Jews are facing an upsurge in intolerance and hatred that is causing deep-seated anxiety and instability in communities across the UK.
The UK's 269,000-strong Jewish population has hitherto been able to console itself that anti-Semitism, while still present, had not presented the sort of threat suffered in places such as France – where the attack on a kosher supermarket in Paris on Friday left four French Jews dead.
A survey for the European Union in 2013 found that British Jews were the least likely to consider anti-Semitism to be a big problem out of eight countries, including France and Italy.
Indeed, several Jewish organisations and synagogues approached by The Independent reported that a "significant" number of French Jews have come to Britain in the last five years due to concerns for their safety in France. One London rabbi said: "I would conservatively put the figure at several hundred a year."
But there are worrying signs that the grim experiences suffered by Rabbi Saunders are increasingly far from isolated.
The Community Security Trust (CST), which monitors anti-Semitic violence in Britain, is expected to confirm next month that the highest ever number of anti-Jewish attacks recorded occurred last year. The tally of incidents, which range from serious assault to cemetery desecration to the display of posters in a Hertfordshire street of a hook-nosed "Jew", is likely to exceed 1,000 for the first time. It is as a result of the deteriorating situation abroad that the CST has spent £5m on improving security at buildings and places of worship in recent years.
Dave Rich, a spokesman for the CST, said: "The situation here remains different from, for example, France. And we and the police work very hard together to make our community hard to attack.
"But there has also been this increase in attacks in Britain which was taking place before events last summer in Gaza. The attack on the supermarket in Paris of course causes concern. When events like that take place we feel anxiety."
Such "anxiety" seems to be translating into a more corrosive concern that British Jews, like their French co-religionists, may face an atmosphere of such hostility that they no longer wish to remain in Britain. A survey by the Campaign Against Anti-Semitism (CAA) published today suggests anti-Jewish views are widely held in British society and a quarter of Jews have considered leaving the UK in the last two years because of rising hatred.
The threats of the worst types of violence are limited but no less real or credible.
In July 2012, the husband and wife Mohammed and Shasta Khan were jailed for planning a likely bomb attack on Jewish communities in north-west England.
In pictures: Kosher grocery attack in Paris

Show all 25
A year earlier, a senior al-Qaeda figure shot dead in Somalia was found to have on him a USB memory stick which named Stamford Hill and Golders Green, two of London's best-known Jewish neighbourhoods, as targets for attacks.
A Jewish neighbourhood watch group this week stepped up its patrols in Golders Green and other areas. But the CST has reminded institutions that there is no evidence of an imminent attack and there is no reason to be unduly alarmed.
Rabbi Saunders said: "Of course there is a heightened alert but, as Roosevelt said, we have nothing to fear but fear itself."