New Year: Spectacular firework displays light up London and Edinburgh as UK welcomes 2017
Thousands gather under tight security in British cities to enjoy celebrations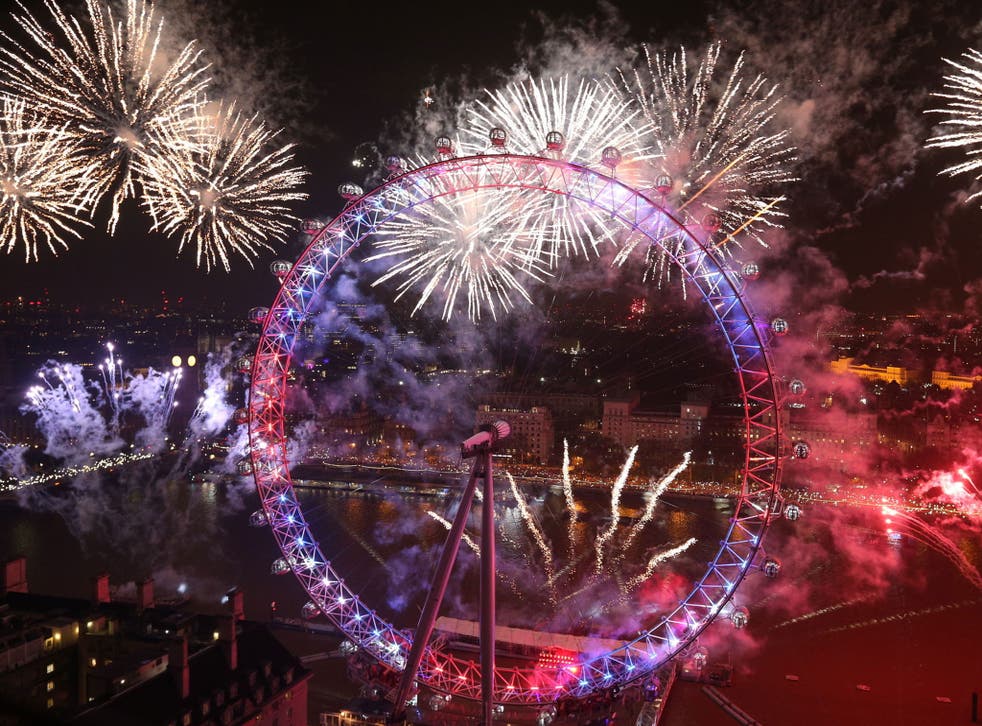 Thousands of people have seen in the New Year with spectacular fireworks displays in London, Edinburgh and across the UK.
More than 12,000 fireworks transformed the capital's famous skyline as Big Ben struck midnight, watched by thousands of ticket holders packed along the River Thames under tight security.
The display ended with the Mayor's slogan "London is Open", angering some viewers who complained of the display being "politicised" in the wake of Brexit.
Auckland hosts fireworks spectacular as New Zealand welcomes 2017
More than 80,000 people also gathered in Edinburgh for the Scottish capital's famous Hogmanay celebrations, watching concerts and dancing traditional ceilidhs.
Three fireworks displays were held leading up to the "midnight moment" spectacular from the ramparts of Edinburgh Castle.
Security fears failed to dampen the celebrations, which saw thousands of police deployed across the country amid fears of terror plots targeting crowds.
The Mayor of London, Sadiq Khan, said London had been made "as safe as it possibly can be" with measures including concrete barriers to prevent a Berlin and Nice-style lorry attack.
Describing the mood on the streets as "upbeat", he said it was "really important we don't allow terrorists to disrupt our celebrations on this New Year's Eve".
The Metropolitan Police said 20 people had been arrested at the celebrations but did not detail the offences.
In Edinburgh, thousands of party-goers joined hands for the world's largest rendition of Auld Lang Syne at the stroke of midnight.
Cities including Cardiff, Belfast, Glasgow, Manchester, Birmingham, Newcastle and Nottingham held their own fireworks displays, with countless more being launched by families at their homes.
A driver fled the scene of a New Year's Eve crash that killed a 12-year-old girl and left another child fighting for her life in hospital, police have said.
As people prepared to see in 2017, a 12-year-old girl was killed in a hit and run crash in Oldham.
In pictures: World celebrates New Year's Eve 2016

Show all 16
An 11-year-old girl was also critically injured in the incident shortly after 7.15pm, Greater Manchester Police said.
The New Year had arrived a second later than normal because of a "leap second" needed in countries using Greenwich Mean Time to account for a slowdown in the earth's rotation.
The UK's festivities followed celebrations around the world, which started in New Zealand and Australia earlier on Saturday, followed by spectaculars in countries across the globe to see in 2017.
Germans defied terror fears to party on the streets of Berlin just weeks after an Isis supporter killed 12 people at a Christmas market.
In Paris, the traditional fireworks display at the Eiffel Tower was cancelled for a second year in a row but people gathered along the Champs Elysees to watch a display from behind the Arc de Triomphe.
Register for free to continue reading
Registration is a free and easy way to support our truly independent journalism
By registering, you will also enjoy limited access to Premium articles, exclusive newsletters, commenting, and virtual events with our leading journalists
Already have an account? sign in
Register for free to continue reading
Registration is a free and easy way to support our truly independent journalism
By registering, you will also enjoy limited access to Premium articles, exclusive newsletters, commenting, and virtual events with our leading journalists
Already have an account? sign in
Join our new commenting forum
Join thought-provoking conversations, follow other Independent readers and see their replies