No Borders: Calais violence 'stirred up by British anarchists', say French politicians
'It's frustrating when activists from England come here to stir up trouble'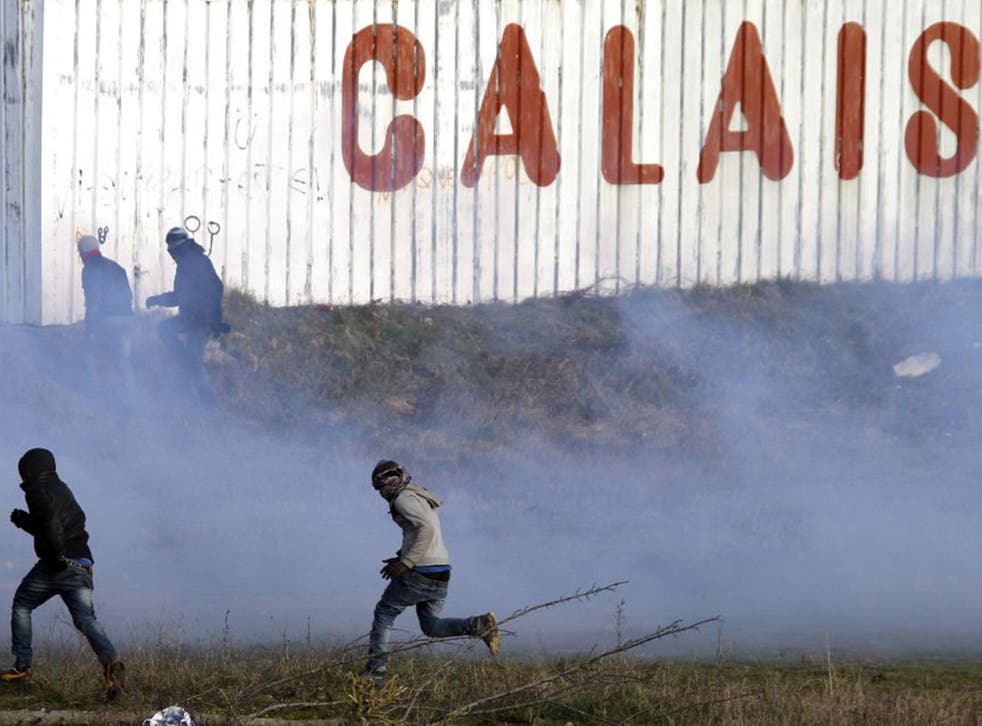 British anarchists are among agitators who are stirring up trouble in Calais, where migrants and protesters stormed the port and boarded a ferry on Saturday, according to reports.
A number of Britons are said to be in Calais with No Borders, an anti-capitalist protest group accused of acting as agitators in the camp dubbed "The Jungle" that is home to an estimated 4,000 asylum seekers.
The port was forced to close for several hours and security forces were drafted in on Saturday evening when a crowd of around 350 people, said to be refugees and supporters, infiltrated secure areas at the quayside.
A group of around 50 people, said to have been a mix of migrants and protesters, managed to board P&O's Spirit Of Britain passenger ship after breaching a chain link fence, interrupting services between Dover and Calais for around five hours.
French interior minister Bernard Cazeneuve said 35 people, including 26 migrants and nine activists, were eventually arrested for trespass and disorder offences.
Xavier Bertrand, the mayor of Saint-Quentin, said on twitter that the attitude of No Borders was "scandalous" and that they should be punished. He also called on the French government to hold a crisis meeting.
According to The Sun one of the activists detained was a British man who was later released without charge.
Calais deputy mayor Philippe Mignonet called on British police to help French authorities identify any troublemakers.
"It's frustrating having the anarchists and activists from England here to stir up trouble," he was reported as saying.
"I think the English police forces know who they are and should come here. It is too easy for these people to leave their country."
As the protest unfolded on Saturday there were ugly scenes when a small breakaway group, said to have been refugees and their supporters, descended on a residential property in Calais.
Video posted online shows a stand-off between the chanting group and two French men who come close to trading blows before being pelted with missiles.
Inside the camps in Calais

Show all 20
At one point during the footage a man with a British accent shouts from behind the camera "Nazi scum". The protesters only back away when one of the men appears with an air rifle.
A local police chief claimed the No Borders group is predominantly made up of British activists.
Gilles Debove is reported as saying: "Ninety percent of the people involved with No Borders are from Britain. They stir up the migrants and cause us a lot of problems, they are political agitators."
Around 2,000 locals and business owners staged a demonstration in Calais town on Sunday in protest at the impact the crisis is having on the local economy.
The crowds waved "I love Calais" flags and a banner reading "My port is beautiful, my city is beautiful" was seen.
Local official Jean-Marc Puissesseau has estimated passenger numbers in the port have fallen by 40,000 compared to a year ago and the town's shops and restaurants are suffering, with blame pointed at the squalid refugee camp and repeated interruption to ferry and rail services.
Road Haulage Association chief executive Richard Burnett said Saturday's protest at the port was a "shocking breach of security" and called for the French military to be deployed.
PA
Join our new commenting forum
Join thought-provoking conversations, follow other Independent readers and see their replies