'No Polish fisherman' sign outside fishery in Oxfordshire taken down after outcry
'If they want to call me a racist for stopping thieves coming on to my property then that's what they'll do,' says man behind the notice
Sunday 24 December 2017 23:41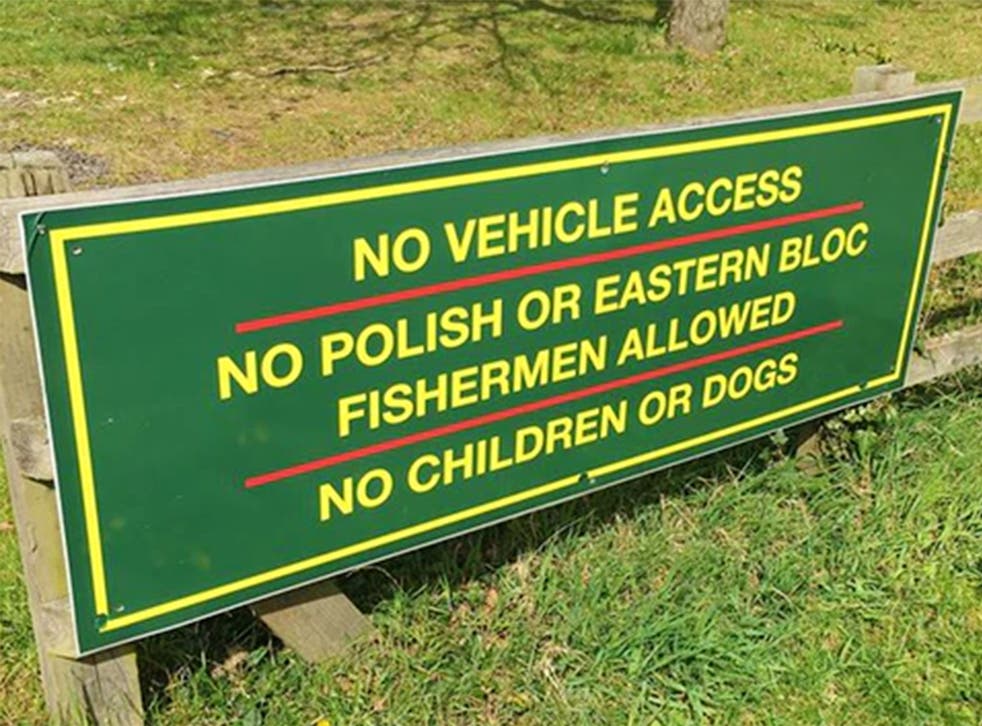 A sign that declared "no Polish fisherman" outside a fishery in Oxfordshire has been taken down.
Billy Evans, of Field Farm fisheries, said the sign was put in place after he was warned that "Poles or somebody" were stealing fish.
The sign, which triggered a public backlash, was eventually pulled down..
"The sign has been removed because of threats to my family," Mr Evans told the BBC.
"I am not in the country. I will decide what to do on my return. I may close it to all public long-term."
Mr Evans did however said that he would continue to "stand up" for what he believes in.
"I do not tolerate thieves, wherever they come from," Mr Evans said.
"I will stand up for what I believe in. If they want to call me a racist for stopping thieves coming on to my property then that's what they'll do."
Mr Evans could face legal action over the sign and the Equality and Human Rights Commission had said the sign was unlawful, The Guardian reported.
A Polish fisherman, Rado Papiewski, had set up a crowdfunding page for a lawsuit against Mr Evans and has raised more than £10,000.
World news in pictures

Show all 50
Mr Papiewski, who works for the Angling Trust said: "Recently I came across a very disturbing and discriminatory sign that said 'No Polish or Eastern Bloc fishermen allowed'.
"The sign was displayed at a private fishery, which made many fellow law-abiding migrant anglers and me very upset and angry.
"This disturbing sign should have never been displayed as it clearly discriminates against people from Poland and other Eastern European countries."
Register for free to continue reading
Registration is a free and easy way to support our truly independent journalism
By registering, you will also enjoy limited access to Premium articles, exclusive newsletters, commenting, and virtual events with our leading journalists
Already have an account? sign in
Register for free to continue reading
Registration is a free and easy way to support our truly independent journalism
By registering, you will also enjoy limited access to Premium articles, exclusive newsletters, commenting, and virtual events with our leading journalists
Already have an account? sign in