'No suspicious circumstances': inquest told Russian oligarch Boris Berezovsky was found on bathroom floor with ligature around neck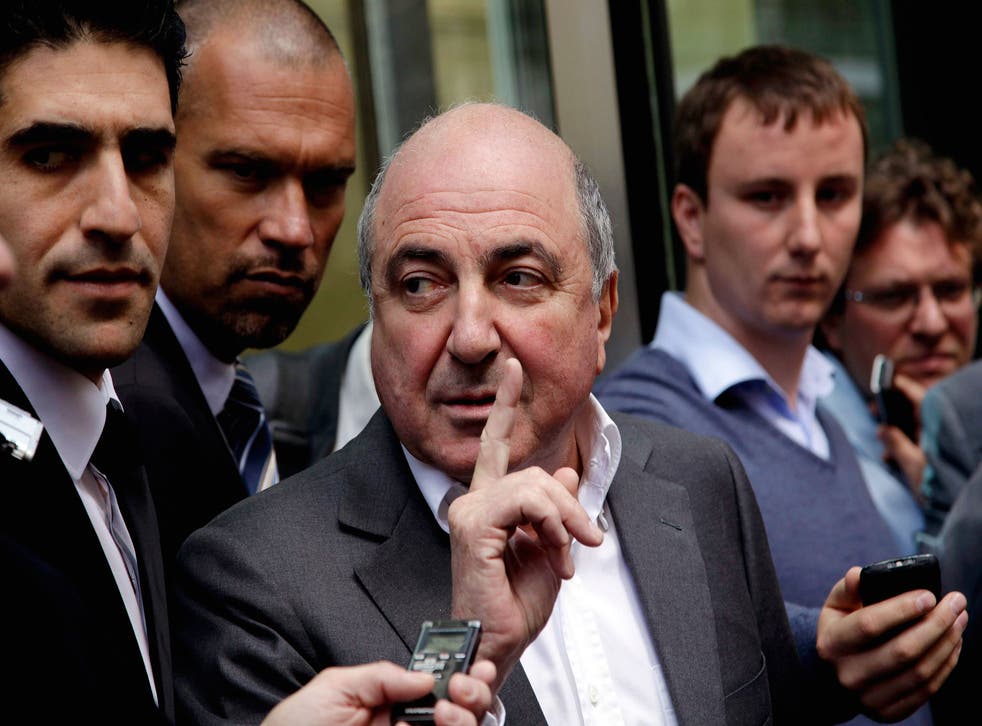 Paramedics found the Russian oligarch Boris Berezovsky lying on the floor of his bathroom with a ligature around his neck matching material tied to a shower rail, the opening of his inquest heard today.
Speculation has abounded since the controversial tycoon was found dead at his Berkshire home five days ago but today Detective Inspector Mark Bissell told a coroner's court that there appeared to be no suspicious circumstances.
During a brief hearing at Windsor Guildhall, Berkshire coroner Peter Bedford opened and adjourned the inquest.
Speaking outside the court, Mr Berezovsky's old friend Alex Goldfarb said that the 67-year-old appeared melancholic but coping when he last spoke to him a few weeks ago.
"Of course, I was surprised. Nobody expected that Boris would die. I didn't want to believe it was suicide. I still don't want to believe it. But I will go by the conclusions of the police."
Yesterday the inquest opening heard that, pending toxicology and histology results as well as an ongoing search of his home, the initial assessment of a Home Office pathologist was that he died from hanging.
Referring to the Russian by the name he adopted in 2004, Platon Elenin, DCI Bissell said that, while third party involvement had not been completely ruled out, there appeared to be nothing to suggest suspicious circumstances.
The court heard that Boris Abramovich Berezovsky, once believed to be Russian's second richest man but close to penniless after losing a court battle with Chelsea football club owner Roman Abramovich, was last seen at his Ascot mansion shortly after 9pm on 22 March.
The following afternoon a member of his staff found his body in the bathroom and called an ambulance.
"Mr Elenin had a ligature around his neck. A piece of similar material was tied around the shower rail above him," said DCI Bissell, explaining how the paramedics found the businessman. Later that day is daughter Elizaveta Berezovskaya, 42, identified him at Wexham Park Hospital in Slough, Berkshire.
"A post mortem examination was carried out by a home office pathologist on 25 March and the results found the cause of death was consistent with hanging. The pathologist saw nothing to indicate a violent struggle or any involvement by a third party," DI Bissell told the coroner.
The Russian tycoon has repeatedly been in the headlines since his self-imposed exile to Britain in 2000. He was believed to have been in serious financial difficulties since his high profile clash with Mr Abramovich, which had run up legal fees said to be more than £100 million.
Outside the hearing today, Mr Goldfarb said: "I talked to him for the last time about two weeks ago. He seemed normal. He was melancholic but he was perfectly adequate and we discussed plans (for the forthcoming inquest into former KGB agent Alexander Litvinenko). He was focused. He was depressed and stressed but I felt it was under control."
The depression, Mr Goldfarb said, was because he felt his credibility had been damaged when he lost his case against Mr Abramovich. He added that he had always wanted to return to Russia.
"It was also the long running 13-year campaign by the Russian president to get even with Boris based both on political and personal animosity," Mr Goldfarb said.
Mr Berezovsky formally changed his name to Platon Elenin – believed to be a reference to a character in a film based loosely on his life as well as his then partner's name Elena - after being granted asylum in Britain in 2003.
An angry row erupted between Moscow and Tbilisi after he was allowed to travel to Georgia under the new name. The Russians said he should have been arrested as he was accused of defrauding a regional government of millions of dollars. He insisted he was being victimised for his political beliefs after he clashed with President Vladimir Putin.
Join our new commenting forum
Join thought-provoking conversations, follow other Independent readers and see their replies