Nobel prize 2014: Japanese scientists Isamu Akasaki and Hiroshi Amano and American Shuji Nakamura win physics award for LED invention
Invention helps contribute to Earth's resources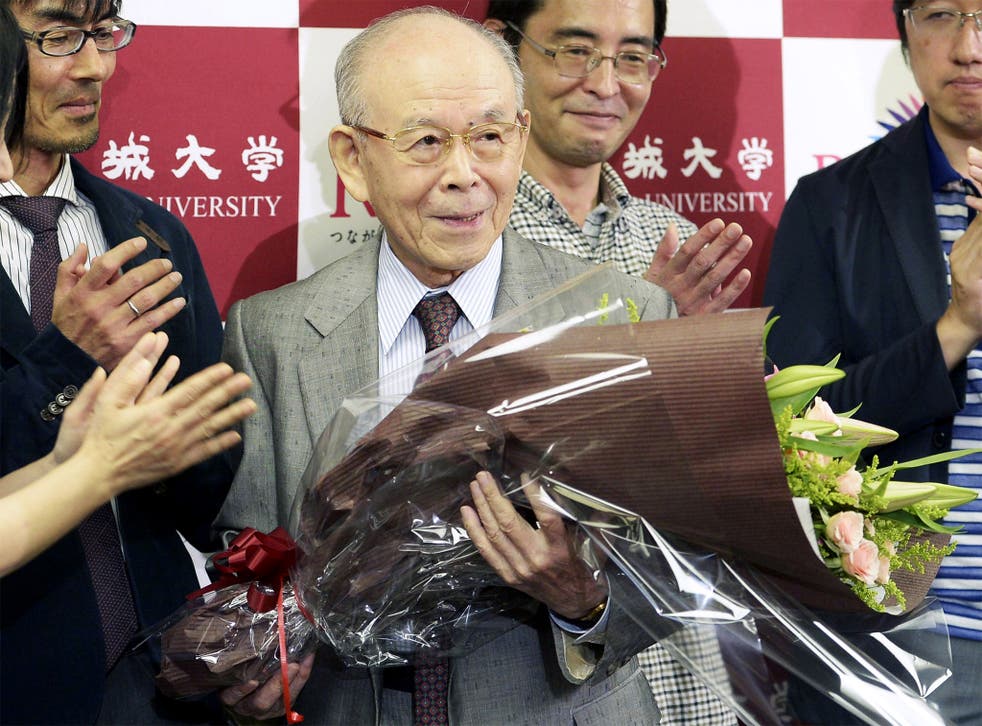 Three Japanese scientists who invented a new way of creating bright, blue light and in the process opened the door to a revolution in energy-efficent lighting have each won an equal share of this year's Nobel Prize in Physics.
The 8m Swedish Kroner prize goes to Isamu Akasaki and Hiroshi Amano of Nagoya University in Japan, and Shuki Nakamura of the University of California, Santa Barbara, for work spanning three decades that eventually led to blue light-emitting diodes – a more efficient way of producing light compared to conventional electric light bulbs or fluorescent strip lights.
Blue light-emitting diodes (LEDs) were the crucial missing link to add to existing red and green LEDs, which allowed scientists to create the white light necessary for practical applications ranging from mobile phones and flat-screen television sets to car headlamps and eco-friendly indoor lighting.
The Nobel Committee of the Royal Swedish Academy of Sciences said that it awarded the prize to the three inventors of the blue LED in recognition of the device's wider benefit to humankind and the environment – solar powered LEDs are widely used for indoor lighting in Africa for instance.
"In the spirit of Alfred Nobel, the prize rewards an invention of greatest benefit to mankind; using blue LEDs, white light can be created in a new way. With the advent of LED lamps we now have more long-lasting and more efficient alternatives to older light sources," the Academy said.
"The LED lamp holds great promise for increasing the quality of life for over 1.5bn people around the world who lack access to electricity grids: due to low power requirements it can be powered by cheap local solar power," the citation said.
Most controversial Nobel Peace Prize nominees

Show all 5
When the three scientists first produced bright blue light beams from new semi-conductor devices made in the 1990s, they triggered a fundamental transformation of lighting technology that would result in a wide range of practical applications, the Academy explained.
Red and greed LEDs had been around for some time, and many others had tried to find a way of producing the shorter-wavelength light at the blue end of the visible electromagnetic spectrum, but with little success, it said.
However, by taking risks and experimenting with new ways of creating the different layers of materials in a semiconductor device, the three scientists finally found a way of converting electricity to bright blue light. "They succeeded where everyone else had failed," the Academy said.
Professor Per Delsing, a member of the Nobel Committee, said that the physics award has this year been given to an invention rather than a piece of fundamental physics research. "Alfred Nobel wanted his prize to be given to inventions that benefited mankind and that's what we have recognised today," Professor Delsing said.
The Swedish Academy managed to contact two of the three recipients by phone this morning, when the prize was announced from Stockholm – only Hiroshi Amano could not be contacted immediately as he was on a flight from Japan to France.
Shuki Nakamura was woken in the middle of night at his home in California to be told the news by telephone from the Swedish Academy. "It's unbelievable, oh yeah, unbelievable," he said when asked how he felt about receiving the award.
The importance of LED lighting rests on their efficiency at converting electricity to light. Conventional incandescent light bulbs waste energy by producing heat, while fluorescent strip lights use toxic metals such as mercury as well at producing flickering light.
Ordinary light bulbs produce about 16 lumen of light intensity per watt of electricity, and fluorescent strip lights produce about 70 lumen per watt. However, LED lamps can produce as much as 300 lumen for each watt of electricity.
"As about one fourth of world electricity consumption is used for lighting purposes, the LEDs contribute to saving the Earth's resources. Materials consumption is also diminished as LEDs last up to 100,000 hours, compared to 1,000 for incandescent bulbs and 10,000 hours for fluorescent lights," the Academy said.
Professor Sir Colin Humphreys, a materials scientist at the University of Cambridge and expert on LED technology, said: "This is a tremendous achievement and Akasaki, Amano and Nakamura are very worthy winners. Their invention of efficient blue LEDs has paved the way for the development of bright, cost effective and, importantly, energy-efficient white lighting."
Join our new commenting forum
Join thought-provoking conversations, follow other Independent readers and see their replies