Adverts aimed at luring British businesses to France after Brexit banned from London Underground
Transport for London refuses to run posters because in case they inflame 'public controversy or sensitivity'
Chris Baynes
Sunday 11 March 2018 22:20 Comments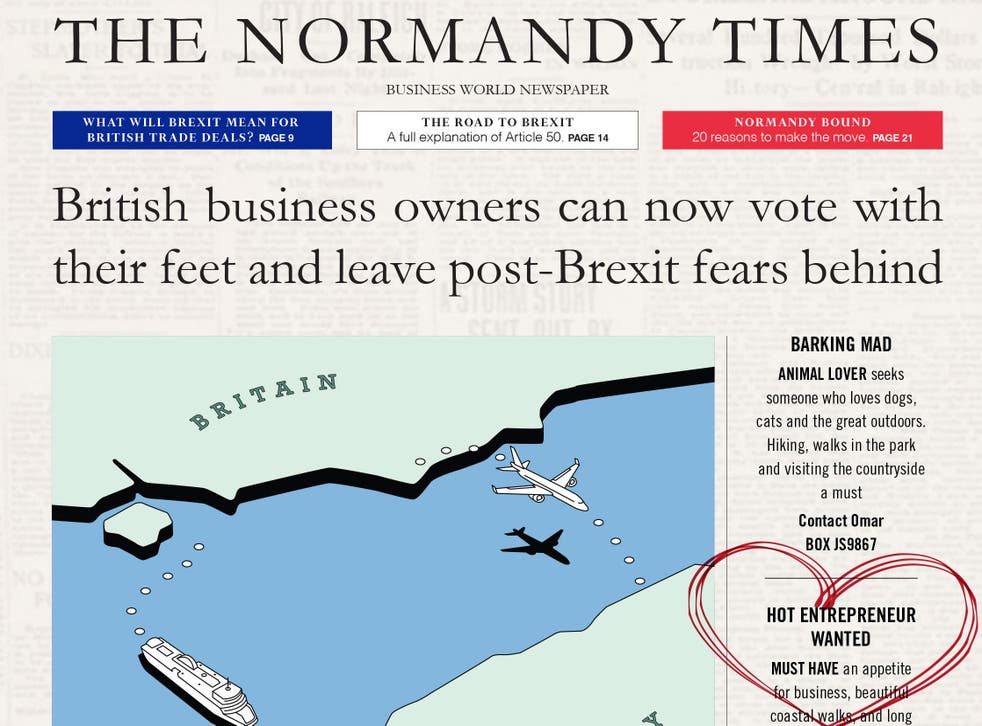 A French advertising campaign that pokes fun at Brexit with the aim of luring business across the Channel has been banned from London Underground stations.
Transport for London (TfL) refused to run posters that urge entrepreneurs worried about the UK's withdrawal from the EU to "vote with their feet".
The adverts were commissioned by the Normandy Development Agency, which promotes economic growth in northern France.
TfL said it had rejected the posters because they may cause "public controversy or sensitivity".
One featured a mock-up of a fictional newspaper with the headline: "British business owners can now vote with their feet and leave post-Brexit fears behind."
It also carries a mock classified dating advert reading: "Hot entrepreneur wanted… Someone allergic to post-Brexit tariffs, legislation and restrictions preferred."
TfL said the advertising campaign "did not fully comply with our advertising guidelines", which does not allow images or messages which "relate to matters of public controversy or sensitivity".
The campaign, created by London-based creative agency Splash Worldwide, will still run in national newspapers in the coming days and will be displayed on a bus touring Birmingham, Bristol, Cambridge, Manchester and London.
Herve Morin, president of Normandy Regional Council, said: "Brexit gives Normandy a unique opportunity to welcome British businesses who decide to stay at the heart of the European Union.
"The Brexit deal might not happen tomorrow, but British entrepreneurs are given the choice to decide for themselves if they want to expand their companies in Normandy."
The region is offering tax breaks and help accessing funding to British businesses which relocate.
World news in pictures

Show all 50
Paris and the northern region of Hautes-de-France are among other French areas which have attempted to woo UK firms.
British companies will soon begin leaving for mainland Europe if the Government does not agree a Brexit plan, the House of Lords EU financial affairs committee warned in January.
Register for free to continue reading
Registration is a free and easy way to support our truly independent journalism
By registering, you will also enjoy limited access to Premium articles, exclusive newsletters, commenting, and virtual events with our leading journalists
Already have an account? sign in
Join our new commenting forum
Join thought-provoking conversations, follow other Independent readers and see their replies