Now Britain is accused of using evidence obtained by torture of Guantanamo inmate
CIA report reveals that Begg helped identify and locate top al-Qaeda operative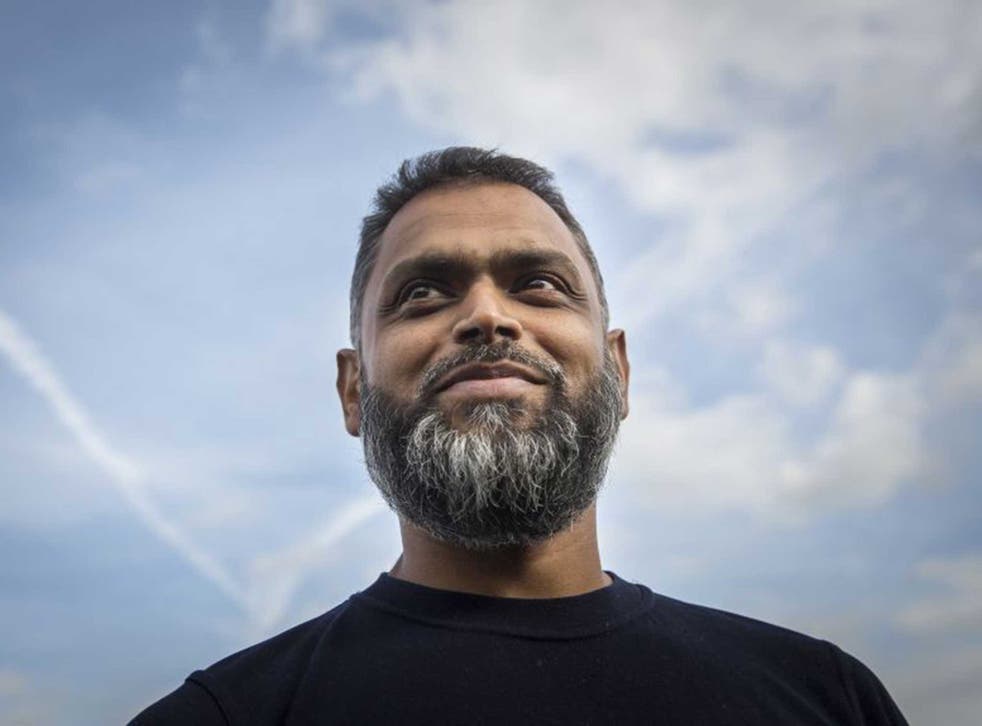 British authorities used information obtained following the torture of Moazzam Begg to help capture al-Qaeda's top UK operative, it was claimed today.
Previously secret CIA files reveal for the first time that intelligence provided to the US by Mr Begg while he was being held in Guantanamo Bay helped identify and locate "dirty bomber" Dhiren Barot – also known as "Issa al-Britani" or "al-Hindi" – in 2004.
This week's Senate report into CIA torture found that "enhanced interrogation techniques" applied to Guantanamo detainees, including the man behind the 9/11 attack, Khalid Sheikh Mohammed, were not central to Barot's arrest, or any other significant breakthrough.
However, the report also describes how drawings made by Mr Begg – one of Britain's most controversial Islamists, who claims to have been beaten and deprived of sleep in Guantanamo Bay, although not waterboarded – helped lead British security services to Barot.
The information sheds new light on the way in which British and US intelligence officials shared information obtained from people mistreated in detention. In a letter to The Independent last night, lawyers for Mr Begg rejected any suggestion that he "volunteered or co-operated in the provision of information to any intelligence service" – maintaining his treatment also amounted to torture. They added: "Insofar as he was tortured and under extreme and unlawful continuing duress for three-and-a-half years in Bagram and Guantanamo he, as every other individual subject to such treatment, cannot be regarded in any proper sense of the words to have 'given or provided information' voluntarily."
Mr Begg was arrested in Pakistan in 2002, and was held at Bagram, Afghanistan, before being sent to Guantanamo Bay. He was among former detainees who received an out-of-court payment over claims British officials were complicit in their mistreatment. It is known that Mr Begg has had numerous encounters with British intelligence.
But the report released by the US Senate Intelligence Committee this week reveals for the first time his role in the capture of Barot – sentenced to 40 years in 2006 for plotting attacks in Britain and the US.
The report criticises the CIA for making "inaccurate" representations that "enhanced interrogation" was effective and necessary in producing "otherwise unavailable intelligence" – adding that Barot's arrest "resulted from the investigative activities of UK government authorities."
Yet it also described how Mr Begg not only suggested where Barot – an old acquaintance – might be found in London, but provided a sketch good enough to identify him, according to report footnotes.
One reference in the report states: "While still in Pakistani custody, Begg provided reporting on UK-based extremists in the context of terrorist training camps, including information on an individual who would play a key role in "Issa's" identification and capture."
In October 2003, CIA officers wrote: "Our latest information, based on [foreign partner reporting] and a detainee's assessment [Moazzam Begg in US military custody], is that Issa is believed to currently be located in Wembley, a suburb of London."
According to the CIA document, Begg's "description and resulting sketch of UK contact Issa al-Hindi" – whose true identity was then unknown – "was compared to a still shot of an unidentified man taken from a surveillance video of UK extremists." The comparison "revealed that the man in the video probably [was] the elusive Issa al-Hindi." Just months later, in August 2004, Barot was arrested.
Mr Begg has spent the years since his release from Guantanamo Bay in 2005 campaigning for the rights of detainees, and is the founder of Cage, an organisation which campaigns against the "war on terror".
CIA 'torture' report: Timeline from 9/11 to Dianne Feinstein's findings

Show all 12
He was arrested this year – accused of attending a terrorism training camp in Syria. But the charges were dropped in October after it emerged MI5 knew of his activities.
Last night it emerged that Britain's spying agencies discussed redactions to the CIA report – something Downing Street had denied. A spokesman said: "I think there was a conversation with the agencies and their US counterparts on the executive summary. Any redactions sought there would have been on national security grounds…"
The Government is under pressure to be more transparent about the actions of MI5 and MI6 amid claims of British complicity. Yesterday the Deputy Prime Minister, Nick Clegg, said he was open to a full public inquiry into Britain's involvement in torture. David Cameron has not ruled this out if the current investigation by the Intelligence and Security Committee does not settle the issue.
Asim Qureshi, research director, Cage, dismissed suggestions that Mr Begg could have been "turned" by British intelligence as "nonsense."
Join our new commenting forum
Join thought-provoking conversations, follow other Independent readers and see their replies