Oligarchs at war: Claims of murder among Ukrainian billionaires in High Court case
A $2bn action has been brought by a Kiev-based oligarch friend of Tony Blair, against two other Ukrainian billionaires over a company takeover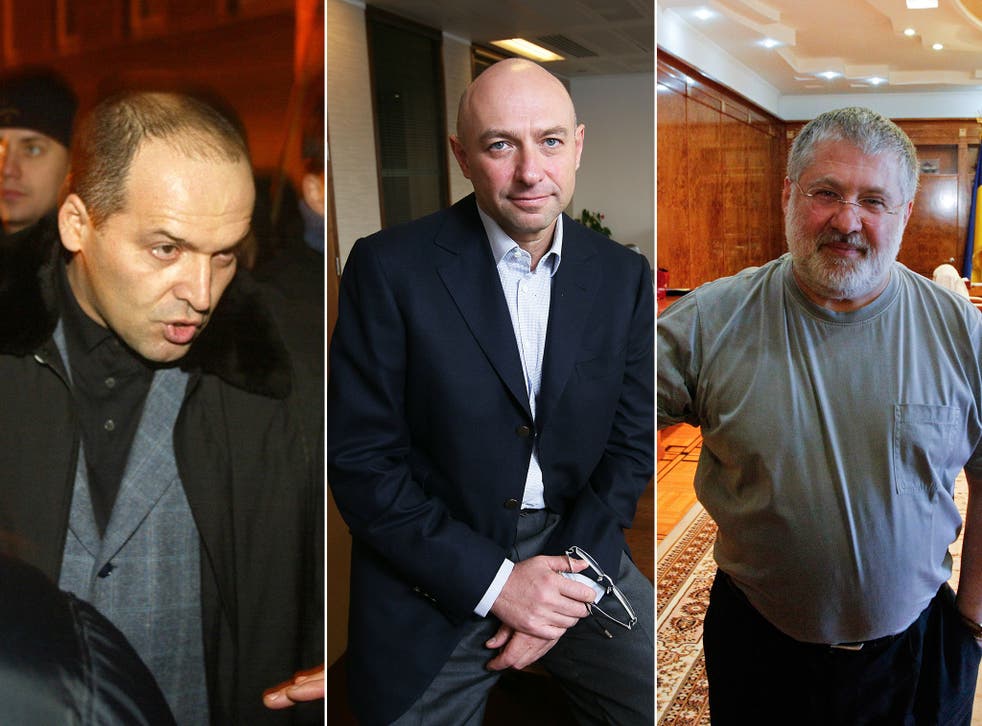 Some of the most extraordinary allegations of violence, murder and corruption ever seen in a London commercial legal dispute have emerged in High Court documents.
The allegations have been made as part of the $2bn (£1.34bn) action brought by Viktor Pinchuk, a Kensington and Kiev-based oligarch friend of Tony Blair, against two other Ukrainian billionaires over a company takeover.
One of them, Belgravia-based Gennadiy Bogolyubov, recently accused Mr Pinchuk of witness tampering in the case, and sought permission to bring contempt of court proceedings. One witness alleged to have been coerced was the former chief prosecutor of Ukraine, Svyatolslav Piskun.
But Mr Pinchuk's team hit back with explosive allegations in the High Court that the chief prosecutor had previously helped cover up attempted murders ordered by Mr Bogolyubov's business partner, Igor Kolomoisky. Mr Pinchuk is also suing Kolomoisky in his $2bn action, which relates to ownership of an iron ore mining business.
The three Ukrainian billionaires at war

Show all 3
Mr Kolomoisky denies all the allegations, which were not considered by the judge and formed part of what Mr Justice Flaux described as "mudslinging" between the parties – claims, denials and counter-allegations.
The Pinchuk team alleges Mr Kolomoisky ordered a Ukrainian lawyer be attacked for refusing to leak details from a client. The gang beat up one of the lawyer's colleagues in a case of mistaken identity before assaulting the "right" lawyer, it is alleged.
Mr Kolomoisky "then arranged the killing of the gang members who botched the attacks… and sought to cover up these murders," the Pinchuk witness statement claims.
The Pinchuk team allege that soon after the attacks on the lawyer, Mr Kolomoisky's bodyguard SY Nikitin, who is said to have arranged the attack, was found dead, floating in a Ukraine river.
The attack gang leader was also later found dead, with two slashed wrists. There was no autopsy in either case and the gang leader's death was recorded as suicide from slitting his own wrists. A gunshot wound under his chin was apparently overlooked, the Pinchuk team stated.
As for Mr Nikitin, his body – which the official report originally suggested had received no injuries – was later exhumed and discovered to have received some 10 stab wounds.
The Pinchuk team's statement cites an official Ukraine prosecutor's office resolution that "IV Kolomoisky threatened [the lawyer] with murder, a few days later, when [the lawyer] had not complied with IV Kolomoisky's demands, the latter decided to murder [the lawyer] out of revenge for failure to comply with his instructions."
It continues: "To implement his criminal intent, he asked SY Nikitin, his personal security officer, to organise the assassination… thus, IV Kolomoisky entered into criminal collusion with SY Nikitin and ordered [the lawyer's] pre-meditated murder."
An application seeking an order for Mr Kolomoisky's arrest was drafted, but Mr Piskun quashed it after being asked to by an intermediary working for Mr Kolomoisky, the Pinchuk team claim. Mr Pinchuk argues the former prosecutor's willingness to suppress that case meant his claims that he had been leaned on to change his testimony in the current dispute should be disregarded.
But Mr Bogolyubov's team responded that prosecutor Piksun categorically denies being bribed by Mr Kolomoisky to quash the investigation and that, anyway, he did not have day-to-day operational decision-making role.
Mr Bogolyubov's lawyer said the investigation into Mr Kolomoisky was dropped after Mr Piskun became suspicious that the accused billionaire was the victim of a political smear. He ordered the file be reviewed and the investigator concluded the case against the Kolomoisky should be closed.
The second witness claiming to have been coerced by Mr Pinchuk was a rabbi described by one Ukrainian press report as "the spiritual leader of Jewish oligarchs", Shmuel Kaminezki.
Mr Bogolyubov's legal team claimed Mr Pinchuk attempted to bribe the rabbi and threatened to withdraw his $1m a year charitable support to his community if he did not give evidence for him.
Mr Pinchuk's team deny he leaned on the rabbi, citing Mr Pinchuk's continuing donations to the community and numerous friendly emails and invitations from him long after the supposed threats and bribery attempts.
Mr Pinchuk's team also claim the rabbi was scared of crossing Mr Kolomoisky. Mr Pinchuk claims the rabbi told him if he were to go against the oligarch "that would mean a bullet to my head."
They added that the rabbi's testimony should not be trusted as he is financially dependent on Mr Bogolyubov and Mr Kolomoisky.
As evidence, the Pinchuk team's statement cites the fact that a wedding for the rabbi's daughter Yehudis, with 2,000 guests, was held at Mr Kolomoisky's football club, FC Dnipro.
Another of his daughters was married in similarly lavish style, with 1,000 guests, at the rabbi's synagogue and hotel complex – whose reputed $66m construction was funded by Mr Bogolyubov. The statement cited the rabbi as publicly referring to the building as "Bogolyubov's endowment to us."
Mr Bogolyubov's team countered that the rabbi denied Mr Pinchuk's claims against him and that he stood by his testimony on the $2bn iron ore mining case.
Mr Pinchuk also claims that Mr Kolomoisky, who is the governor of a region of Ukraine, attempted to pressurise him into abandoning his claim against them by threatening to conscript him into the Ukrainian army to fight in the current war in the east.
Mr Pinchuk's team's statement adds that Mr Kolomoisky and Mr Bogolyubov have been attempting to embarrass him into dropping his legal case against them by publicising allegations surrounding the murder 15 years ago of a Ukrainian journalist, Georgiy Gongadze during the regime of Mr Pinchuk's father-in-law, the ex-president Leonid Kuchma.
The Pinchuk statement says "For the avoidance of doubt, there has been no suggestion that Mr Pinchuk was himself involved in the death of Mr Gongadze."
It accuses his two rivals of using their TV station 1+1 to promote the story in order to pressurise him to drop the High Court case.
Mr Justice Flaux refused the application to bring contempt of court proceedings but said it could be reconsidered after the main $2bn court case next January.
The disputed deal
Mr Pinchuk alleges he gave Mr Bogolyubov and Mr Kolomoisky $143m to buy an iron ore mining business from the state.
They took his money, he claims, but didn't give him the mine. He claims they then sold half of it to Rinat Akhmetov, the billionaire owner of Ukrainian football club Shakhtar Donetsk. Ukraine's richest man, it was Mr Akhmetov who paid a reported £136.4m for the penthouse in One Hyde Park. No impropriety is alleged on his part in the case.
Mr Pinchuk claims the mining assets are now worth $1bn and that he is owed a further $1bn in unpaid dividends.
Register for free to continue reading
Registration is a free and easy way to support our truly independent journalism
By registering, you will also enjoy limited access to Premium articles, exclusive newsletters, commenting, and virtual events with our leading journalists
Already have an account? sign in