'Open season on ethnic minorities': Government accused over illegal traveller site crackdown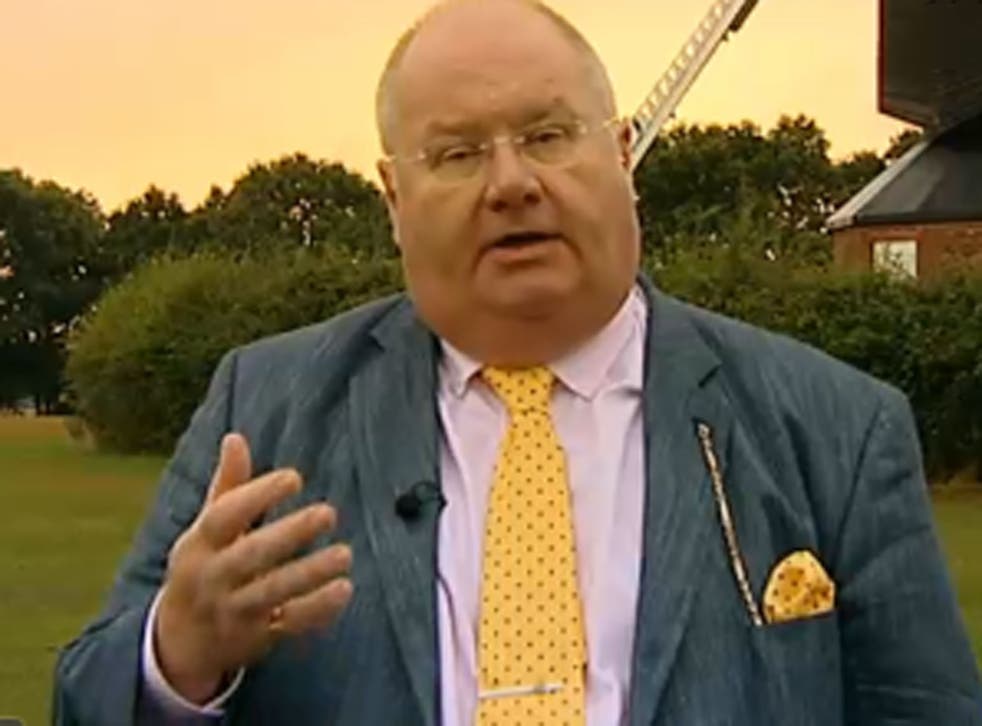 Politicians have been accused of sparking an "open season on ethnic minorities" after the Government issued new guidelines to tackle illegal traveller sites.
Communities Secretary Eric Pickles was accused of "grandstanding" and reinforcing "negative stereotypes" about travellers and gypsies after saying councils must act more quickly to shut down unauthorised encampments.
New guidance from the Department of Communities and Local Government outlines the legal powers councils and landowners have to remove unauthorised traveller sites, protest camps and squatters from both public and private land, as well as tackling the mess caused by the sites.
Joseph Jones, chairman of the Gypsy Council, likened Pickles' actions to the Home Office's controversial clampdown on illegal immigrants in London using a van telling them to go home, and the furore over Ukip MEP Godfrey Bloom's "bongo bongo land" comments about foreign aid spending.
"It's creating tension, it's a negative thing to do," he told Sky News.
"At the moment it seems like a theme. Recently we have had the Go Home campaign, then we have the bongo bongo thing going on.
"It seems like open season on ethnic minorities."
Mr Jones dismissed as "nothing new" the summary of powers sent directly to local council leaders, which the Government hopes will give local residents a stronger voice in challenging their local authority to take action.
Mr Pickles has revoked Labour's Equality and Diversity in Planning guidance, which he said told councils not to take enforcement action against unauthorised travellers, and suggested planning rules should be applied differently to individuals depending on their background.
Powers that can be used include temporary stop notices to stop and remove unauthorised caravans, pre-emptive injunctions that protect vulnerable land in advance from unauthorised encampments and possession orders to remove trespassers from land.
The DCLG said the move is aimed at preventing another incident like Dale Farm, where a long-running legal battle was fought before bailiffs moved in to evict travellers from the site in Essex.
At the peak of the operation, 308 officers were involved, including those brought in from the Metropolitan Police, Thames Valley, Avon and Somerset, Kent, Bedfordshire and Hertfordshire, Norfolk and Cambridgeshire under mutual aid arrangements.
The clearance, which resulted in violent clashes, followed a decade-long row over unauthorised plots on the six-acre site.
The total cost of the clearance was £7 million, with Basildon Council spending £ 4.8 million.
Mr Jones said he did not support illegal sites and called for more legal sites to be created for travellers.
He added: "Local authorities already know how to manage unauthorised encampments, they don't need the Government to tell them how to do it.
"This latest statement Mr Pickles has put out doesn't have anything new in it. It doesn't have any new powers or anything like that.
"It just seems to me like a bit of grandstanding."
Mr Pickles denied the powers were an attack on the traveller community and said £60 million was being made available to local authorities for new legal sites.
He told ITV's Daybreak: "We inherited a situation where the number of illegal sites had gone up four-fold and what we expect them to do is obey the law like you and I do.
"It does not give people the right to come on to a green belt...and to trash it.
"We're treating travellers' families exactly the same way as we're treating the rest of population.
"The idea that is somehow an attack on the traveller community is not true.
"This is a very good deal for travellers."
PA
Join our new commenting forum
Join thought-provoking conversations, follow other Independent readers and see their replies