Over 50,000 families shipped out of London: Two women affected by the crisis
With The Independent reporting 50,000 families being uprooted from London in the last three years, we speak to two women affected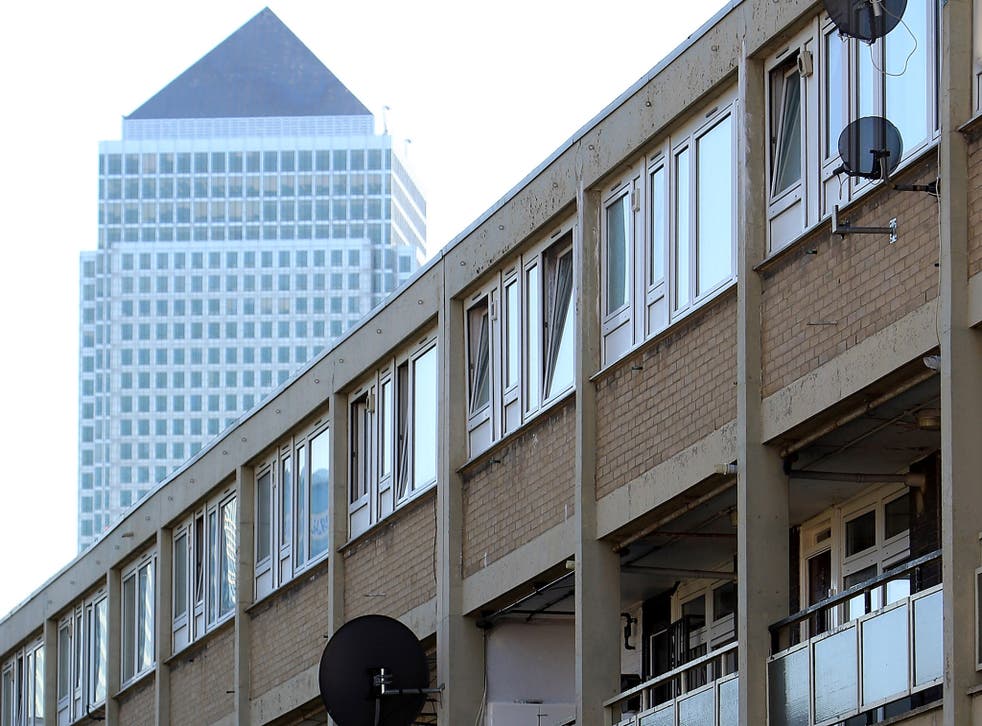 'Susanna'
On the evening of 21 March, Susanna was on the 607 bus to Uxbridge, west London. She had with her three re-useable supermarket bags filled with her belongings, and her two-year-old son Sam in his buggy. Her eyes were red from crying and she was exhausted after spending a whole day waiting at Ealing's council offices trying to persuade them to keep her off the streets that night.
When Susanna became homeless, Ealing council offered her temporary accommodation seven miles away in Hillingdon. But she rejected the offer, saying it was too far away and that she needed to be near her mother to help care for her.
After she turned down Hillingdon, children's services at Ealing council offered her accommodation in Leeds, which she was also unable to accept because of the distance. After these offers were rejected, the council tried to wash its hands of her.
In graphics: Homeless placements

Show all 3
Desperate for help and still at the council offices after closing time on 21 March, Susanna called one of Ealing's councillors, who helped secure her one night's accommodation in a bed and breakfast in Uxbridge. After getting off the bus in the middle of the night, lost and cold and unsure of where she was going, she eventually found the B&B, where she spent the night with her son.
"The bed and breakfast was horrible," Susanna said. "It was dirty and there were children running up and down screaming until past midnight. My son Sam woke up and he said to me 'go home, go home'. I was so devastated. I had tears in my eyes and I said to him: 'We don't have a home at the moment son, I'm sorry.'"
In the morning, Sam had bites on his face and a rash on his skin. A few days later, after a long battle with the council, Susanna eventually gave up on them helping her and has been sleeping on her aunt's sofa ever since.
"They're trying to push the poor people out of London so it's just rich people left," she said. "I don't even care about that, I just want somewhere for my son to live."
A solicitor from Shelter is helping Susanna challenge Ealing council's decision.
'Claire'
Claire works in a primary school in Tower Hamlets, east London. In December 2014, eight months' pregnant and still working, she was evicted by her landlord and made homeless.
Claire, who has two children under five, had not fallen behind on her rent; the landlord simply wanted the property to live in. She went to Tower Hamlets council for help and they sent her out of the borough to a B&B 12 miles away in Havering.
"I was waiting at the council office for more than five hours. I felt like I had to take the offer of accommodation in Havering or they would just discard me completely and I'd be on the streets," Claire said.
"I asked how long I'd be in the bed and breakfast and they said normally six weeks but, because of the housing crisis, maybe up to 14 weeks. From the bed and breakfast it takes around an hour and a half to get to work."
Claire gave birth whilst she was living in the single room in Havering. Her GP had written to the council warning the accommodation was not suitable for a heavily pregnant woman with young children.
"I was very stressed and became depressed," Claire said. "I gave birth at the end of January by Caesarean section, then had to go back to the bed and breakfast after a few days. I had nobody around to support me and the recovery was very difficult."
Things became too much for Claire and she sent her two older children to stay with their grandmother so she could focus on caring for her newly born child, and on recovering from the surgery.
Last week, Tower Hamlets council moved Claire to a self-contained flat in Erith, Kent. Claire says that when she goes back to work after maternity leave, it will be impossible for her to get to work and get her children to nursery on time every morning because she now lives so far away from Tower Hamlets.
The effect on Claire's children is hard to judge, but she says that they're very emotional and their moods have changed since she became homeless and was moved from Tower Hamlets. "It's bad for my kids. They're obviously feeling very emotional, and they kept asking me 'when are we going to get our house, mummy? When will we have our own room?' My oldest is always fighting now. There's so much anger there; more than before. Their routine is completely out of the window."
Claire says that soon there will come a point where she has to, reluctantly, quit her job, which she loves.
"I'm a working single mum with three kids. Surely they can help me more than this?"
Q&A Out of borough placements
Q | Why are they necessary?
A | Out-of-borough homeless placements have shot up since the Coalition introduced welfare reforms, including the benefit cap and a cut to housing benefit (local housing allowance). When LHA rates were cut, councils could only look for private rental accommodation in the bottom third of local area rents, rather than the bottom half, making it much more difficult to secure accommodation for people with nowhere to live. Increasingly, this meant looking out of area.
Q | What is the impact?
A | Out-of-borough placements are like a set of dominoes knocking into each other. Central London boroughs like Westminster place their homeless people into boroughs a little further out, putting increased pressure on these councils. For example, Westminster sent 68 families into Hackney between July and September last year, and 35 into Waltham Forest. Already short of housing in their areas, Hackney and Waltham Forest then found themselves with even less accommodation to choose from. During the same period, Hackney sent 13 families to Redbridge, 13 to Enfield and 18 to Haringey, while Waltham Forest sent 22 to Barking, 45 to Newham, 57 to Haringey and 20 out of Greater London completely.
Q | How does it work in practice?
A | When homeless people go to their local council for help, officials assess whether they have a legal duty to provide assistance. Families with children and pregnant mothers are usually entitled to be re-homed, meaning the council will have to make them an offer of temporary accommodation. More and more often, this offer of temporary accommodation is outside of the borough. Sometimes it is as far away as Birmingham, Manchester or Leeds. If the family rejects the offer, the council can say that it has "discharged its duty" and no longer needs to help the family. Unless a solicitor intervenes on the side of the family, there is often very little that can be done to challenge offers of accommodation out of borough. Recent legal cases such as that of Titina Nzolameso (a homeless mother of five from Westminster) in the Supreme Court have clarified that it is illegal to move a homeless family a long way from its borough without providing evidence of a search for available accommodation closer by. But the practice of placing vulnerable people out of borough continues.
Join our new commenting forum
Join thought-provoking conversations, follow other Independent readers and see their replies