Oxfam's taxpayer funding suspended until it meets 'high standards' expected, Penny Mordaunt says
Charity agrees to withdraw from bidding for government money in wake of sex scandal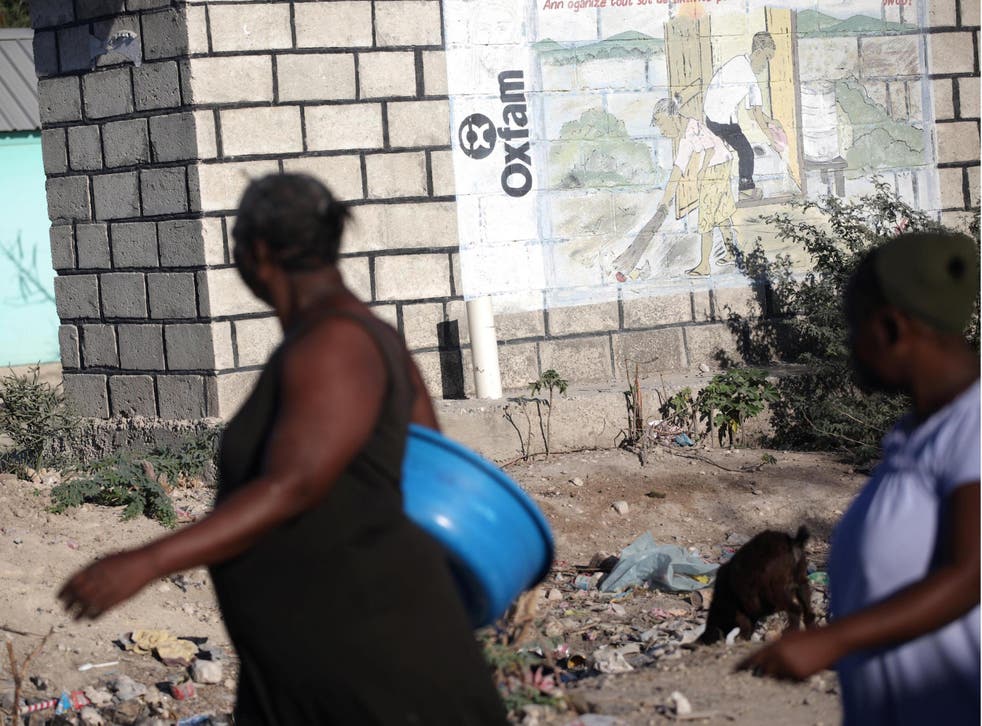 Oxfam will receive no funding from the British government until ministers are satisfied it meets the "high standards" expected.
The charity has agreed to stop bidding for new taxpayer cash in the wake of the aid worker sex scandal, International Development Secretary Penny Mordaunt announced.
She said Oxfam, which received £31.7m in government funding in the last financial year, had "a long way to go" to regain trust.
Ms Mordaunt added the delivery of money already allocated to Oxfam was not guaranteed and could be withdrawn unless ministers are confident Government-funded programmes "are being delivered appropriately".
She said: "The UK Government reserves the right to take whatever decisions about present or future funding to Oxfam, and any other organisation, that we deem necessary. We have been very clear that we will not work with any organisation that does not live up to the high standards on safeguarding and protection that we require.
"In taking these actions I am very aware that there are hundreds of good, brave and compassionate people working for Oxfam around the world.
"They have been poorly served by Oxfam's leadership team too. Clearly Oxfam have a long way to go before they can regain the trust of the British public, their staff and the people they aim to help. The actions and attitude of the organisation over the coming weeks will be critical."
The International Development Secretary's announcement and criticism of Oxfam's leadership team came as one of the charity's senior figures complained the storm of criticism was "out of proportion".
Mark Goldring, the chief executive of Oxfam GB, claimed critics were "gunning" for his organisation and suggested no-one had "murdered babies in their cots".
Penny Mourdant on Oxfam: If moral leadership isn't there then we cannot have you as a partner
His intervention, in an interview with The Guardian, struck a less contrite tone than a statement issued by his senior colleague hours earlier – which described allegations of sexual exploitation as a "stain" on the charity's reputation.
Executive director Winnie Byanyima apologised for the crisis which has seen Oxfam accused of covering-up claims that staff used prostitutes while delivering aid to disaster-stricken Haiti in 2011.
Mr Goldring will next week be hauled before MPs to answer questions about Oxfam's aid work on the Caribbean island.
He told The Guardian: "The intensity and the ferocity of the attack makes you wonder, what did we do? We murdered babies in their cots? Certainly, the scale and the intensity of the attacks feels out of proportion to the level of culpability.
"I struggle to understand it. You think, 'My God, there's something going on there."'
He added: "Anything we say is being manipulated... even apologies only make matters worse."
UK news in pictures

Show all 50
The charity chief said he had apologised to the Haitian ambassador on Thursday for the alleged behaviour of Oxfam's aid workers and plans to visit the country to explore how to make amends.
He also disclosed that one of the men sacked after being accused of using prostitutes was given a job reference from the charity, but it was written by a colleague who was too fired over the allegations.
Earlier in the day, Oxfam promised a wide-ranging reform plan as it sought to minimise reputational damage.
More than 1,000 direct debits to the charity were cancelled over the weekend and Mr Goldring the revelations could have a "substantial effect on public confidence, which would affect public donations".
Announcing the reform measures, Ugandan-born Ms Byanyima said: "What happened in Haiti and afterwards is a stain on Oxfam that will shame us for years, and rightly so."
The plan, which includes an independent commission involving women's rights experts to urgently review Oxfam's culture and practices, had been agreed with Mr Goldring, who told The Guardian he was "absolutely committed" to rooting out abuse.
The chief executive, however, then lashed out at Helen Evans, Oxfam's former global head of safeguarding, who recently said she had begged senior staff, ministers and the regulator to act on the sexual abuse allegations.
"I think [her criticism] was very unbalanced, and ironically didn't give enough credit to the very work that she promoted," he told the paper. "I don't think she gives either herself or Oxfam enough credit for what was actually steady improvement."
Oxfam executive director: 'I'm appointing a high-level commission'
He also offered a defence of his colleagues over the decision in 2011 to not disclose the full details of an inquiry into the behaviour of Haiti aid workers.
He said: "I don't think [Oxfam] wanted to promote a sensation and damage the delivery of that programme. With hindsight, we should have said more. I've been clear about that right since this broke.
"But if Oxfam's business is to help save lives, if people are motivated by protecting Oxfam, they're motivated by actually delivering that. If your organisation is there to actually help make the world a better place, I can see why people thought this was the right thing to do."
Reforms announced on Friday include more than doubling the number of people working in Oxfam's safeguarding processes while more than tripling the annual funding to £720,000.
They are also setting up a global database of accredited referees to ensure sex offenders cannot re-offend at other charities, and improving the organisation's "whistleblowing mechanism".
Oxfam also vowed to publish its 2011 internal investigation into staff involved in sexual and other misconduct in Haiti as soon as possible. The names of the men involved have already been shared with the authorities in Haiti.
It has emerged that aid agencies including Oxfam were warned aid workers were sexually abusing children in Haiti a decade ago.
A damning report by Save the Children highlighted that children as young as six were being coerced into sex in exchange for food and necessities, and called for urgent action including the creation of a global watchdog.
Join our new commenting forum
Join thought-provoking conversations, follow other Independent readers and see their replies