Panic Saturday: 12.6 million shoppers expected to hit the high street as stores offer pre-Christmas discounts of 45%
Almost one in five is expected to go last-minute shopping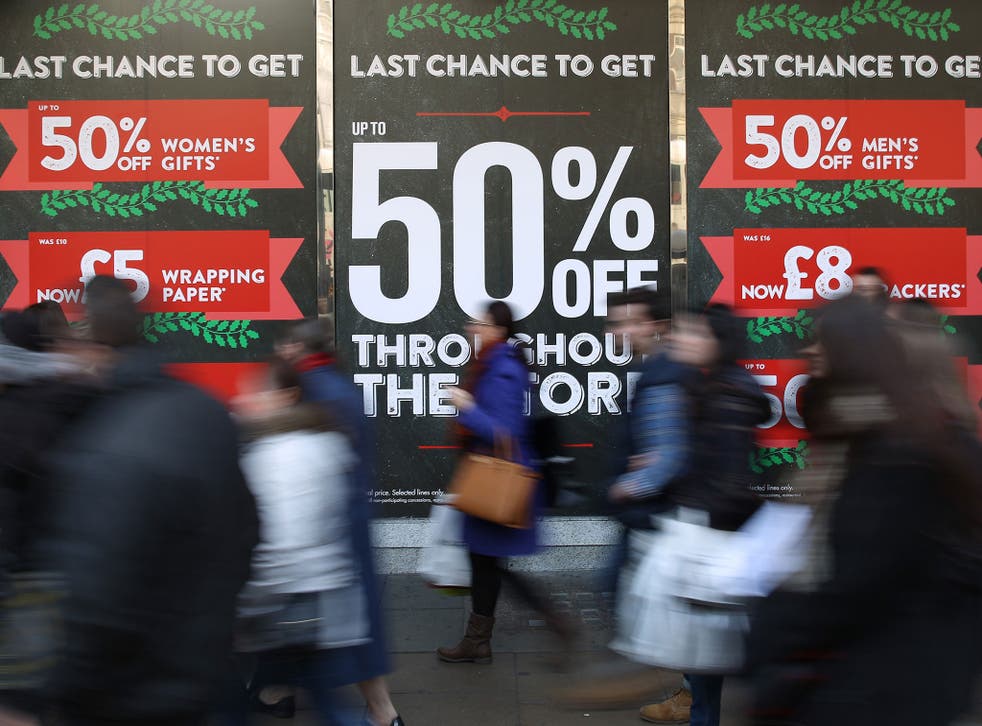 Panic-buyers and bargain-hunters are expected to flood stores on the busiest day in the Christmas shopping calendar today, as high street shops slash prices in an attempt to coax consumers down the aisles.
Retailers including River Island, H&M, Sports Direct, Argos and Sainsbury's are already offering huge seasonal discounts - with many more sales due to kick off early instead of after Christmas.
Discounts are expected to average 45 per cent on what some see as the most stressful shopping day of the year, according to Deloitte.
Around 12.6 million Britons – almost 1 in 5 of the UK populaton – are expected to hit the sales in search of cut-price buys, according to the Centre for Retail Research.
A mild autumn and unexpectedly low Black Friday sales have left businesses desperate to shift a build-up of stock, industry experts said.
Christmas 2015 window displays

Show all 11
And thanks to Christmas falling on a Friday this year, "Panic Saturday" is expected to kick off a £6 billion six-day spending spree - 23 per cent more than the same period last year when Christmas Day fell on the Thursday.
Jason Gordon, consumer business partner at Deloitte, said: "Compared to 2014, there is already a noticeable increase in both the volume and value of discounts in the run-up to Christmas this year.
"Whilst this is good news for consumers looking to grab a bargain, it is a clear sign that retailers are being faced with what is now an annual uphill battle."
Press Association
Register for free to continue reading
Registration is a free and easy way to support our truly independent journalism
By registering, you will also enjoy limited access to Premium articles, exclusive newsletters, commenting, and virtual events with our leading journalists
Already have an account? sign in
Register for free to continue reading
Registration is a free and easy way to support our truly independent journalism
By registering, you will also enjoy limited access to Premium articles, exclusive newsletters, commenting, and virtual events with our leading journalists
Already have an account? sign in
Join our new commenting forum
Join thought-provoking conversations, follow other Independent readers and see their replies