Patients forced to wait in ambulances outside hospital 'for up to six hours' as A&E departments are too busy to take them
NHS guidance recommends that patients should wait in ambulances for no longer than 15 minutes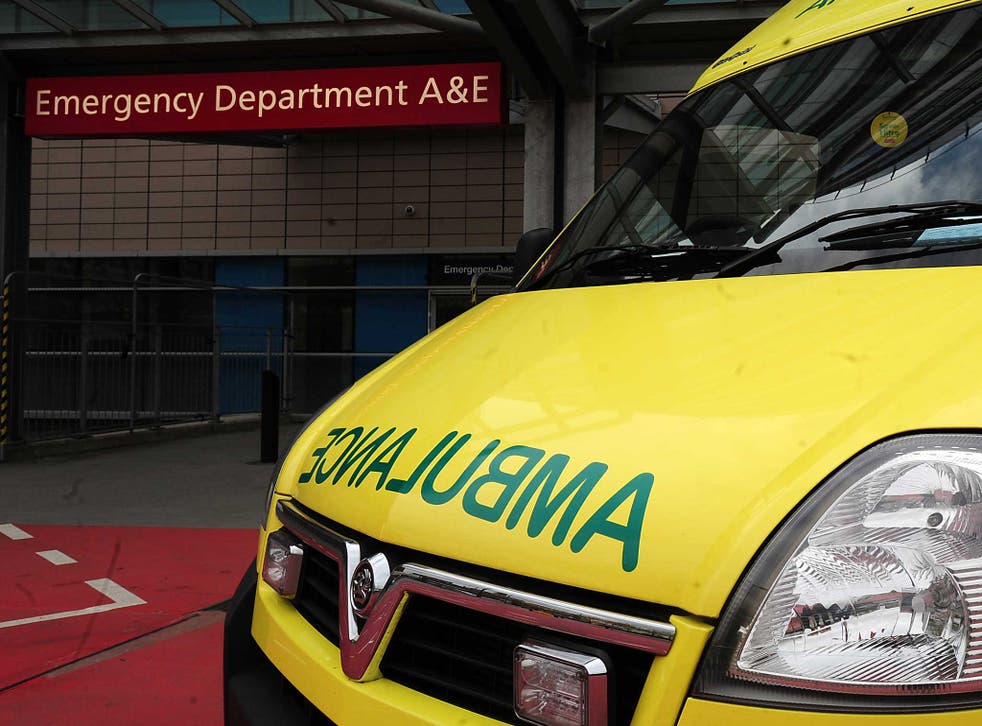 Patients are being forced to wait in ambulances outside hospitals for up to six hours because accident and emergency departments are too busy to take them, according to new figures.
Paramedics are only allowed to hand patients over to hospitals when staff there can take charge of them with NHS guidance recommending that patients should wait in ambulances for no longer than 15 minutes but in one case a patient in Wales was made to wait more than six hours before being admitted, the BBC has found.
The figures were released to the BBC under the Freedom of Information Act after it asked all UK ambulance services for their longest waits for the 12 weeks from August to October. The longest delay, of a patient waiting for six hours and 22 minutes, occurred in Wales. Each weekly maximum wait there for the period was more than three hours.
In the east of England one patient was forced to wait five hours and 51 minutes, while Scotland had the best record, with none of the weekly maximum waits longer than two hours. Northern Ireland and the Isle of Wight failed to provide data, the BBC said. Delays of more than 30 minutes in England can lead to fines.
Dr Clifford Mann, president of the College of Emergency Medicine, said the figures were "alarming".
He told the BBC: "There's always going to be a small number of patients whose transfer is delayed, but not to the extent of these figures - which are approaching three, four - sometimes six hours.
Barbara Hakin, deputy chief executive of NHS England, said there were 4,476 delays of more than 30 minutes in handing patients on from ambulances last week, down by nearly 1,000 on the same week in 2012. But she conceded that ambulance services were under pressure.
She said: "NHS England recognises it is essential ambulances are back on the road as soon as possible after taking patients to A&E, though we know it is sometimes in the best interests of patients' safety that they remain in the ambulance after they have arrived at the hospital."
Ms Hakin said NHS England has allocated an extra £14 million for extra staff and equipment over the winter months.
Dr Hakin, speaking on BBC Breakfast, said: "We try really hard to make sure that patients get absolutely the right treatment, in the right place. That is why we have put more money into the NHS to try and improve services within our A&E departments and more money into the ambulance services so that they can recruit more staff.
"These long waits are the exception. We are not complacent, we want to make sure they don't happen. Whatever happens, individual patient safety will take priority."
Shadow health secretary Andy Burnham said: "Winter is setting in, but David Cameron is still dangerously complacent about the crisis in England's A&Es. His failure to face up to it is having a serious knock-on effect on ambulance services.
"Ambulances are trapped in queues at A&Es, unable to hand over patients at bursting hospitals. Ministers are leaving large swathes of the country without adequate ambulance cover - people who have faced an anxious wait for an ambulance will be stunned by their complacency.
"David Cameron's fingerprints are all over the A&E crisis. It proves you can't trust the Tories with the NHS."
Additional reporting PA
Join our new commenting forum
Join thought-provoking conversations, follow other Independent readers and see their replies