Pegida movement to hold first UK rally
The German chancellor has condemned her country's arm of the movement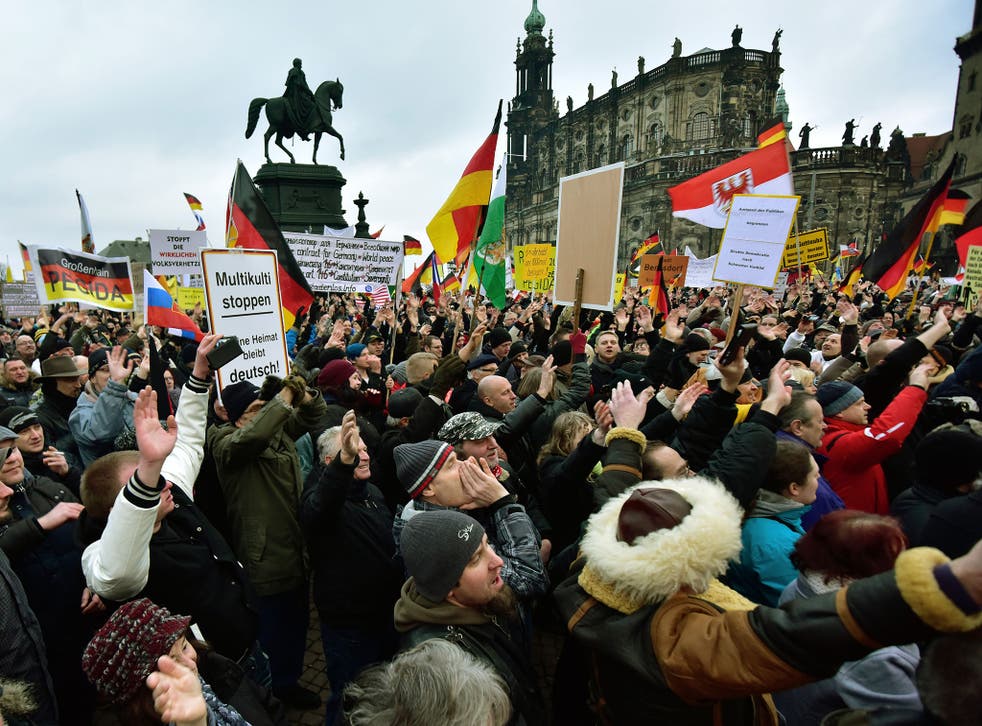 The UK-based incarnation of an anti-Islamic movement hijacked by the far-right in Germany, is to hold its first rally in England this month.
Patriotic Europeans Against The Islamisation Of The West (Pegida) has shaken Germany's political establishment in Berlin, with as many as 25,000 supporters gathering at a demonstration in Dresden, East Germany, last month.
On 28 February, a group calling itself Pegida UK plans to stage an event in Newcastle - which police have not been formally notified about - with demonstrations in Birmingham and London slated for a later date.
In a Facebook post, the group said: "Pegida UK is holding its first rally in Newcastle. All are welcome to attend. lets show the Islamists we show no fear."
Pegida's UK has not responded to a request for comment from The Independent, but a spokesman told the Mirror it did not want to attract extremists, or "do anything illegal". He added the group expects between 500 to 3,000 protesters to attend the march.
"We are against radical Islam, hate preachers and believe Muslims need to adapt to our way of life in the West instead of us adapting to them.
In pictures: Anti-Pegida protesters

Show all 10
Anti-fascists have announced plans to counter the demonstrations, claiming the group is supported by members of the far right.
Weyman Bennett, secretary of Unite Against Facsism, said: "They have tried to do this all over Europe. I think we should oppose it."
Northumbria Police said it had not been contacted by the organisers.
A spokeswoman said: "At the moment we have not received formal notification from this group about a proposed march."
Last year, German Chancellor Angela Merkel condemned the German movement, and said "they have prejudice, coldness, even hatred in their hearts."
But Pegida now looks set to fade after most of its leaders quit last week due to infighting, amid fears the cause was being hijacked by right-wing extremists. One leader, Lutz Bachman, stood down after photos emerged on him posing as Adolf Hitler.
Additional reporting by PA
Join our new commenting forum
Join thought-provoking conversations, follow other Independent readers and see their replies