Photo of baby elephant on fire after being attacked by mob wins international award
Elephant and calf seen running close to mob that hurled flaming tar balls and crackers at them, reportedly to ward them away from human settlements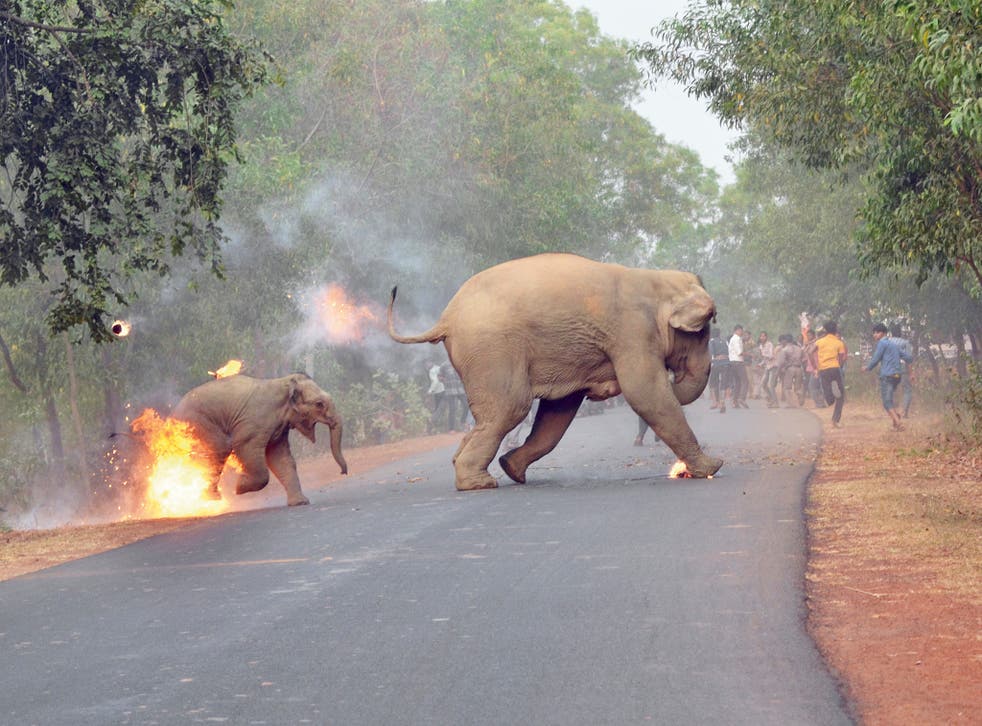 An image of a baby elephant fleeing a mob that has just set it on fire has won top entry in a pan-Asian wildlife photography competition, the Sanctuary Wildlife Photography Awards 2017.
It shows the calf and its mother running across a road close to a crowd that has hurled flaming tar balls and crackers at them, reportedly to ward the elephants away from human settlements.
The picture, titled "Hell is here" and taken by Biplab Hazra, a wildlife photographer from West Bengal state, won the 2017 Sanctuary's Wildlife Photographer of the Year award.
Speaking to the Indian Express afterwards, Mr Hazra said the two elephants "somehow survived" the brutal mob attack.
Announcing the award for the photo, taken in West Bengal, which has often been in the news for human deaths caused by encounters with elephants, Sanctuary magazine said "this sort of humiliation... is routine".
Elephant predicts Portugal win
The magazine's note accompanying the photograph explains that this was also a case of human-elephant conflict, explaining that a "crowd of jeering men" were flinging "flaming tar balls and crackers" at the two elephants when Biplab Hazra took the photograph.
Mr Hazra recalls the calf screaming in "confusion" as it fled, adding: "For these smart, gentle, social animals who have roamed the subcontinent for centuries, hell is now and here."
Join our new commenting forum
Join thought-provoking conversations, follow other Independent readers and see their replies