Police cuts: Commissioners threaten to sue Government over 'unjustified' budget reforms
Exclusive: Police commissioners join forces to urge Policing Minister Mike Penning to halt 'deeply flawed' changes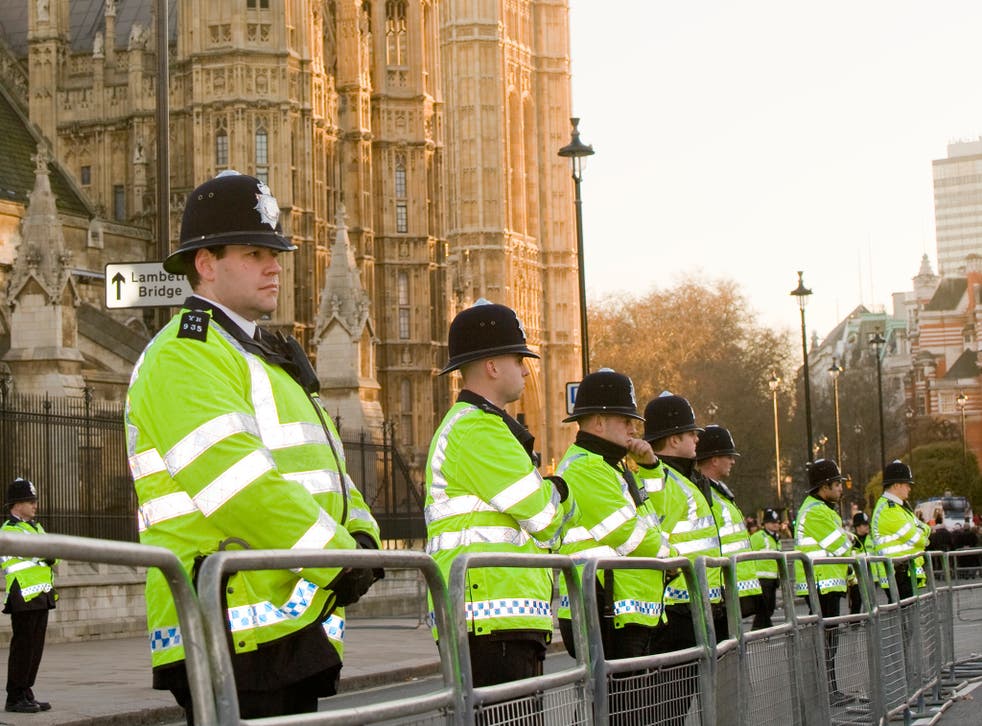 Seven police and crime commissioners are threatening legal action against the Government over its "unjustified" and "deeply flawed" funding reforms that could see millions of pounds slashed from the budgets of several police forces already rocked by spending cuts.
The police commissioners have joined forces in writing to Policing Minister Mike Penning to urge him to halt proposed changes to police funding allocations – and have issued a stark warning that they could seek a judicial review if he fails to listen to their "grave concerns". It follows a series of warnings from senior police officers that they have been left unable to respond to burglaries, anti-social behaviour and drug crime due to "savage" spending cuts.
The row heaps extra pressure on Home Secretary Theresa May – who created the role of police commissioners in 2012 – amid the ongoing controversy over the Investigatory Powers Bill, which is set to be presented to Parliament tomorrow.
The police commissioners' letter, which has been seen by The Independent, warns that police services in Britain face a "milestone moment", with Government spending decisions in the coming months set to shape policing "for a generation".
The police commissioners recognise that Mr Penning has made "very welcome efforts" on policing funding generally, but they say the proposals that have emerged from the funding review are "unfair, unjustified and deeply flawed".
Their letter warns: "We believe this process should be halted immediately and the process redesigned to give forces and commissioners the information and time they need to make a proper and fair assessment of its consequences."
The letter adds: "It is with much regret that we are therefore taking legal advice with a view to initiating a judicial review, should our concerns not be addressed."
The letter has been signed by the police commissioners representing Cumbria, Lancashire, Devon and Cornwall, Merseyside, North Yorkshire and Thames Valley, and by Stephen Greenhalgh, London's Deputy Mayor for Policing and Crime. Five of the PCCs are Conservatives Party members, while two, for Merseyside and Lancashire, are from Labour.
Mr Penning announced plans in July to reform the "complex, opaque and out of date" arrangements for allocating central government funding to the 43 police forces in England and Wales and launched a consultation.
He wrote to chief constables and PCCs on 8 October setting out how their forces could be affected by the proposals.
Analysts suggest 11 forces could lose out under the proposed new arrangements. Four others would be unaffected and the remainder would see increases if overall funding levels remain the name as last year, it is claimed. Three police forces say they could lose more than 10 per cent of their grants under the proposals.
Lancashire Constabulary could see its grant reduced by £25m, while Cumbria could lose £9.5m – the biggest percentage decrease.
The biggest loser in monetary terms would be the Metropolitan Police Service, which faces a reduction of £184m in grant funding.
There is concern among police and crime commissioners in particular that geographically larger forces such as North Yorkshire, Cumbria and Lancashire would be badly affected as they would no longer be compensated for the large areas officers have to cover. Clive Grunshaw, Lancashire's Police and Crime Commissioner, told The Independent the process has been "shambolic". He said: "This will fundamentally change the policing we can offer to the people of Lancashire. It will threaten security and safety and potentially put people at risk."
Tony Hogg, the police and crime commissioner for Devon and Cornwall, said: "It is with considerable regret that I cannot rule out mounting a legal challenge against the Government's plans. I feel I must do everything I can to stop these proposals coming into effect."
The Home Office says no final decisions on funding allocations have been made and future funding levels will be subject to the outcome of the Spending Review on 25 November. It says that it received more than 1,700 responses to the consultation and has made "refinements" to the proposed funding model.
In a statement last night, Mr Penning said: "Police reform is working and crime has fallen by more than a quarter since 2010, according to the independent Crime Survey for England and Wales.
"But if we want policing in this country to be the best it can be, then we must reform further, and that includes putting police funding on to a long-term, sustainable footing.The current model for allocating police funding is complex, opaque and out of date. That is why we have consulted on principles for reform of funding arrangements for the police in England and Wales, ensuring they are fair, robust and transparent."
UK news in pictures

Show all 50
How police forces are affected
According to the letter sent by the PCCs, the proposed budget cuts mean that:
Lancashire Police's budget will reduce by nearly 14 per cent or £25m per year, resulting in the loss of almost all of its proactive crime-fighting and crime prevention capacity by 2020.
The future viability of Cumbria Police will be in question if the 15.8 per cent or £9.4m per year reduction in their central funding allocation is imposed.
Thames Valley will lose at least 2.6 per cent or £5.6m of its annual allocation of
national funding.
The £5m in additional budget reductions for Merseyside Police will result in drastic cuts across operational policing, including teams responsible for investigating sex assaults, hate crimes and organised crime.
London will lose 11.3 per cent of its central grant – £184m in annual funding for its police service – a sum of money equivalent to the entire budgets of many forces. This cut is equivalent to the loss of 3,000 police officers.
Devon and Cornwall Police will lose 8 per cent, more than £13m per year, of its funding allocation and will require significant job reductions.
North Yorkshire will lose just over £4m (over 5 per cent of its national allocation), which equates to the pay bill for approximately 70 per cent of the PCSO establishment, leaving just 10 PSCOs to cover over 3,341 square miles.
Join our new commenting forum
Join thought-provoking conversations, follow other Independent readers and see their replies