Police issue parking tickets while families go sledging in picturesque Brecon Beacons
Police said parking in the area was causing 'big problems'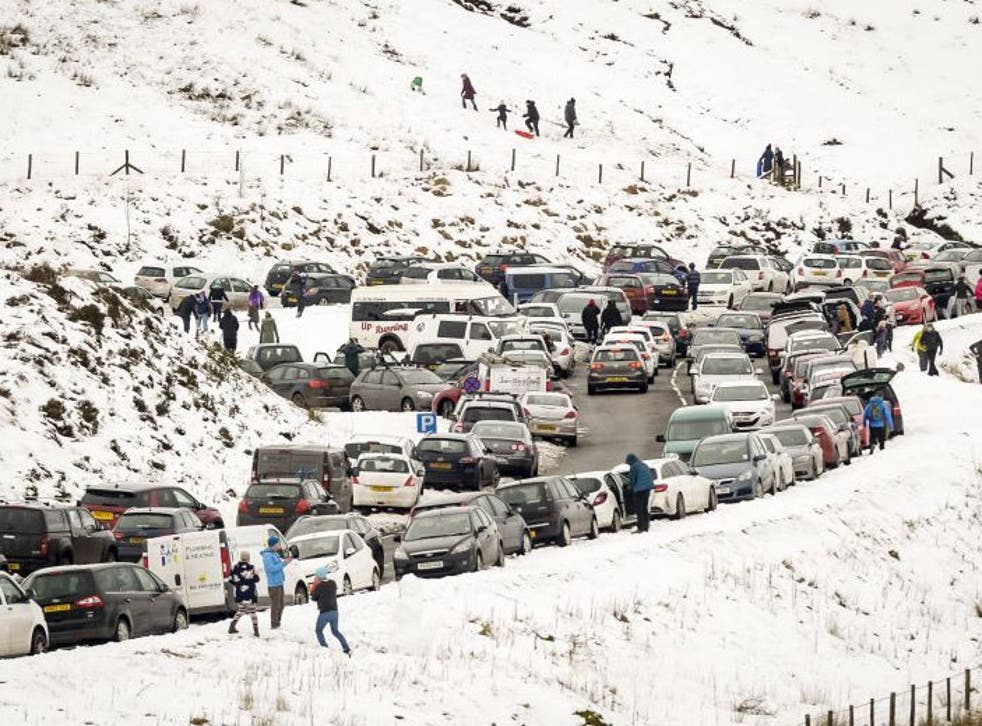 Police have been handing out parking tickets to snow-lovers who have flocked to the picturesque Brecon Beacons to go sledging.
Police said the sheer number of cars parked on verges on the A470, near Pen y Fan was "causing big problems" on Saturday.
South Wales was transformed over the weekend as snow blanketed the area, causing people to descend upon the Brecon Beacon's National Park to take advantage of the picturesque winter scenes and perfect sledging conditions.
However, vehicles parked on the side of the road while people went sledging on the hills caused a build-up of traffic and road blockages.
Dyfed Powys Police said they would be issuing parking tickets to those parked on the A470 to go sledging: "If your vehicle is one of those parked on A470 Storey Arms you are in the process of receiving a parking ticket."
On Sunday the force repeated the warning saying: "Have fun sledging but park safely and securely off the road otherwise you will have a ticket."
People responding to the police warnings had mixed views as to whether the force's cautions were a sensible precaution or preventing families from having a fun day out.
Dan Parry said over Twitter: "Shame you get penalised for a family day out."
Vikki Posser said: "It's double edged sword. Most cars early on were parked off the road and it was ok but then got manic and no room for lorries on this major artery."
Mandy Mills called for better parking in the area: "It's so beautiful up there that I'm not surprised people want to flock there in their hundreds."
"It's very dangerous up there today though, between pedestrians and inconsiderate parking.
"The Beacons are screaming out for better parking before somebody gets seriously injured or worse."
In pictures: Winter weather hits the UK

Show all 17
Plummeting temperatures and a 100-mile "corridor of snow" have gripped the UK this weekend.
The Met Office has issued 12 "be aware" yellow alerts for snow and ice across Scotland, North-East England, Yorkshire, the Midlands and London.
Up to 10cm of snow has been predicted in certain parts of the UK with plummeting temperatures causing widespread ice and frost.
Join our new commenting forum
Join thought-provoking conversations, follow other Independent readers and see their replies