Police warning over 'aggressive' giant rhea bird on the loose in Nottinghamshire
'If you go near it, it will go for you,' the owner warned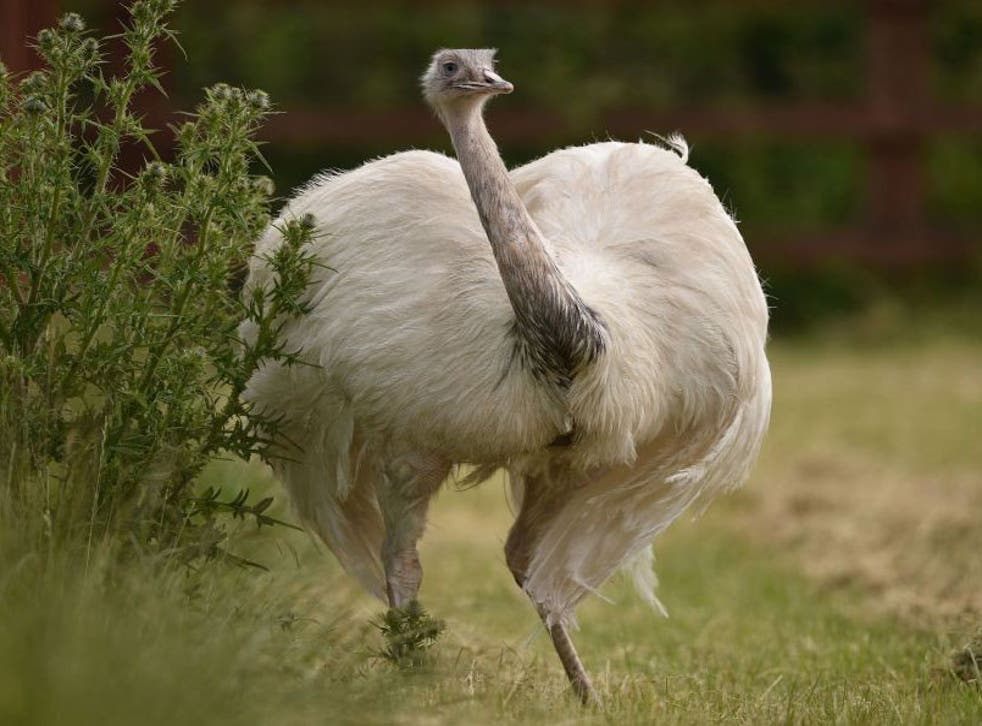 People in Nottinghamshire are being warned to avoid a large ostrich-like bird that is on the run and "poses a very real threat to the public".
The 6ft-tall rhea was reported missing from its enclosure in Carlton-in-Lindrick, near Worksop, on Tuesday and has not been seen since.
Inspector Paul Peatfield, from Nottinghamshire Police, said: "We are warning local people and particularly those with small children to be on their guard and not to approach the bird, which poses a very real threat to the public due to its size, aggressive nature and the unfamiliar surroundings it could find itself in.
"Officers are working with the owner to trace the bird as we look to bring his incident to a safe conclusion."
The male rhea, a flightless bird native to South America, is understood to have gone missing between 5pm on Monday and noon on Tuesday.
His owner, Alex Macdonald, said he had no idea how it could have escaped and feared the exotic bird may have been stolen.
He kept it with a female mate and the male had been sitting on their eggs, meaning he would normally be unlikely to stray far.
Mr Macdonald said the male was "aggressive and very protective", adding: "People take it lightly because they think it's just a little bird.
"But they don't understand, until you get into a field with one and wrestle one - they've got claws, they kick like mad.
"They're quite powerful and they can run quite fast - 30 mph probably. That's quick."
In an interview with Sky News, he said: "They have serious claws.
"And if you go near it, it will go for you. There is no two ways about it. That's just what it will do."
Today, the bird's partner was pacing the field they shared, apparently looking for him.
"They used to play a lot running around the fields and stuff and she's not doing that at the minute. She's just getting over the fact she's on her own now," Mr Macdonald said.
"It's speculation but I think it's been taken. Nobody's reported it and it's something you would report if you saw it."
Mr Macdonald, whose family also keeps alpacas, goats and other animals, said there are CCTV cameras all over the farm which are being combed for evidence.
He hypothesised that thieves would have difficulty getting it into a car and said four men were needed to wrestle the bird to the ground when it needed to be moved.
Mr Macdonald praised the police for taking the disappearance very seriously, despite a couple of "inevitable rhea jokes".
"They had rifles, shotguns. There were marksmen who came, they were ready to take it out," he said.
The family has raised almost a dozen rheas from eggs to sell them for meat.
Last year, another rhea - nicknamed Chris after the Road To Hell singer - went on the run in Hertfordshire.
The 6ft bird became a familiar face at a golf club near Royston after it escaped from its nearby home in April 2014, but police were worried it could cause a car crash.
"Chris" was shot dead after more than a month on the loose by a gamekeeper, who turned it into sausages.
Anyone who sees the bird is asked to call 999 immediately, quoting incident number 601.
Additional reporting by PA
Join our new commenting forum
Join thought-provoking conversations, follow other Independent readers and see their replies