Poverty forces record number of women into low-paid jobs, TUC study finds
There is work for cleaners, childminders and hairdressers, but a shortage of more lucrative posts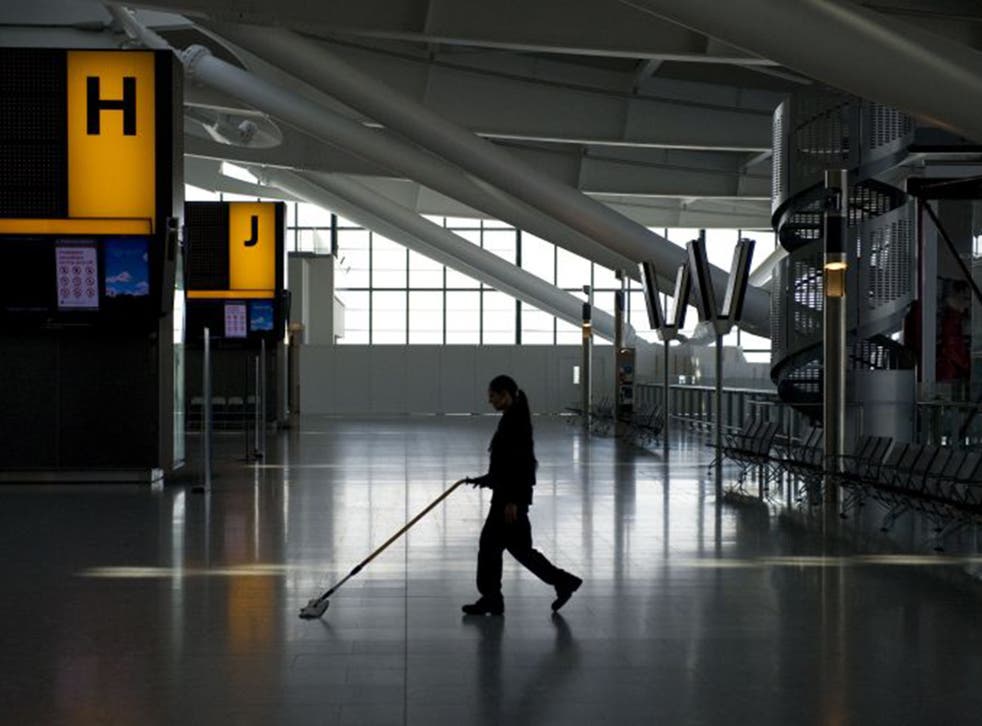 Record numbers of women are in work, but many are pensioners forced to work and self-employed people in low-paid jobs, while others struggle to get enough hours to make ends meet, according to a report to be published this week.
The study, by the Trades Union Congress (TUC), looks at how women have fared since the financial crash in 2007, concluding that millions were driven into the workplace. There are now more than 14 million female workers in Britain.
About half of the net growth in women's employment since the crash has come from self-employment. The number of women working beyond retirement age has almost doubled since 2007, according to the report, with about 445,000 women aged 65 or more now in work.
"The number of women in work is greater than ever before," states the report to be launched at the TUC's annual women's conference on Wednesday.
But the reality is bleak for many of Britain's working women. Take the surge in self-employment, which has accounted for half of the overall net growth in women's employment since 2008, rising from 1.05 million to 1.45 million by the end of last year. While a third of self-employed women are in high-skilled jobs, cleaning, childminding and hairdressing are the commonest jobs.
In the case of the growing number of elderly workers, while it is good news for those who want to work, for others "it is likely to be driven by financial necessity".
What Brits want in a job

Show all 10
There is a "dearth of high-quality, well-paid jobs for women", the report warns. "Most of the net growth in women's employment has been in low-skilled and low-paying sectors. While younger women are facing underemployment and struggling to find sufficient work, older women are unable to reduce their hours to accommodate caring responsibilities and are working for longer than ever before," it says.
Pay has fallen across the board. Women's average wages are down 6 per cent, making them more than £20 a week worse off in real terms than they were in 2008. Those working part-time earn 38 per cent less per hour than their male colleagues.
Women and their families "have faced the worst squeeze on real income since Victorian times as pay has not kept pace with the rising cost of living", states the report.
Underemployment is an issue for many women workers, with a 41 per cent rise in those wanting to work longer hours. Women "make up the majority of those paid less than the living wage and more women than ever before are in part-time work because they can't find full-time work", the report says.
While most women working part-time do so out of choice, because it allows them to combine caring responsibilities with paid work, about 746,000 are in part-time work because they cannot find a full-time job, according to the report.
Women account for more than half of those working in temporary jobs or on zero-hours contracts, while welfare reforms such as the "bedroom tax" and the household benefits cap have had "a disproportionate impact" on women. Although new rights have been introduced to advance gender equality in the workplace, such as the right to request flexible working and shared parental leave, they "are likely to have a limited impact in the current climate".
The report calls for a strategy for growth that "recognises social infrastructure and the value of women's skills and labour". Improved rights for workers, better quality jobs, a higher minimum wage and better enforcement of minimum standards for low-paid and vulnerable workers are among the changes which need to happen, it says.
The TUC general secretary, Frances O'Grady, said: "Across the age spectrum, women are facing real hardships. Many starting their careers cannot find enough hours to get by and an increasing number are having to postpone retirement because they cannot afford to stop working."
Amanda Ariss, chair of a recent inquiry into women and the Jobseeker's Allowance, co-ordinated by the Fawcett Society, said: "Women, especially lone parents, are often not being provided with the support they need to move into good-quality, sustainable work that would benefit themselves, their families and the wider economy."
Measures taken by a Labour government to tackle the problem would include raising the minimum wage to £8 an hour, banning exploitative zero-hours contracts, providing more free childcare for working parents and delivering on the promise of equal pay, according to Gloria De Piero MP, Labour's shadow minister for women and equalities.
In a statement, a government spokesperson said: "This report is misleading and uses partial and selective analysis. The truth is that women are in work in record numbers and the majority of growth over the past four years has been in managerial and professional jobs, generally commanding a higher wage. As part of our long-term economic plan, we are supporting more women by reducing the cost of childcare, addressing the gender pay gap, increasing flexible working and introducing shared parental leave."
Join our new commenting forum
Join thought-provoking conversations, follow other Independent readers and see their replies