Prince Charles in Saudi Arabia: Five things he should actually be talking about during his visit
Charles is being urged to raise human rights issues during his Middle East tour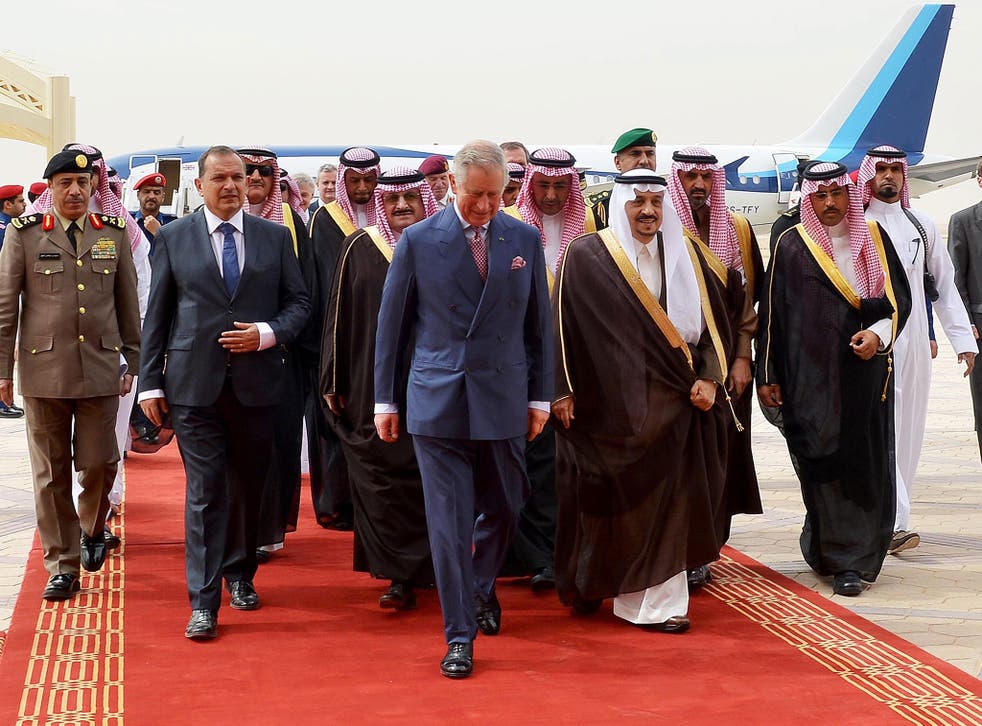 Prince Charles will formally meet Saudi Arabia's new King today during a six-day tour of the Middle East.
Charles flew from Kuwait to Saudi Arabia on Tuesday and as well as meeting the King will also hold talks with Prince Muqrin, the Crown Prince, and other senior government figures.
As a member of the British monarchy, the Prince of Wales has a good and enduring relationship with the Saudi royal family - a fact that has not gone unnoticed by human rights groups piling pressure on him to make his conversations during this trip count.
Considering Charles will have the ear of the most powerful man in Saudi Arabia, here are just a few of the issues he should perhaps consider raising.
Freedom of speech
The case of Saudi blogger Raif Badawi has most recently put freedom of speech in the ultra-conservative Kingdom back in the spotlight. Badawi was sentenced to 1,000 lashes and ten years in prison for starting the 'Free Saudi Liberals' website and for 'insulting Islam'. Authorities ruled his sentence would be administered with 50 lashes every Friday but officials have only carried out one public flogging, citing medical reasons. Amnesty International is now urging Charles to raise his case and pass on a "few well-chosen words to his royal hosts".
Executions
Saudi Arabia executed at least 68 people between January and November in 2014, according to Human Rights Watch, although this number is as high as 87 in some reports. The reality of its brutal death penalty was exposed more fully in January when a video emerged showing the public beheading of a Burmese woman being dragged through the streets and held down by four police officers as she screamed: "I did not kill". 'Crimes' that could result in the death penalty include adultery, opposing the Government and "insulting and desecrating Islam".
Women
Women in the Kingdom face tough restrictions on many aspects of their life - although many are fighting back against activities they are prohibited from taking part in. Women must cover their hair and face in public, be accompanied by a male chaperone at all times when they leave the house, are banned from driving and need permission from a man to pursue higher education. In December, reports emerged that two women who flouted the driving ban were to be tried in a special court for terrorism.
Migrant labour
Human Rights groups says migrant workers in Kingdom face exploitative working conditions, with excessive working hours, low pay and a sponsorship system that can allow employers to take control of their employee's passport and prevent them from leaving the country. There are few laws in place to protect migrant workers meaning cases of physical abuse and mistreatment are rarely reported.
Gay rights
Homosexuality is one of various 'crimes' deemed punishable by death or chemical castration in Saudi Arabia. Just last year, a man caught trying to arrange dates with other men via social media was sentenced to three years in prison and 450 lashes. In 2012, another man was also reportedly arrested for trying meet up with other gay men through Facebook. Any married man found engaging in sodomy or any non-Muslim who commits sodomy with a Muslim can also be stoned to death.
Join our new commenting forum
Join thought-provoking conversations, follow other Independent readers and see their replies