Prince Harry meets recovering addicts in Sao Paulo's 'crackland'
Amid chaotic scenes the Prince toured an open-air medical centre and a street cleaning depot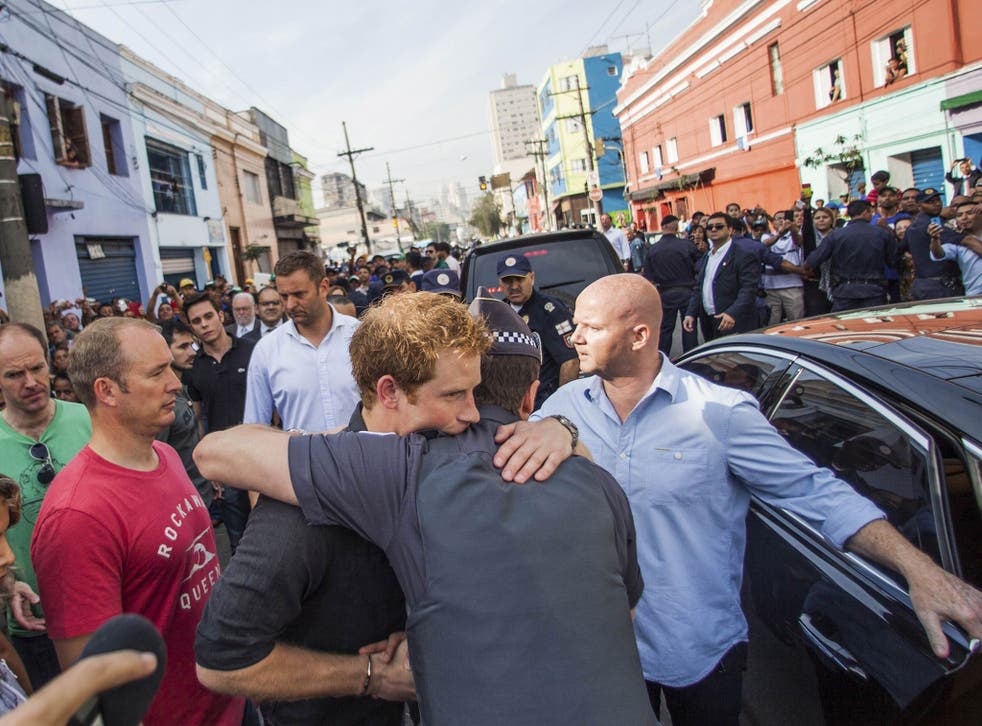 Prince Harry has met recovering crack addicts in a notorious area of Sao Paulo where the authorities have begun a controversial plan to get them off drugs.
Harry learned about the initiative which provides housing, food and work for the users when he visited Cracolandia - Crackland, where crack is sold for 80p a rock.
Amid chaotic scenes the Prince toured an open-air medical centre and a street cleaning depot where the recovering addicts are employed.
Before the prince arrived the area received its regular cleaning and many of the hardcore users who have not joined the programme - described by one official as the "walking dead" - moved on and their soiled bedding was removed from the streets.
And when Harry arrived he was mobbed by many of the recovering users as he toured the area which has been a magnate for addicts for more than 20 years.
With a large police and security presence outside the street cleaning depot, the Prince walked into the building and was surrounded by the workers who took his picture with their camera phones.
He chatted to them through an interpreter asking questions about their lives and circumstances.
The drug users who agree to the programme are given a hostel bed, meals and work as street cleaners in the morning for 15 Reals (£4) a day, and enrol on courses in the afternoon.
Ricardo da Silva, 34, first began using crack when he was a young boy, and when the Prince arrived was beginning his cleaning round - the first job he has ever had.
He said: "My life was very difficult, now it's changed, I'm trying to forget the past. I started to use crack when I was eight-years-old."
"In the past I used crack 24 hours a day now its decreased, the last time I used it was on Sunday."
Mr da Silva spent four years living on the streets in Crackland funding his habit by collecting cans for recycling and doing odd jobs.
He added: "This has given me the opportunity to be someone - a person."
Diana das Neves, 25, was also beginning work during the royal visit but had specially plaited her hair - in little knots know as Coquinho, or little coconuts - for the occasion.
She said: "I spent seven years in Cracolandia and I started using crack when I was 14. I had problems at home with my family, my stepfather. I left home and started living on the streets because of the problems."
The recovering addict, who met her husband, another drug user, in Cracolandia, said: "Thank god my life has changed completely. I use much less crack then before, I can now go two to three days without using it."
She added she hopes to start a family with her partner who is also on the programme.
PA
Join our new commenting forum
Join thought-provoking conversations, follow other Independent readers and see their replies