Protesters trolled a far-right group by blasting house music at a neo-Nazi march in Manchester
Members of the far-right group allegedly threw bananas at black people in the crowd, whilst shouting "You're not British any more"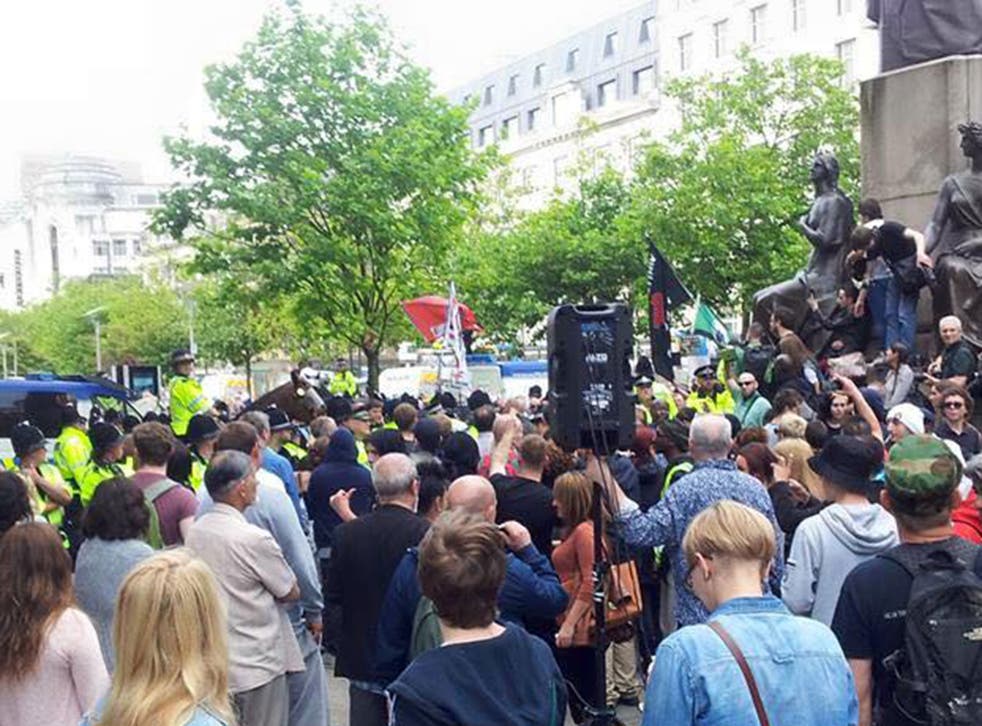 Anti-fascist protesters in Manchester have used house music to drown out far-right protestors.
Two groups called The Far Right Infidels and Combat 18 attempted to stage the event on Saturday in the city centre. Members appeared to perform Nazi salutes and one was seen wearing Klu Klux Klan robes.
The Manchester Evening News reports that some members threw bananas at black members of the public, whilst shouting "You're not British anymore."
However, just 40 far-right members turned up to their planned event in total, meaning that they were vastly outnumbered by the 200 anti-fascist counter protesters who also attended.
The latter blasted house music to drown out the sound of the white supremacist groups' speeches and slogans.
They chanted: "Master race? You're having a laugh" and "You don't live in Cheetham Hill or Moss Side- you must be from Emmerdale."
After an hour, the far-right group were escorted onto a bus and driven out of town.
Emma Leyla Mohareb, from the anti-austerity group The Party Protest, told The Manchester Evening News: "The atmosphere at the protest was brilliant- it was nice to see everyone say 'no' to racism in our city."
Last week, a similar far-right event called the 'White Man March' was planned by Neo-Nazis to take place in Liverpool. However, it had to be cancelled after barely anyone turned up and hundreds of locals attended pro-diversity counter protests.
Join our new commenting forum
Join thought-provoking conversations, follow other Independent readers and see their replies