RAF Typhoons scrambled to intercept Russian bomber 'approaching the UK'
It was the second time Russian planes had been escorted away in three days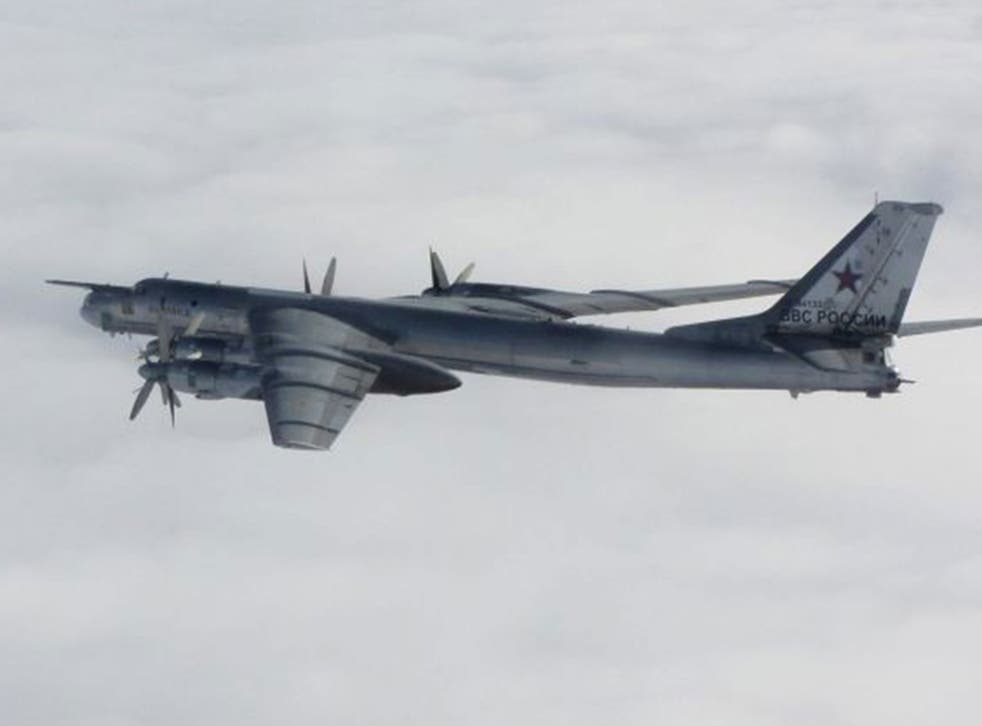 A Russian bomber has been intercepted by RAF Typhoons while "approaching UK airspace" for the second time in three days.
The Tupolev Tu-95, known by the Nato codename "Bear" was from Vladimir Putin's air force, according to the Ministry of Defence (MoD).
It was intercepted by fighter jets from RAF Lossiemouth in Scotland and "escorted" out of British-monitored airspace on Friday.
The aircraft had been detected inside the UK's flight information region by RAF Boulmer's Control and Reporting Centre in Northumberland, which immediately scrambled the Typhoons.
The intervention followed a similar incident on Wednesday, when two Bear bombers were tracked over the North Sea as Nato radars picked up a series of Russian formations engaged in "significant military manoeuvres" ranging from the Black Sea to the Atlantic Ocean.
A spokesperson from the RAF said: "Following a similar incident on Wednesday 29 October, the RAF Typhoon pilots visually identified the Russian aircraft and escorted them through the UK flight information region."
That and other recent events led Nato to warn of an "unusual level" of Russian military activity in European airspace.
A total of eight Russian warplanes were intercepted over the North Sea and Atlantic Ocean on Wednesday.
The two Bears intercepted by the RAF had originally been part of a larger formation of eight aircraft - including four Il-78 tanker planes - intercepted by Norwegian F-16 fighters in international airspace over the Norwegian Sea.
While six of the planes returned back towards Russia, the two Bears carried on towards the UK where they were picked up by RAF Boulmer.
They continued on over the Atlantic to the west of Portugal, where they were intercepted by Portuguese Air Force F-16s before turning back.
On the same day, there were a series of similar incidents over the Black Sea and the Baltic where Russian military formations were intercepted by Turkish fighters and Portuguese jets assigned to the Nato Baltic air policing mission.
German Typhoons and fighter planes from Denmark, Finland and Sweden were also involved in interceptions.
The incidents come after months of heightened tensions between Moscow and the West following Russia's annexation of Crimea and alleged military incursion into Ukraine.
On Wednesday, RAF jets were also launched to intercept a civilian aircraft which was causing concern to air traffic control authorities.
The aircraft, a Russian-made Antonov An-26 cargo airliner from Latvia, was safely escorted to London Stansted after being intercepted by aircraft from RAF Coningsby when communication with it was lost.
A group of aviation enthusiasts, EGXCinfo, posted an audio clip on their Twitter account, which they said was of an RAF pilot issuing a threat to open fire unless the then unidentified plane made contact.
"I am instructed by Her Majesty's Government of the United Kingdom to warn you that if you do not respond immediately to my orders, you will be shot down," the voice on the recording says.
It was later allowed to continue its original journey to Birmingham.
Air Vice-Marshal Gary Waterfall, who in charge of Britain's air defence, said: "The Royal Air Force was formed to secure the skies over the UK, and it remains our main task.
"This week's news has shown yet again that the RAF's quick reaction alert is an essential element of our nation's security…we are all committed to ensuring that whether it is a Russian Bear or a suspect airliner, each incident is responded to appropriately, managed successfully and resolved peacefully."
A spokesperson for Nato said it has conducted more than 100 intercepts of Russian aircraft in 2014 to date - three times more than were conducted in the whole of 2013.
"Scrambles and intercepts are standard procedure when an unknown aircraft approaches Nato airspace," he added.
"However, such flights pose a potential risk to civil aviation given that the Russian military often do not file flight plans, or use their on-board transponders.
"This means civilian air traffic control cannot detect these aircraft nor ensure there is no interference."
Additional reporting by PA
Join our new commenting forum
Join thought-provoking conversations, follow other Independent readers and see their replies