Government policy forced 190 women to prove they were raped in order to get child benefits, figures show
Tens of thousands of low income families miss out on child benefits under 'poverty-producing' measure, while mothers forced to disclose rape in order to put food on the table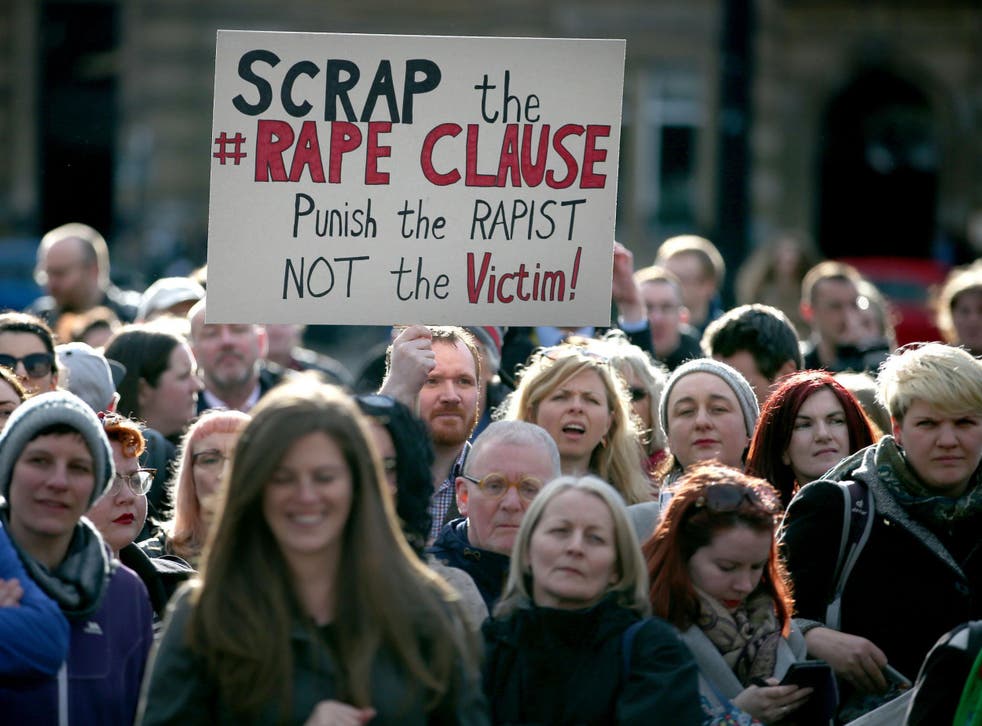 Scores of women have been forced to prove they were raped in order to get benefits under a new government policy, official figures show.
In total, 190 women had to prove their child was conceived as a result of rape in order to receive financial support in the year after the two-child policy was introduced in April 2017.
Tens of thousands of low income families have also lost child benefits under the measure, which limits tax credits to two children with an exemption for women if they can prove any subsequent children were the result of an assault.
Figures published by the Department for Work and Pensions (DWP) on Thursday show 73,530 families – amounting to about 200,000 children – have lost entitlement to child allowances in tax credits or universal credit since the policy was introduced.
There were 2,820 households claiming exemption from the policy, of which 190 were affected by the rape clause.
Politicians and charities have accused the government of "snatching away" financial support from struggling families and warned that the rape clause meant mothers were having to disclose rape in order to put food on the table.
Campaigners have estimated that more than 250,000 children will be pushed into poverty by the end of the decade as a result of the policy, representing a 10 per cent increase in child poverty.
SNP MP Alison Thewliss, who has been campaigning on the issue since the policy came about, told The Independent: "The number is absolutely staggering. It's been said all along that this would push more families into poverty and the DWP's only report today proves that.
"This policy only serves to put children into poverty, and sends out an awful message that the government does not treat all children equally."
On the rape clause, Ms Thewliss said 190 women was a "significant figure", adding: "I'm almost certain that many women won't be coming forward, particularly because the policy requires that you're not living with the father of that child.
"For women in situations of domestic abuse and coercive control, they won't be able to make that claim at all, because to leave would leave them in significant danger."
Margaret Greenwood MP, Labour's shadow work and pensions secretary, said the figures were "truly shocking", and that the two-child limit was an "attack on low income families, is morally wrong and risks pushing children into poverty".
"It cannot be right that the government is making children a target for austerity, treating one child as if they matter less than another," she added.
Jamie Grier, director of development at Turn2us, which supports people on low incomes with accessing benefits, said the charity was frequently contacted by parents – the majority of whom are in-work – fretting over whether the policy meant they should terminate their pregnancy.
He claimed that at a time when child poverty is already on the increase, the policy was directly linked to exacerbating the number of children suffering.
"A third child is worth no more or no less than a first or second born, and in a time of high rents and low wages we need to see support extended to families who need financial help, not snatched away," he added.
Alison Garnham, chief executive of Child Poverty Action Group, said the figures showed the policy was "already having a damaging impact – and at a fast pace".
"These are struggling families, most of them in work, who will lose up to £2,780 a year – a huge amount if you're a parent on low pay. An estimated one in six children will be living in a family affected by the two-child limit once the policy has had its full impact," she said.
UK news in pictures

Show all 50
"It's a pernicious, poverty-producing policy. Even when times are tough, parents share family resources equally among their children, but now the government is treating some children as less deserving of support purely because of their order of birth."
A government spokesperson said: "The policy to provide support in child tax credit and universal credit for a maximum of two children ensures people on benefits have to make the same financial choices as those supporting themselves solely through work.
"We are delivering this in the most effective, compassionate way, with the right exceptions and safeguards in place."
Register for free to continue reading
Registration is a free and easy way to support our truly independent journalism
By registering, you will also enjoy limited access to Premium articles, exclusive newsletters, commenting, and virtual events with our leading journalists
Already have an account? sign in
Register for free to continue reading
Registration is a free and easy way to support our truly independent journalism
By registering, you will also enjoy limited access to Premium articles, exclusive newsletters, commenting, and virtual events with our leading journalists
Already have an account? sign in
Join our new commenting forum
Join thought-provoking conversations, follow other Independent readers and see their replies